Skincare is the latest industry to dip its toe into the world of CBD. When even high-end brands like Estee Lauder are looking to add a touch of green to their products, you know this is an industry on the brink of blowing up.
It's certainly a lucrative market—just look in your own bathroom at the stockpiles of creams, balms, toners are more to see why. Many of us have experimented with countless products, looking to find that perfect regime for our skin. There are an endless amount of skincare products that all promise smoother, younger looking skin, but don't deliver. That's why CBD skincare products are all the rage right now. As it turns out, CBD is the one ingredient that's making the glow up real, regardless of your skin type.
Benefits of CBD Skincare
For healthy skin, seven days a week, having a skincare routine is essential. An effective regiment can help to fight against the signs of aging and all the fine lines and wrinkles that come along with it. Healthy skin not only keeps you glowing but also makes you feel better about yourself. Not to mention,  
The benefits of CBD for your skin are almost endless. From healing eczema to reducing redness to reversing the signs of aging, CBD works in a variety of ways for a variety of skin types. It's a powerful anti-inflammatory and is packed with omega-3 and omega-6 fatty acids, along with essential vitamins E, C, A, and D, all stuff your skin loves.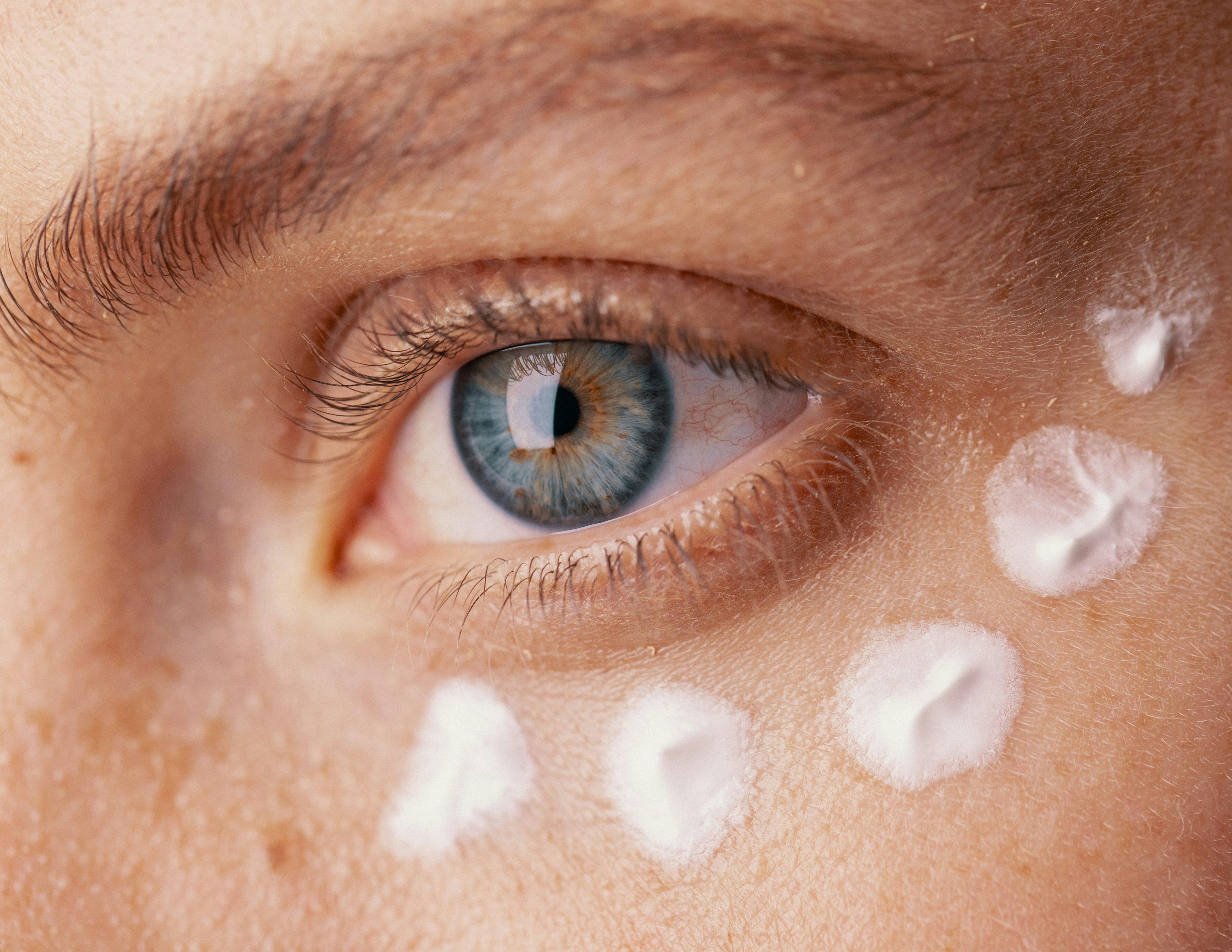 CBD Skincare Products: Side Effects
CBD is the compound in cannabis that's non-psychoactive. Therefore, CBD skincare products will not get you high or cause you to flunk a drug test. But you can expect to feel a degree of relief.
On top of working as an anti-inflammatory, CBD alleviates pain. Using CBD skincare products doesn't just have the potential to make your skin smooth and radiant, it can provide comfort too. It can ease itching, burning, and other typical skin irritations.
Whether you have dry skin, are prone to breakouts, or your monthly visit from Aunt Flo is pure torture, CBD skincare products may be your saving grace. If your skincare routine is missing CBD, then it's time to see what all the hype is about. We've compiled a list of our favorite CBD skincare products for a whole host of ailments.
Best CBD Skincare Product For Period Pain
Dr. Kerklaan Natural CBD PMS Cream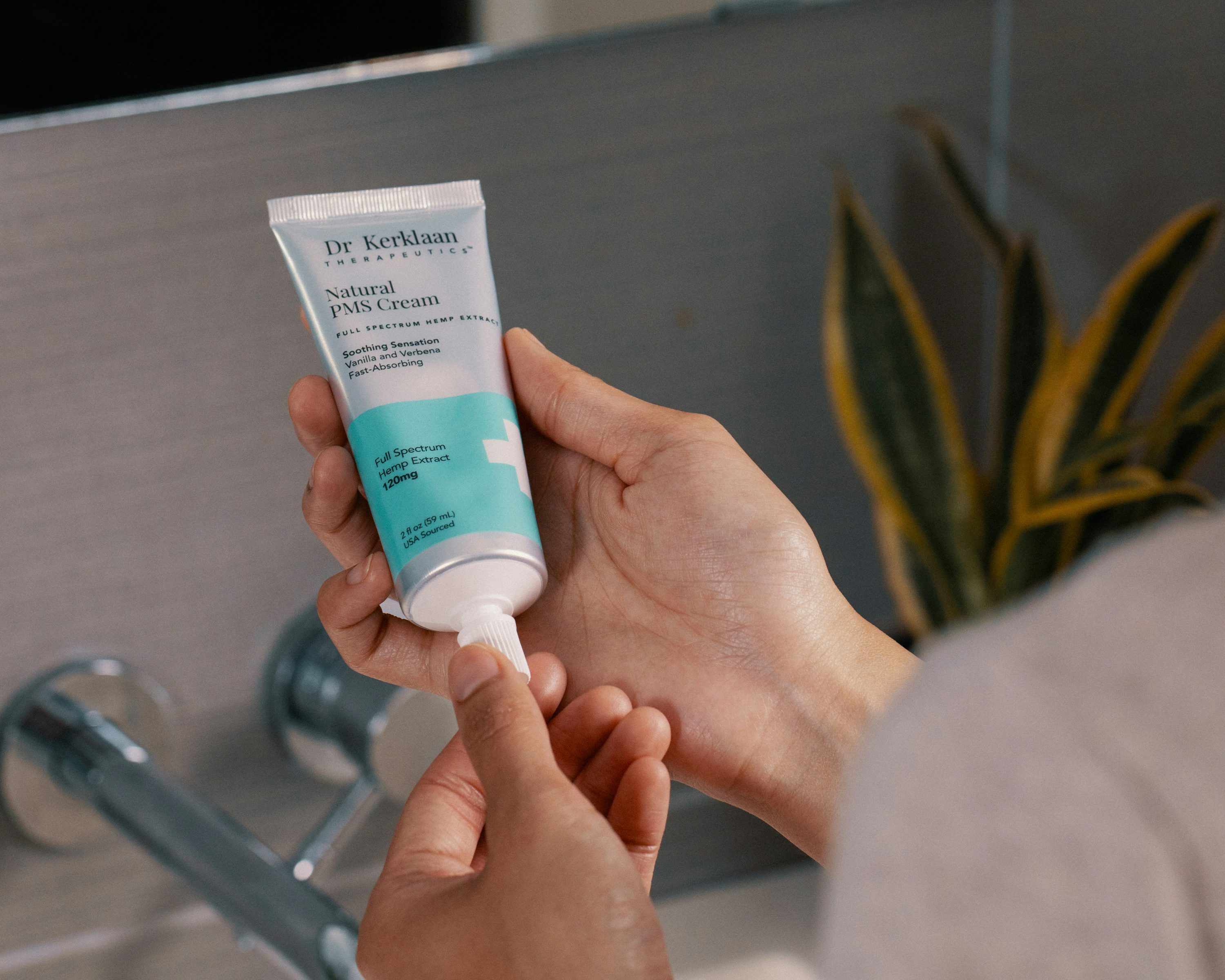 Most women know that time of the month is coming, yet, it's never any less of a pain in the ass. A painful period will leave you feeling yucky all over, which makes it hard to get anything done. Fortunately, there's Dr. Kerklaan's Natural CBD PMS Cream. Infused with full spectrum hemp CBD, this cream is a miracle worker when it comes to combating menstrual cramps, sore muscles, discomfort, and bloating. Bonus points, for the luxurious vanilla fragrance and the luminous finish it leaves on your skin.  
Best CBD Skincare Product For Breakouts
MGC Derma CBD Herbal Balm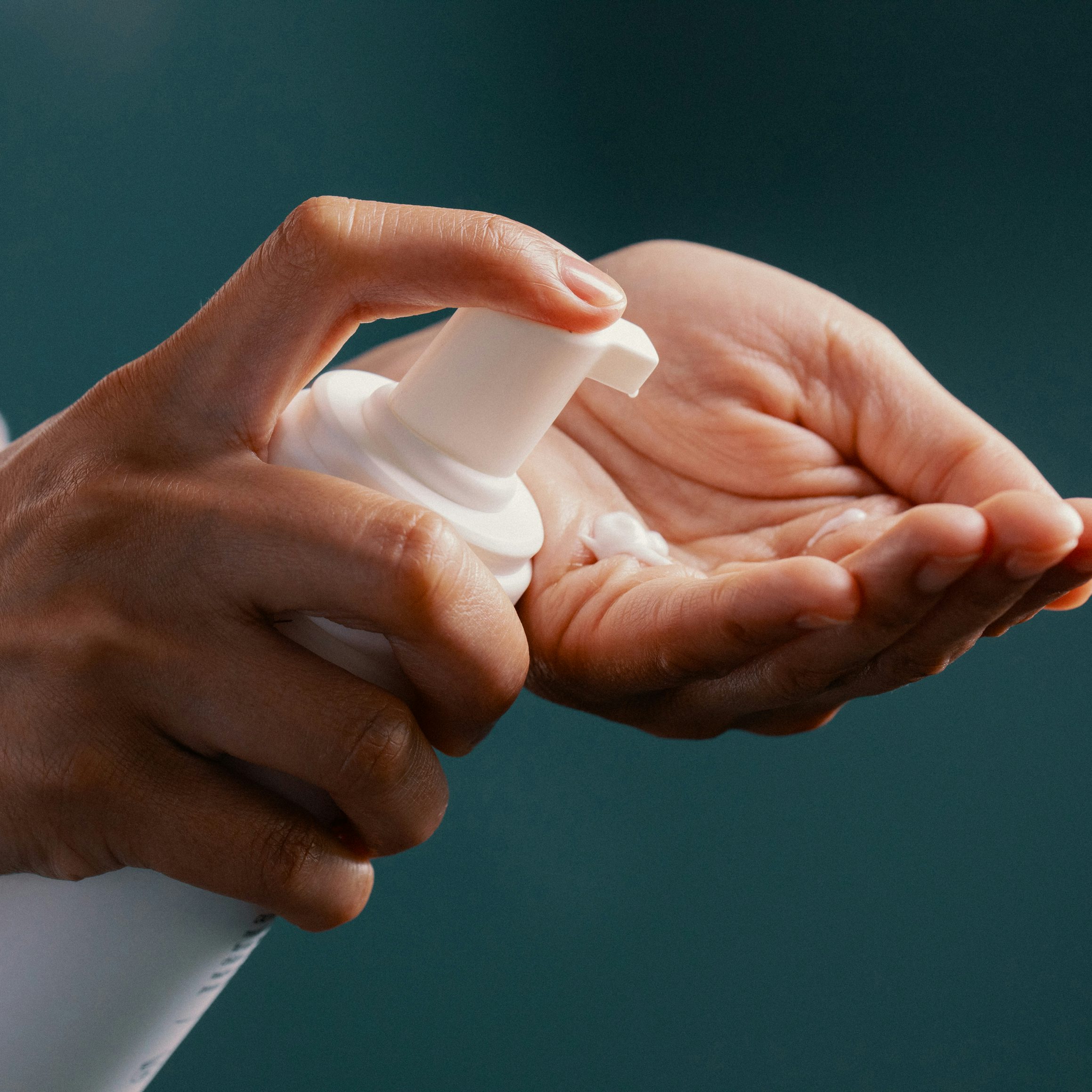 Both skin expert-approved and designed for acne and oil-prone skin, breakouts don't stand a chance against MGC Derma's CBD Herbal Balm. This CBD Herbal Balm is loaded with vitamins, including vitamin C, and contains cannabidiol and lemon extract. In addition to concealing spots and removing impurities, this balm stops acne before it starts, stimulates reabsorption, and prevents residual marks. Using MGC Derma's CBD Herbal Balm daily will help you to reduce your number of breakouts, while freshening your complexion and making your skin feel healthier.
Best CBD Skincare Product For Relieving Pain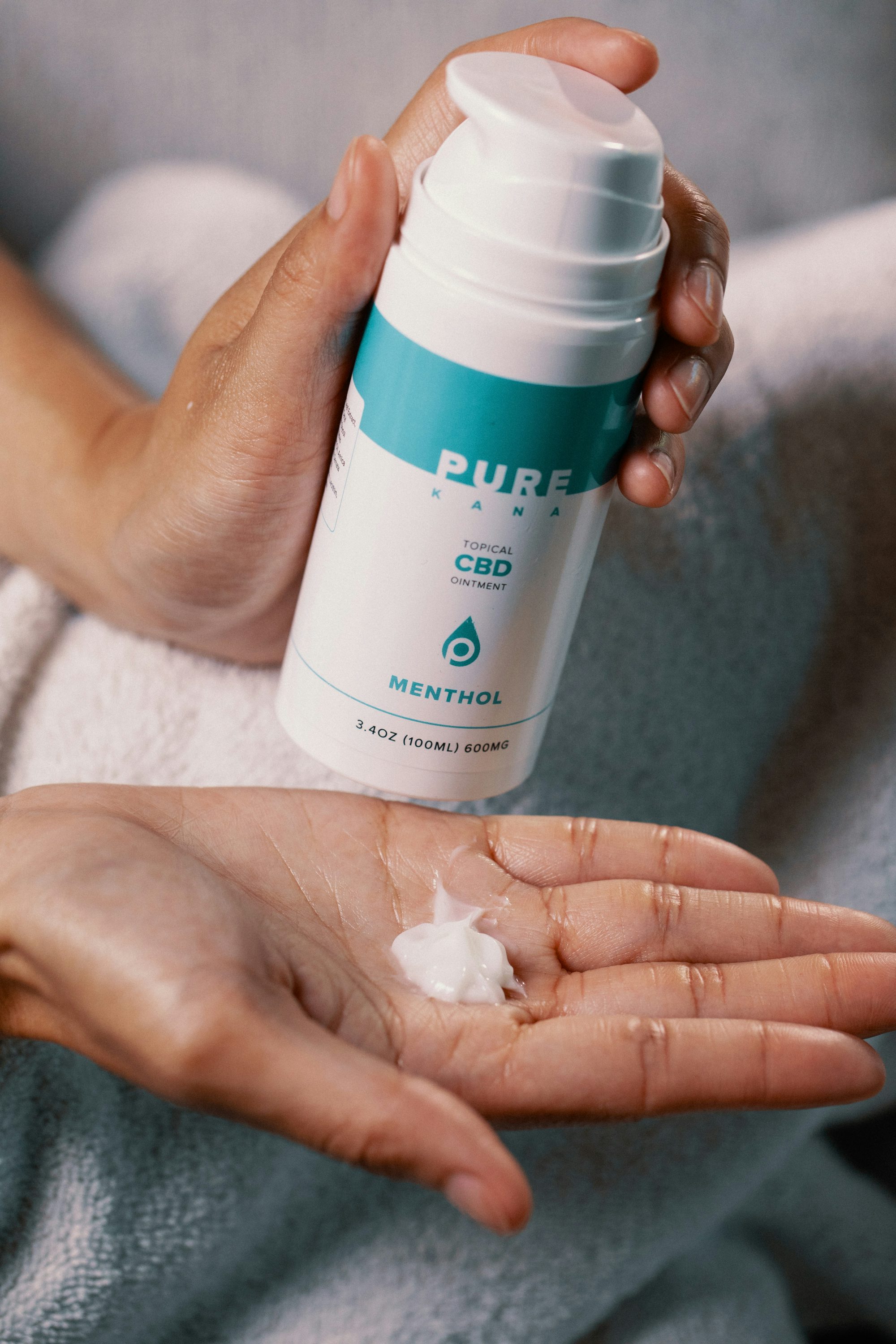 There's nothing like cold therapy to ease pain and discomfort. Pure Kana's CBD Topical Cream has an icy menthol feel and provides maximum relief when applied directly to the pain source. It works exceptionally well for relieving joint areas, and superficial muscle tissue as CBD absorbs instantly through the skin, allowing fast-acting effects. The topical ointment also has moisturizing ingredients, so not only will it replenish your body's outer layer, but also improve its appearance at the same time.
Best CBD Skincare Product With SPF
Sunny Daze CBD Infused Sun Cream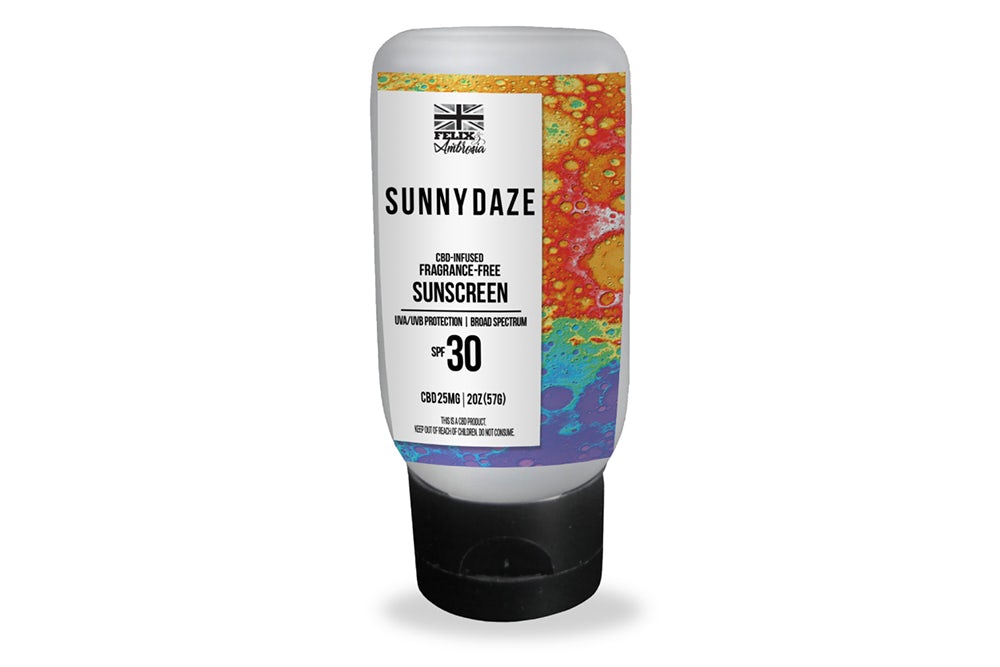 Summer might be over, but that doesn't mean you don't need to protect your skin from the sun still. The sun can affect your skin all year round, so, festival season or not, SPF is a must. Felix & Ambrosia's Sunny Daze Sun Cream is a hemp CBD isolate-infused sunscreen with SPF 30 that's all natural and fragrance-free. The best part? It also contains plant-based glitter, which is both biodegradable and environment-friendly.
Best CBD Skincare Product For Bedtime
Dr. Kerklaan Natural CBD Sleep Cream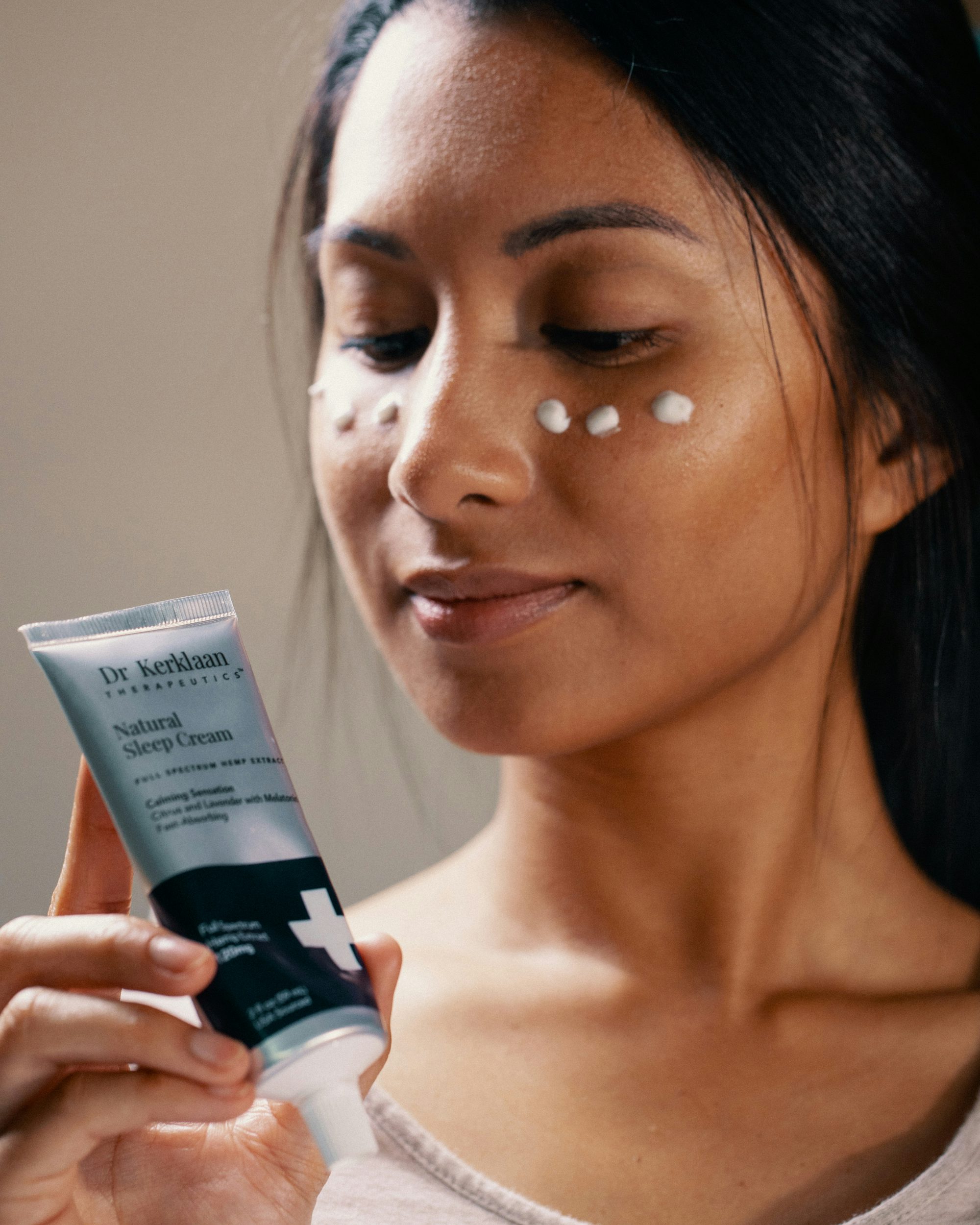 If a killer headache or overwhelming anxiety is keeping you up at night, then Dr. Kerklaan's Natural CBD Sleep Cream will restore restful sleep at last. Using CBD and lavender and citrus fragrances with melatonin, this sleep cream provides relaxing and calm sensations that reduce muscle tension, headaches, restlessness, stress, and anxiety.  Again, being a topical, Dr. Kerklaan's is fast-absorbing, giving you one less thing to worry about before bed if you're suffering from sleepless nights. Add this product to add to your nightly routine as opposed to seeking out other sleep aids that take longer to work.
Best CBD Skincare Product That Won't Dry Your Skin
Cannuka CBD Nourishing Body Cream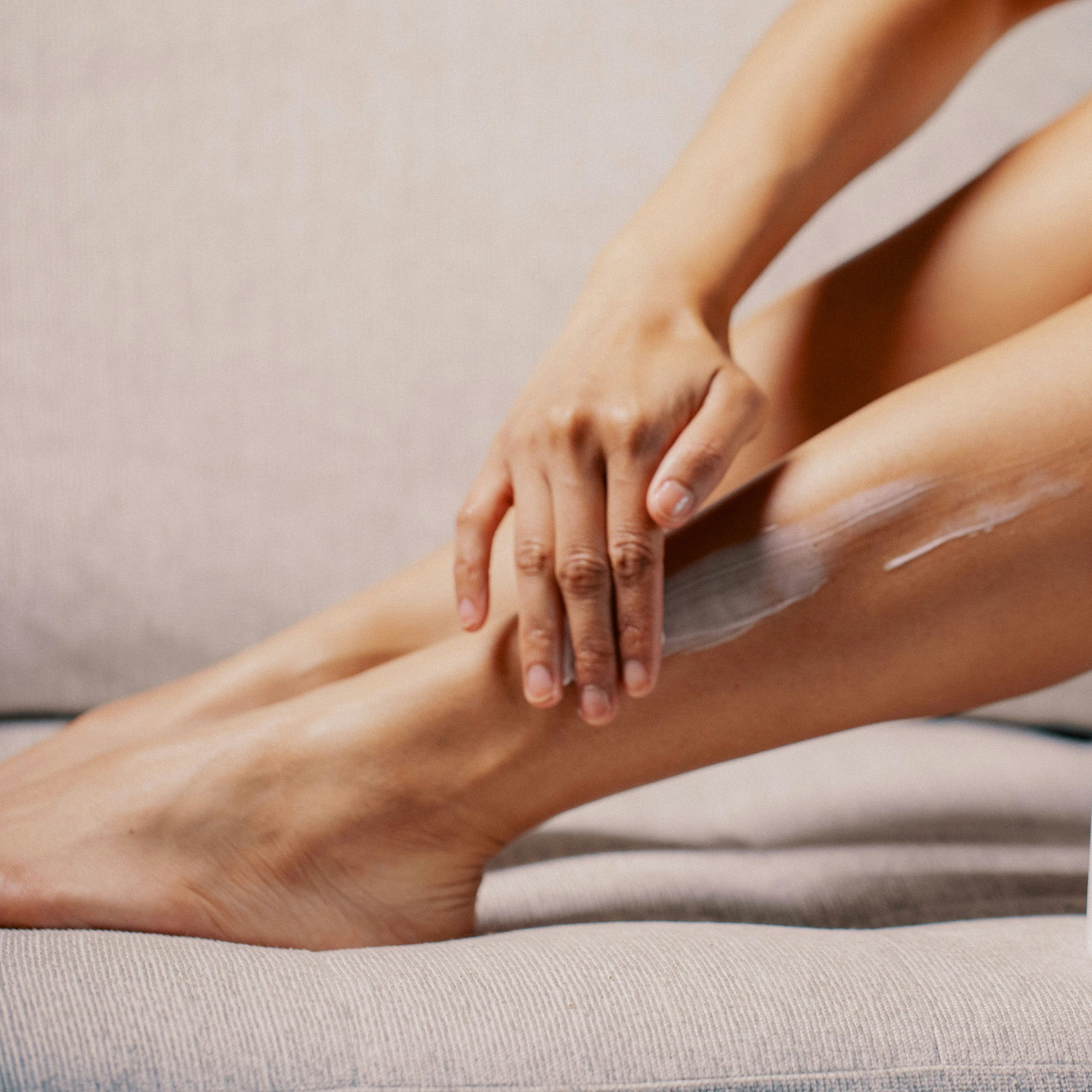 During Fall and Winter, your skin can get incredibly dry. To keep your skin hydrated and silky soft, no matter the season, Cannuka's CBD Nourishing Body Cream is the perfect daily skin moisturizer. This cream, featuring a light citrus fragrance and a refreshing feel, along with CBD isolate and Manuka honey, leaves skin hydrated for hours and offers immediate relief from the irritations of dry skin. It's not just useful on the legs and arms, but packs enough moisture to ease dry hands and feet, which get unusually dry during colder seasons. Don't forget it in the summer months, or if you live in warmer climes. Cannuka CBD Nourishing Body Cream is great for sunburns too.
Best CBD Skincare Product For Aging
MGC Derma CBD Anti Puffiness & Dark Circles Eye Serum<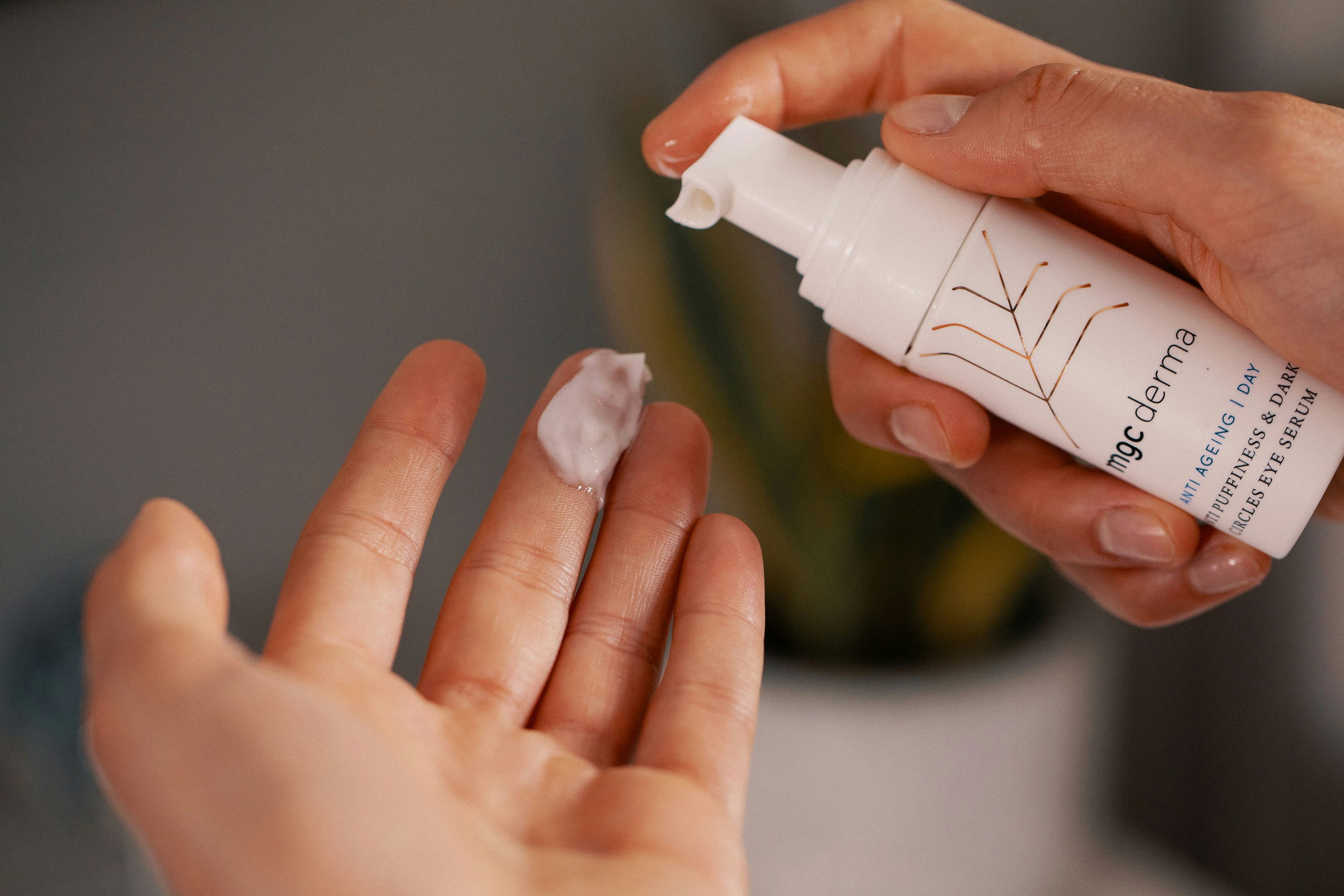 Photography by Connor Fyfe for Herb[/caption]
In the neverending battle against aging, wrinkles and fine lines are likely two of our worst enemies. The face is especially prone to these imperfections, as the skin is highly delicate. Thankfully, there's the MGC Derma CBD Anti Puffiness & Dark Circles Eye Serum, the ultimate weapon against aging. This purifying serum contains CBD and hyaluronic acid, both of which make skin firmer and younger looking by reducing the appearance of wrinkles. It also comes in handy on days when you're lacking sleep and have dark circles to show for it.