One of the best parts of smoking weed is where you smoke it. If you don't have a story that begins with "I once smoked a joint," are you really a cannabis enthusiast? If you don't have one of these stories, use the following list for crazy smoke spot ideas. If you already have a story, challenge yourself to smoke in as many of these locations as possible.
Without further ado, here are some of the best smoke spots.
Trippy Smoke Spots
Funny or obscure smoke spots vary, but there are some that are just too wild to ignore. Some are trippy because they encourage you to contemplate the meaning of life, others because there's an element of danger. Here are 10 crazy (or funny, depending on your high-perspective) places to smoke weed.
1. The Zoo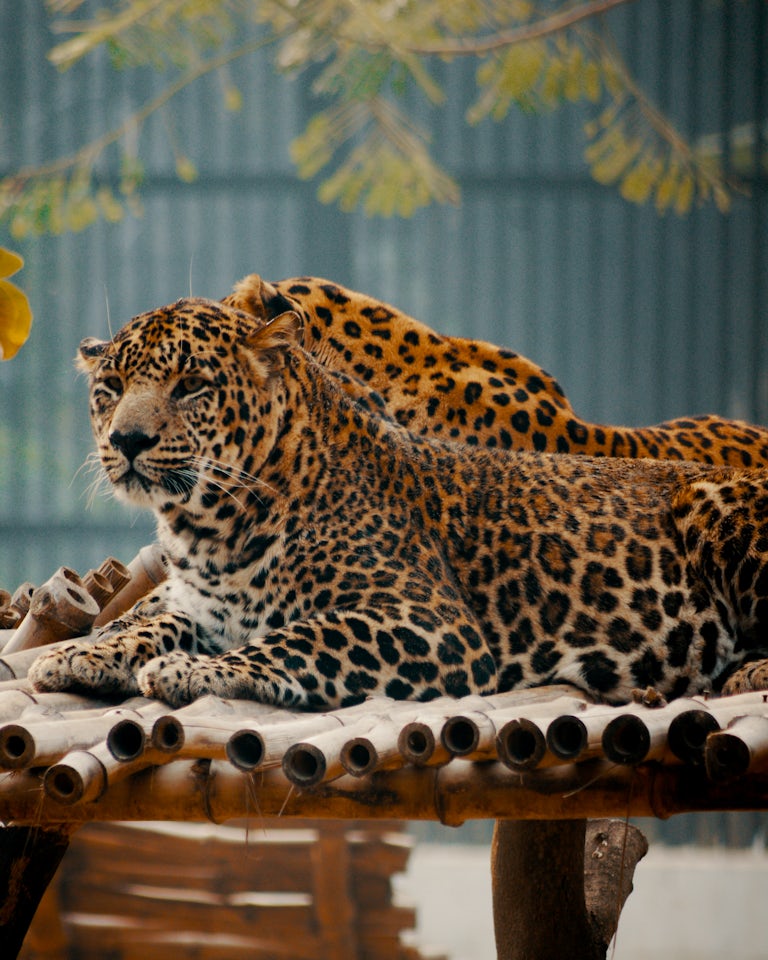 Why it's crazy: Animal observation and narration—stoned. Maybe you and the animals even merge consciousness for a while. At the very least, your high may help you consider what the animals are dreaming about (food, food, I'm a lion, food). We all have something in common with the lion, no?
2. A Rooftop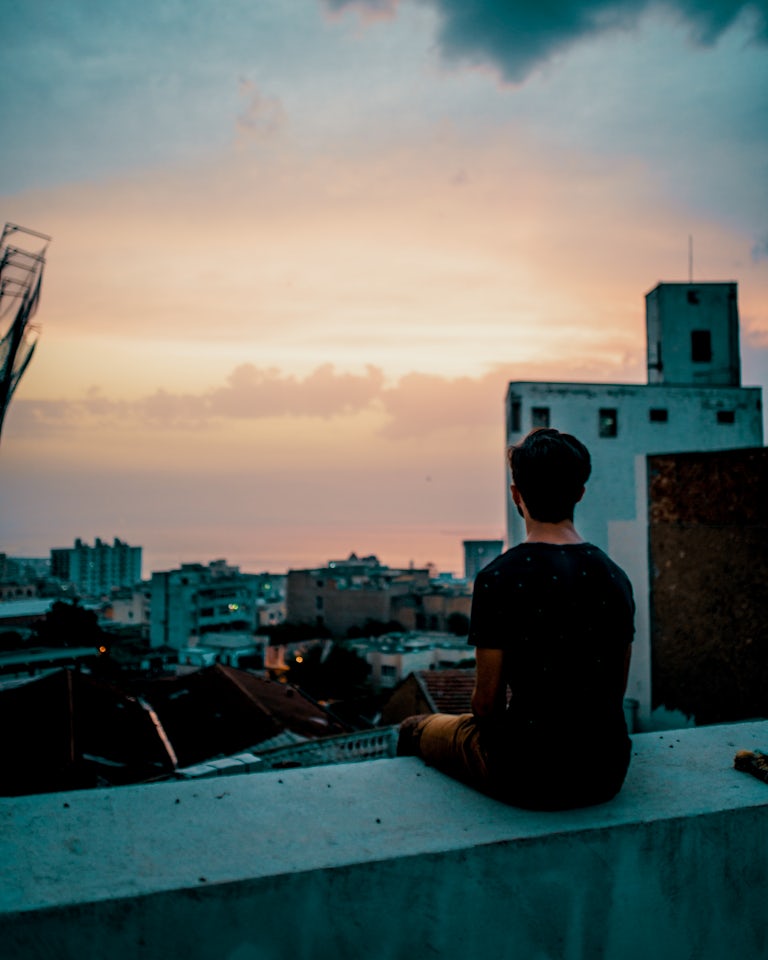 Why it's the best: Because you get to watch all the people and cars that look like ants from up "high." And you can pretend you're a giant.
3. A Hot Air Balloon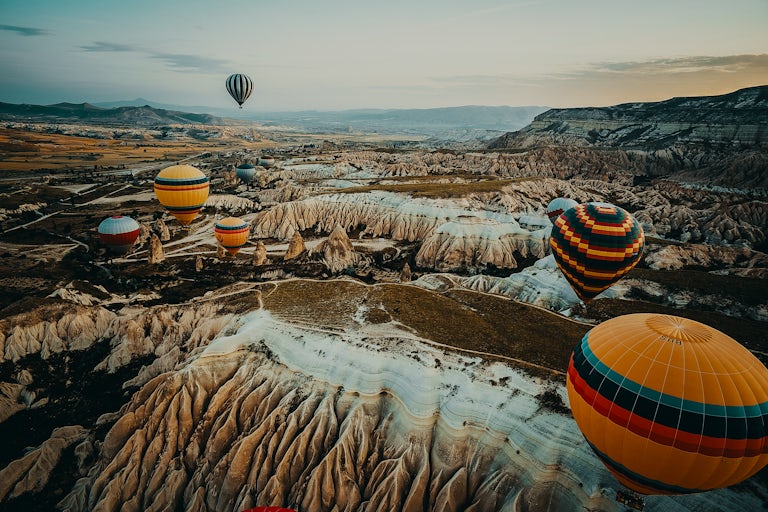 Why it's crazy: Flying high (double entendre) in a giant balloon. Just don't do anything stupid while you're up there—and yes that includes lighting a joint in the balloon's burner. And maybe also make sure you're with someone who knows how to fly the thing.
4. North Korea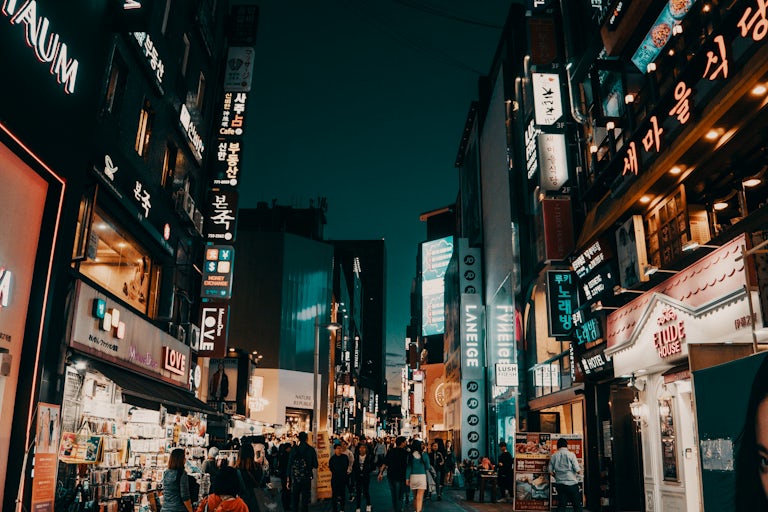 Why it's crazy: Two words: North. Korea. Apparently, cannabis isn't regulated in North Korea and there are no rules against smoking it—or if there are rules they don't seem to be enforced. According to reports, you can smoke it just about anywhere in the country. Who would have thought North Korea would be more liberal than the U.S. when it came to regulating cannabis?
5. Bathroom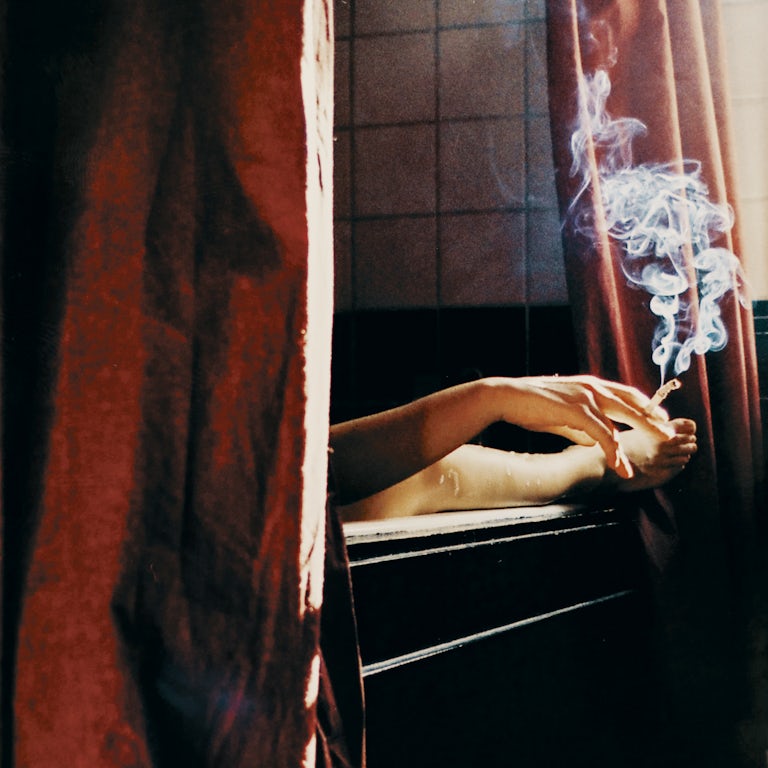 Why it's the best: Not only is hotboxing a bathroom likely a #throwback to your teenage years, but it is also a viable way to get high. Just don't bring your pets into your hotbox hideaway—high cats are not as fun as you would think. Trust us.
6. On a Bridge
Why it's the best: Just watch the glistening water and reflect on life, "I swear I just saw a blue whale swallow a mermaid."
7. On a Ferris Wheel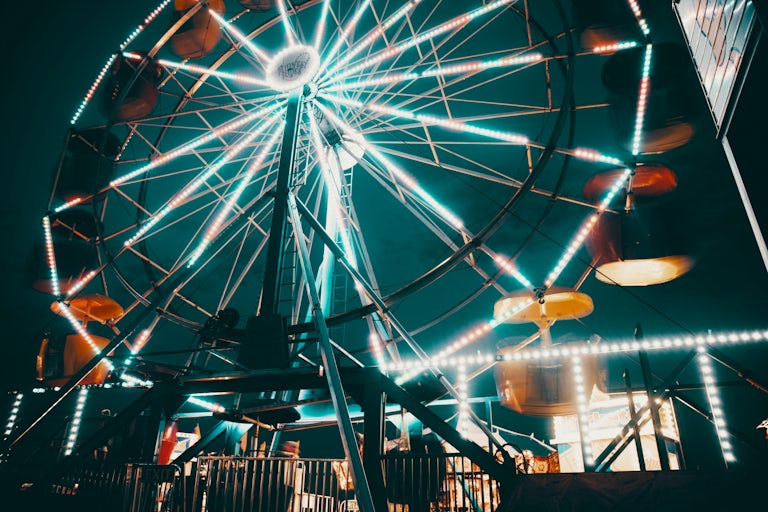 Why it's crazy: Up high again (in many ways). If the wheel is high enough, you'll get a spectacular view of your surroundings. If it's not, you can just laugh at all the carnival goers beneath you who are clearly not on your level.
8. Amusement Park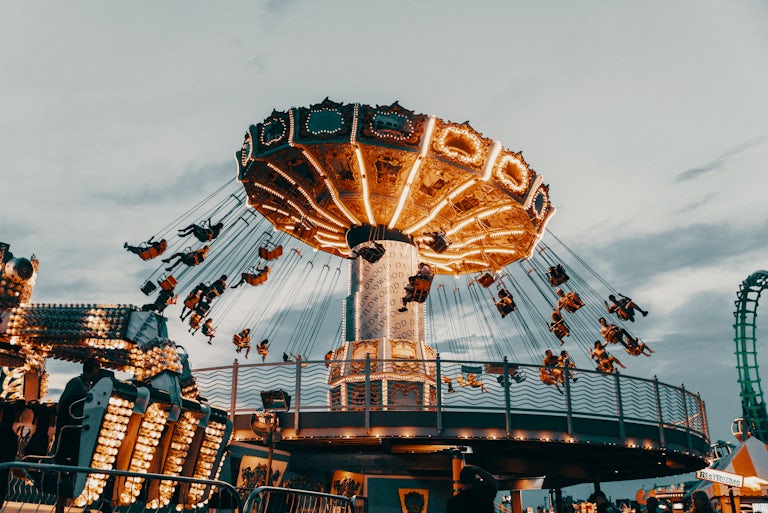 Why it's the best: An amusement park is full of stimulation. From the flashing lights and sounds of those games that no one seems to win to those tiny donuts that taste like little spheres of heaven, amusement parks are a smoker's paradise. Plus, have you ever played skeeball high?
9. In a Church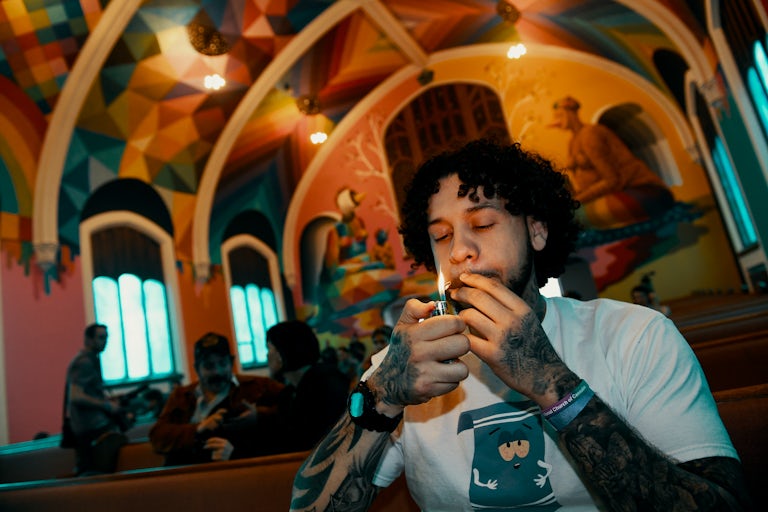 Why it's crazy: It's a church—it feels like someone is always watching. Weed makes the service more entertaining, especially when Aunt Belinda tries to talk your ear off about her wonky tibia (again).
The 10 Most Epic Smoke Spots in the World
Any cannabis enthusiast would agree that there's something awesome about lighting up a joint in new territory. It makes you appreciate your weed—and the world around you—more. If you need some inspiration for your next trip or you just want to fantasize about that much-deserved 420 vacation, here are the 10 most epic smoke spots in the world.
1. Malibu, California
Most weed smokers associate Los Angeles with the iconic Venice Beach boardwalk. And while it's something every pot lover must check out in their lifetime, the most epic smoke spots in the city are just a little further North.
So once you've gone to the Venice dispensary, picked up some of the finest strains imaginable, and checked out the Boardwalk mayhem, cruise on up PCH for the sunset. All along the highway are epic smoke spots full of coves and rocks. You can pull over anywhere, scale down the side of them, and find a nook on the sand that feels like your own private beach. At that point, the people will have gone, the waves will be golden and the sun will be setting on the horizon of the Pacific. Does it get better than that?
2. Bryce Canyon National Park, Utah
If you're the type who likes to hike to epic smoke spots, Bryce Canyon National Park in Utah is for you. You actually have to camp overnight along the way. Just under the Rim Trail sits the longest trail in the park at 23 miles long one-way and 200 feet of elevation.
A climb like this really does make you feel like the ruler of the world—and there's nothing like a much-deserved joint to celebrate your accomplishment.
3. The Great Wall of China…no we're not kidding
It's not called The Great Wall of China for nothing. At more than 21,000 kilometers in length, The Great Wall of China definitely makes it onto the list of the 10 most epic smoke spots. There's many different entry points and ways to get there. Some parts of the wall are full of tourists being bussed in and vendors all along the path. This obviously does not make for a discrete smoking location. Besides, who wants to experience the wall that way anyway if you could go somewhere quiet?? Do your research and consider finding a private tour guide to take you there. Also, be fully aware of the risk involved in this adventure as China is notorious for its harsh anti-drug laws. If you can make it happen, however, you'll certainly have a story to tell. Also, the wall really does make for one of the most epic smoke spots in the world—an extraordinary feat of human accomplishment built millennia ago.
4. Tongariro National Park, New Zealand
If you enjoy watching "The Lord of the Rings" high, try being in it after a fat joint. Tongariro National Park in New Zealand has three active volcanos which all make for epic smoke spots. One of them is a volcano named Ngauruhoe, more commonly known as Mount Doom in the "Lord of the Rings" movies. You'll feel insignificant, wonderstruck and wonderful all at once in the 782 square kilometer park.
5. Erg Chebbi, Morocco
Erg Chebbi is a part of the Saharan Desert of Morocco that hasn't seen a measurable amount of rain in more than 20 years. This part of the Sahara is known to have some of the largest sand dunes in Morocco at 150 meters high. Morocco is also known for its hashish so you can easily pick some herb up in one of the country's major cities before heading out to for your adventure.
6. Benagil Caves, Portugal
The Benagil Caves in Algarve, Portugal most definitely qualifies as one of the most epic smoke spots. It attracts hundreds of visitors each summer. Located near a popular beach called Praia de Benagil, this sea cave is a great place to escape for a couple hours to relax on the rocks and pass one around.
7. Cauterets, France
Snowboarding anywhere and being high is probably one of the best things ever. Add an incredible location to the mix, like the Cauterets in France, and you get some of the most epic smoke spots in the world. The ski resort sits in the narrow valley of the Gave de Cauterets with the Pyrenees mountains as its breathtaking backdrop.
As a bonus, there are numerous hot springs in the area that started being used in 1893 and are still adored today.
8. Multnomah Falls, Oregon
A cool mist and an awe-inspiring view are what you'll get at the Multnomah Falls in Portland, Oregon. Sparking up a jay while gazing up at the 611-foot-tall waterfall is the perfect salute to mother nature and her power. And, of course, big bonuses here are that Oregon is easily accessible for American travelers and has totally legalized cannabis.
9. Saint Catherine, Jamaica
Of course, Jamaica had to be on our list of epic smoke spots. The Blue Mountains in Saint Catherine, Jamaica run an impressive 75 kilometers long and are the highest mountains in the country at 2,205 meters. The rainforest, Jamaica and weed: c'mon.
10. Phi Phi Islands, Thailand
Being out and about exploring the Phi Phi Islands in Thailand is the perfect time to light up a J. Surrounded by limestone cliffs and colorful fish, this is an epic place to doze off as the water laps gently at the side of your boat.
9 Romantic Places to Smoke Weed With Your Significant Other
We all know that couples who smoke weed together have more fun. But what about romance? If you want to spice up your smoke spots, here are 10 places you should consider lighting up with your partner.
1. On a Hike
Burn off the munchies on an afternoon hike up a mountain. Grab your lover and your mistress (MaryJane, of course) and head outdoors. When you get to the top, light up and take in that beautiful view together.
2. At a Festival
You're at an outdoor music festival: your favorite band is playing, you're surrounded by thousands of cool people and your significant other is by your side—what could be better? Make the experience a little more romantic by hanging back on a hill and getting baked. Enjoy all those feel-good vibes together.
3. At the Fireworks
What's more romantic than sparkling lights and sitting uncomfortably close to strangers? Grabbing a blanket, getting comfy and sparking up a joint, of course.
4. On a Ferris Wheel. 
Although it's pretty easy to get caught smoking on a ferris wheel, there's few things better than getting high from what feels like the top of the world.
5. On a Rooftop. 
Ah, rooftops. If you have access to a rooftop, grab a bucket of ice cold drinks, some munchies and your pipe, and plop some blankets down (in the safest way possible) to make the sweetest smoke spot.
6. On the Beach. 
There's a reason why a "romantic walk on the beach" is a classic date. Beach adventures are always a blast, day or night. So enjoy this classic by smoking some marijuana in a secluded part of a nearby beach. Lay in the sand, star or cloud gaze, and then take a dip in the chilly water.
7. By the Pool. 
If you have access to a pool (whether at home or on a trip) that is empty with the exception of you and your partner, you're all set. Whether you're having a day swim under the sun, or an evening swim under the moonlight, spark a joint and splash around together. Splashing is romantic, right?
8. Bath or Hot Tub. 
Take an activity that already has the potential to be romantic, add some marijuana and bubbles, and voila—you have the ultimate romantic smoke spot. Pour some steamy water and light up—it will make the experience hotter and more relaxing than it already would have been.
9. At a Lookout. 
In high school, you may have been to "makeout points," but we prefer "vape out points." Beautiful views are enhanced when you're baked and, with the sensations running high, who knows what could happen…
Best Smoke Spots in DC
It's still illegal to smoke in public in Washington DC (although the reportedly ever-present smell of weed in the air suggests that most still do). If you're willing to take your chances, here are some of the best smoke spots in the city.
The National Zoo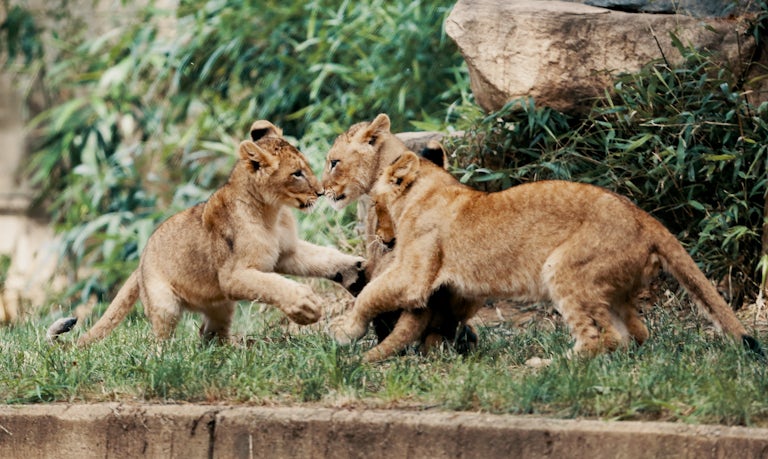 While zoos can sometimes be cruel, depressing places, the Smithsonian National Zoo is also a global research and conservation center. It's also completely free. Between 9 a.m. and 6 p.m. in the summer, and 9 a.m. and 4 p.m. in the winter, seven days a week, you can take your high ass to the zoo to look at pandas, and trip out over the flamingo's weird backward legs. Of course, it's not legal for you to smoke inside the zoo, but it's not legal anywhere in DC, so you'll just have to find somewhere discreet and take your chances.
The Potomac River
One of Washington DC's most striking features is the great river that runs through it—the fourth largest river on the Atlantic coast. Lined with willow trees, and trees that bloom with pink cherry blossoms in the spring, this is one of the most beautiful smoke spots you'll find in the nation's capital. Just post up on the edge of the river with a picnic basket and joint, and there's no way you can go wrong (at least in the summertime).
The Washington Monument
It kind of looks like a massive, stone joint if you turn your head sideways. (This connection is more evident if you're already extremely high.) The benefit of this location is the massive field that surrounds the monument. This will make it easier to find a fairly discreet spot to smoke. After you're done staring up at the soaring monument, go for a walk through the National Mall—the country's most visited national park. It's particularly stunning at night, when all the tourists have left. Or, if you go during the day, you can stop at the Museum of National History a short walk away to marvel at the fossils and early hominids.
Best Smoke Spots in Denver
The Coffee Joint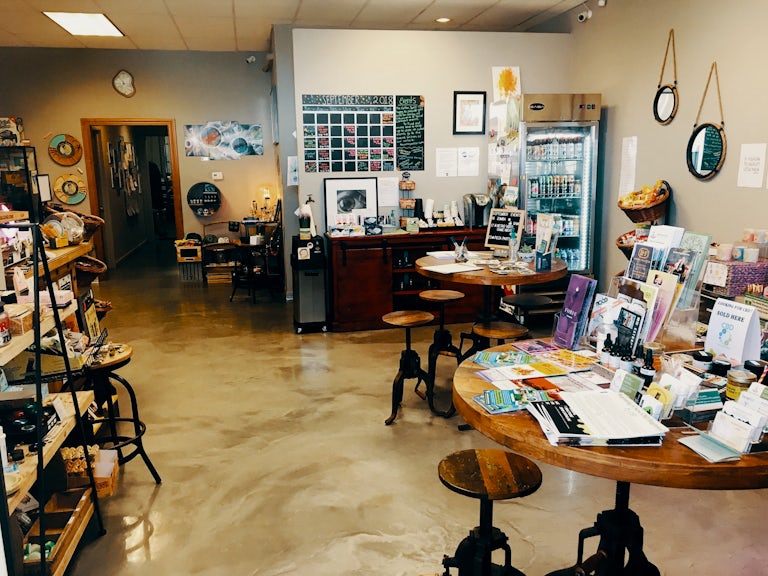 Unlike most cities in the United States, Denver has shops where you can legally consume cannabis. This coffee shop was the first business in the city to be licensed for cannabis consumption. While you technically can't smoke in here, you can vaporize cannabis and hit dabs. While it costs $5 to get in, if you buy something from the dispensary next door, you can enter The Coffee Joint for free.
Red Rocks Park & Amphitheater
The Red Rocks Park and Amphitheater is the crown jewel of Denver. It's the most visually stunning part of the city, and one of the most unique concert stadiums in the world. As the name suggests, the park is famous for its towering, smooth red rocks that protrude from the earth like giant dorsal fins. This park is about 20 minutes outside the city, but feels much more remote. If you're looking to get high amongst some world-class scenery, Red Rocks Park is the place. 
St. Mary's Glacier
This stunning location in Arapaho National Forest is about an hour outside of Denver, but worth the drive. This spot features some of the most spectacular mountain landscapes in the state. And if you're going to smoke anywhere near Denver, it should probably be in one of the surrounding national parks. Not that the city of Denver itself isn't worthy of spending time in—it's just that the national parks on the outskirts of the city are some of the best in the country, and part of what makes Denver unique.
Best Smoke Spots in Toronto 
Trinity Bellwoods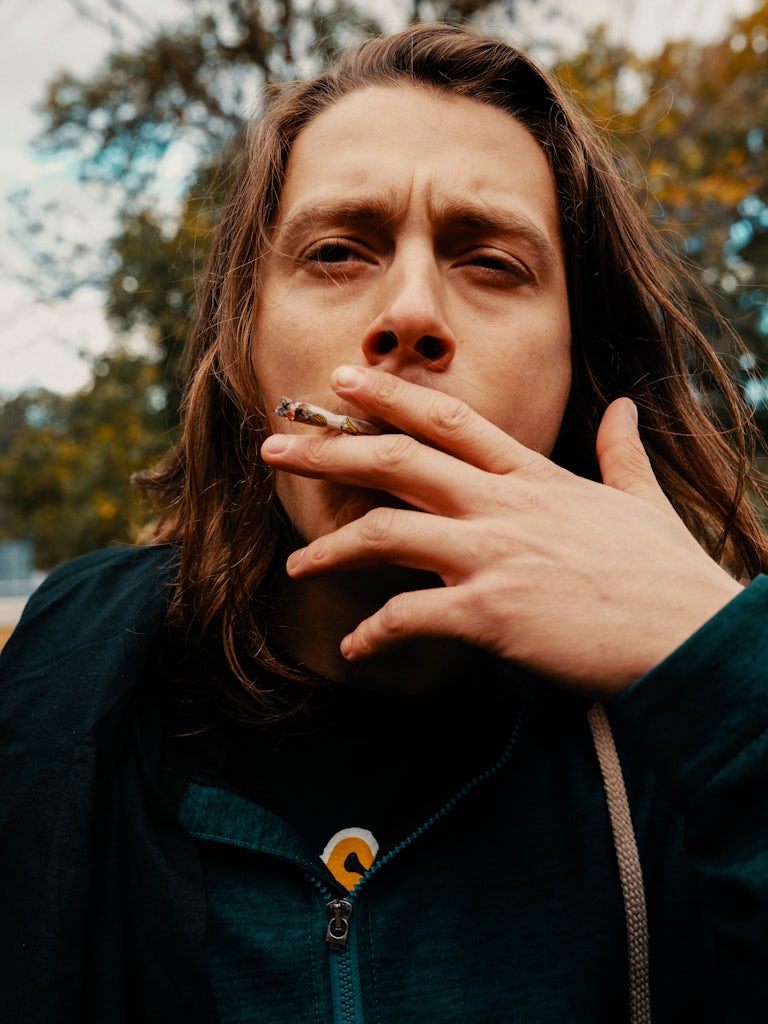 Recreational cannabis is now legal in Canada. When that fateful law was rolled out on October 17, 2018, it was Trinity Bellwoods where most of the city's cannabis enthusiasts gathered to celebrate. It's also a park that's long been at the center of one of the city's hippest districts. The park itself is known as a place where hundreds of locals gather every day to drink beer and smoke joints in the grass, slack-line, play Frisbee, and hang out. The park itself offers an iconic view of the CN Tower in the distance. Trinity Bellwoods is easily the "coolest" park in the city.
High Park
It's called High Park. That's enough of a reason, but it's not the only reason. High Park is one of the largest—if not the largest—park in downtown Toronto. It even has its own free zoo. In the springtime, the park comes alive with pink cherry blossom trees. There's also a big lake to sit by, with plenty of open space, so you can smoke in peace.

Toronto Island
First of all, it's an island. Second of all, it's an island. And if you're not already convinced: there's a nude beach on the island. Not only does Toronto Island have one of the best views of the skyline you can get, but the island itself feels slightly mystical and removed from the city life completely. On one side of the island, you can walk through the colorful fishing-style homes, where you may encounter one of the islands' residents smoking a joint themselves. On the other side, you can smoke on the beach and swim in Lake Ontario. It's also only $7.50 for a round-trip ticket to the island on the ferry.
Best Smoke Spots in Seattle
Marymoor Park
At 640 acres, Marymoor Park offers plenty of space to spread out and smoke your weed in peace. It's also the county's most popular park. This probably has something to do with the giant, S-shaped lake on the park's southern end. It may also have to do with the rock climbing and sports facilities, 40-acre dog park where dogs can run around untethered, multiple beaches, and full-on velodrome arena for track cycling. This park isn't only visually stunning, it's also teeming with useful facilities to keep you busy post-smoke session.
Fremont Troll
This poor troll spends most of his days alone, wallowing under the Aurora Ave bridge next to the Troll Knoll Park. He just wants to puff some high-grade dank with friends. Don't pass up this opportunity to give a lonely troll some hope. For your troubles, he'll let you climb on his limbs and take photos that'll impress your Instagram friends. This majestic, 18-foot statue was erected by four local artists and has helped to revitalize this part of the city, turning it from a place where drugs are sold to a spot that tourists flock to to take photos. Its location, discreetly tucked under a bridge, makes it the perfect public smoking spot.
Gas Works Park
On the north side of Lake Union, this park offers one of the best views of the Seattle skyline, Space Needle and all. Its wide-open grounds (more than 19 acres in all) also makes it the perfect place to smoke without being bothered. In the center of the park sits the rusted remains of the Seattle Gas Light Company's machinery—a piece of industrial archaeology recognized as the last remaining artifact from an outdated technology. Consider this while you're getting high as fuck on some legal Washington weed.
Best Smoke Spots in Los Angeles
The Griffith Observatory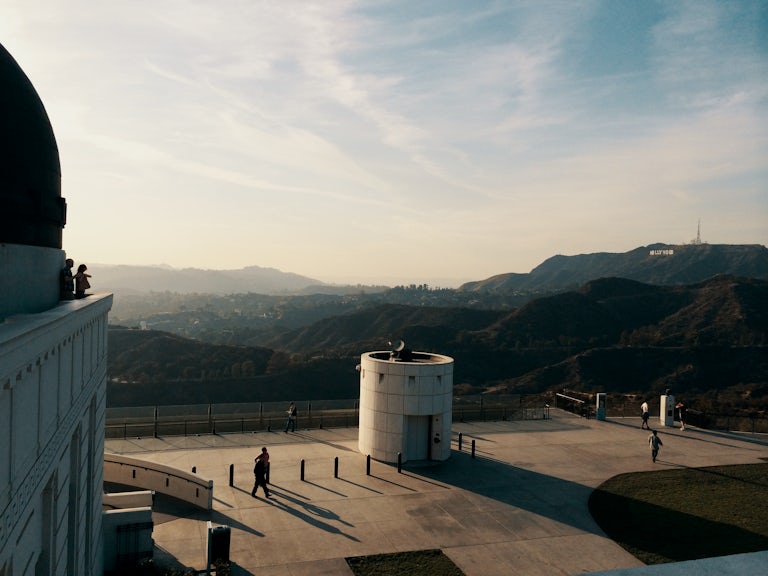 There's few places in Los Angeles—or in the country, for that matter—that are more iconic than the Griffith Observatory. We wouldn't recommend smoking weed at the Observatory itself as there's security walking around, but Griffith Park is nearly 4000 acres with tons of trails. Pull off anywhere, hotbox the car or walk into the woods to light that jay, and then walk up to the Observatory to get a view of the entire Los Angeles skyline and the Hollywood sign. Sunset and nighttime are the most stunning times of day there.
Topanga Canyon
Topanga has been a gathering place for free-spirited folks for generations. You can't go wrong by heading into the park from the main entrance and smoking amongst the wild flowers and sage. The main part of town is a short stretch of shops: a trippy store with antique knick-knacks and wild clothing called Hidden Treasures; a Mexican restaurant nestled into the canyon called Abuelitas; and some galleries. A bit of weed will make your exploring feel all that much more whimsical—and it's already really whimsical.
Echo Park Lake
It's not all about Venice. The eastside of Los Angeles has some incredible exploring too. Echo Park Lake is a large lake covered in water lilies and surrounded by palm trees. It's one of the best places to go in L.A. if you're looking to get a taste of the city's diversity. You'll see everyone from arty twenty-somethings—painting and playing music—to Mexican families gathering with loved ones.
Best Smoke Spots in New York
The High Line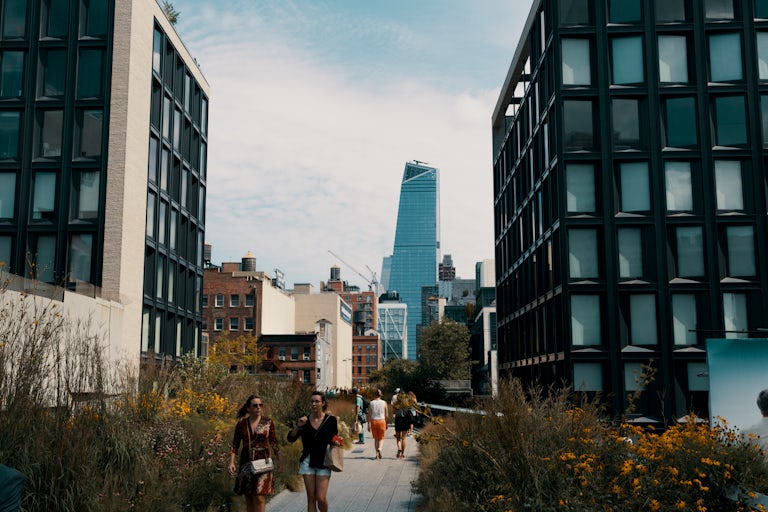 The High Line is undoubtedly one of the best smoke spots in New York. You can stroll above the city for two miles with a joint or vape and then dive back into the chaos at any time for some dank food or to check out the galleries in Chelsea. If you make it all the way to the end, you can visit the new Whitney Museum, which has incredible views at the top. Or, if you prefer outdoor art, there's rotating installations on the High Line itself.
Central Park/ The Met
If you live in New York, or if you're visiting, you probably read Central Park and *sarcastically* thought, "thanks for the great idea! That never occurred to me." Obviously, the historic 843-acre park has ample smoke spots. But have you ever smoked in one of them and then strolled through the Met? There's nothing like walking past an Ancient Egyptian Tomb on your way to see some Dali to make you realize how trippy humanity is. We high-ly recommend it.
Storm King
Whether you're a tourist or a New Yorker, enough time in New York City makes most people want to do one thing—get out. Take a road trip to Storm King for a high adventure. The 500-acre open air museum contains sculptures expanding into the horizon. Lay under them, run around them, contemplate them…after you've smoked, of course. You won't regret it.