For consuming cannabis on the sly, vaporizers are the perfect weapon. Unlike a bong, blunt, or another type of smokey tool, vapes don't draw much attention. They release subtle clouds of vapor at a time without leaving a smelly trail of loud behind. Aside from getting lifted on the low, weed vaporizers can be great for getting your dose of feel-good on-the-go. Most are pocket-size, or at least comfy to carry around. Not to mention, they're less inclined to damage than glass, making them a wonderful accessory for fitness enthusiasts, travelers, and go-getters alike.
If you're a homebody or rarely partake anywhere other than your humble abode, there are tabletop vapes too. Also referred to as desktop vapes, these larger-size units are the best for sitting down and enjoying a long, laid-back sesh. Regardless of your lifestyle or even how you like your weed, you can find a vaporizer that's seemly for your agenda and taste. Vapes are one of the most popular ways to burn one because of their numerous options. That, and their lip-smacking flavor and smoothness.
The Best Weed Vaporizers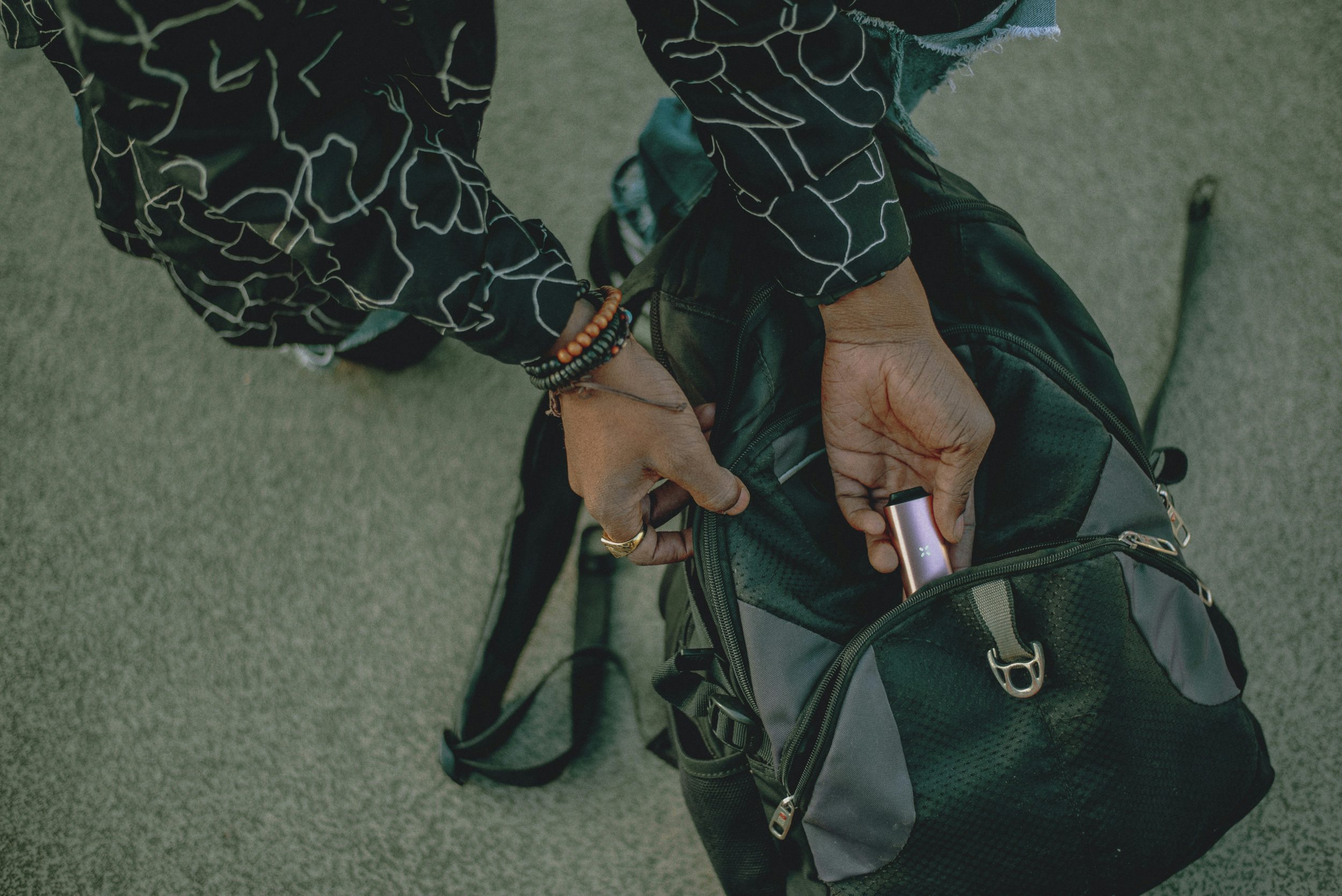 Every cannabis lover should have at least one vape in their collection. It's nice to change up your device of the day now and again, especially with a vaporizer as they deliver a different type of high and much cleaner hits than what you get while smoking. The convenience and experience vapes have to offer have a lot of people making the switch. We aren't telling you to put out the smoke, but we are saying you're missing out if you haven't already joined the vape life. Whether you have or haven't, here are the best weed vaporizers to test out today:
Best Portable Weed Vaporizers: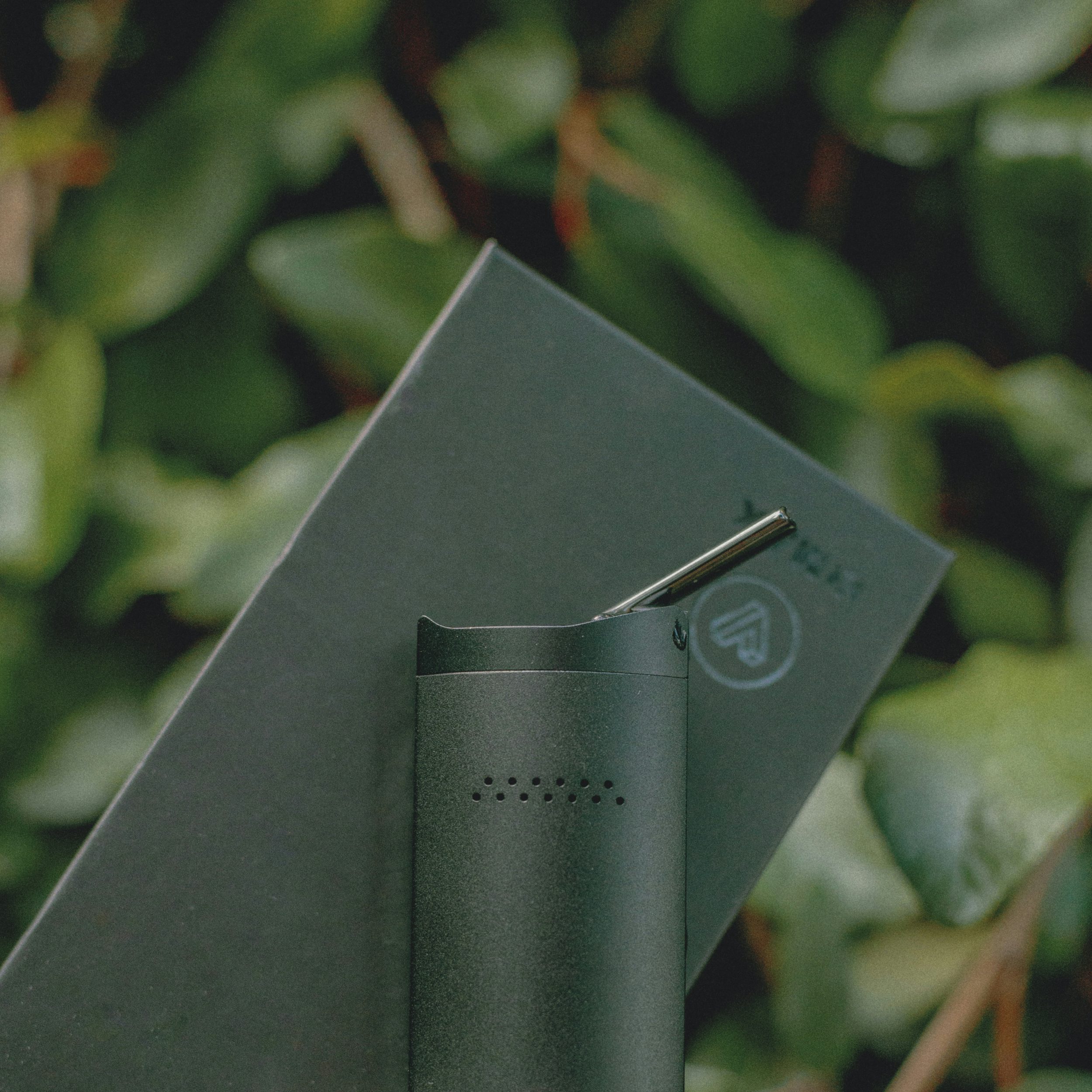 If you've ever glanced at the Pax 3 or the Davinci IQ, then consider the X MAX Starry a child of the two with a much more affordable price tag. The X MAX Starry, because it's so cheap, is far better suited to take with you on-the-go than a $200+ vape.  Also, it takes only 35 seconds to heat up, has a body constructed of anodized aluminum, and its battery lasts a solid 80 minutes. If by chance you run it dry while you're out and about and left the charger at home, then you can easily swap it out for a fresh one as it carries a removable battery.
Don't let the $99 fool you; this ultra-portable unit produces excellent quality vapor thanks to its ceramic conduction oven, which protects your herbs from coming into contact with other materials. What makes it even tastier is its ceramic zirconia mouthpiece, which helps preserve flavor and makes each draw smooth as silk. With its three control buttons, you can modify the temperature from 212°F to 464°F, and the taste/vapor production will adjust accordingly.
Flowermate V5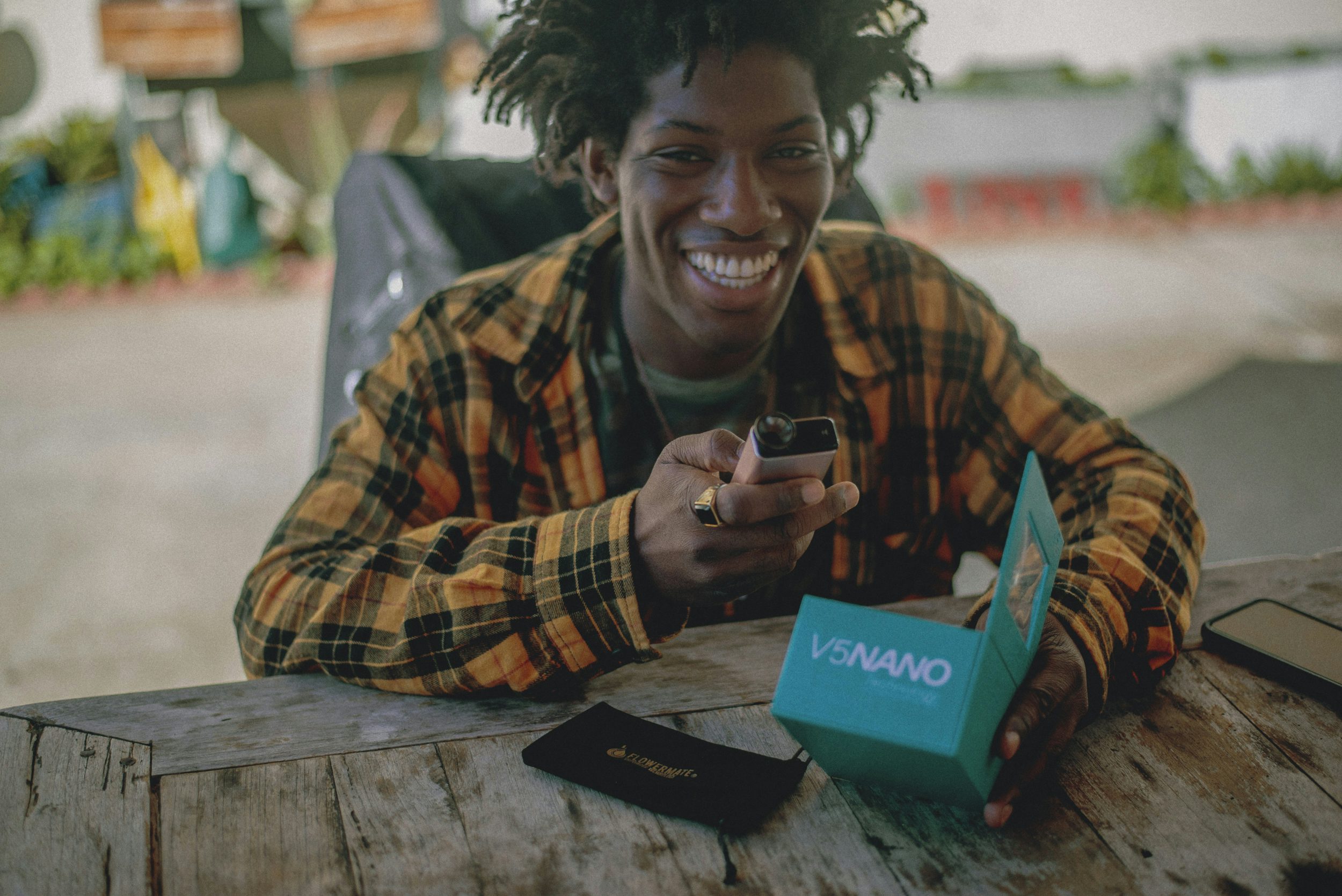 An authentic portable weed vaporizer should be as convenient and simple as it gets, no fancy features to sort through, and no bulky body. That's the Flowermate V5. This slim, single-button unit is the definition of pocket portable. Not only does it feature an easy to load chamber (ceramic) for dry herbs, but also a quick 30-second heat up time (conduction). Plus, a two and a half hour long-lasting battery. When you're ready, it's ready.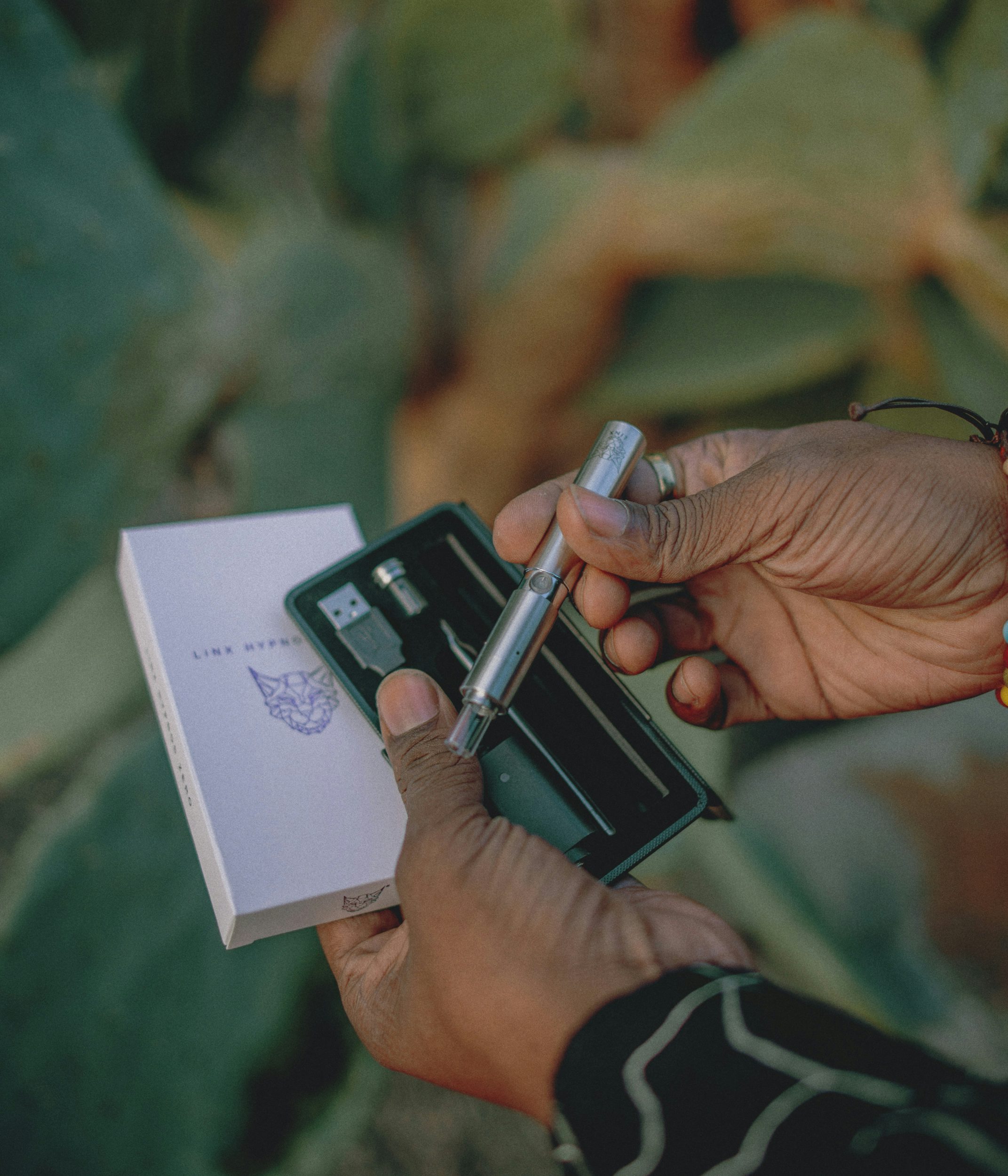 Enjoying extracts on the fly can get messy, even with a vape, but not with the Hypnos Zero by Linx Vapor. The Hypnos Zero received an award as the  "Best Portable Extract Vaporizer" by High Times, and we have to say we agree. For one, it's super low-maintenance. There is no exposed coil, making loading and cleaning a cinch. Two, it's little and low-key, perfect for slipping in and out of your back pocket.
To be so small, the Hypnos Zero is potent and powerful. Its ceramic plate heats on command and evenly at that, ensuring you get the most flavorful vapor from your extracts without wasting a pinch. Moreover, its complete medical-grade vapor path guarantees no toxins. Even the mouthpiece is made of glass, and the vape includes an extra in case you misplace it.
Crafty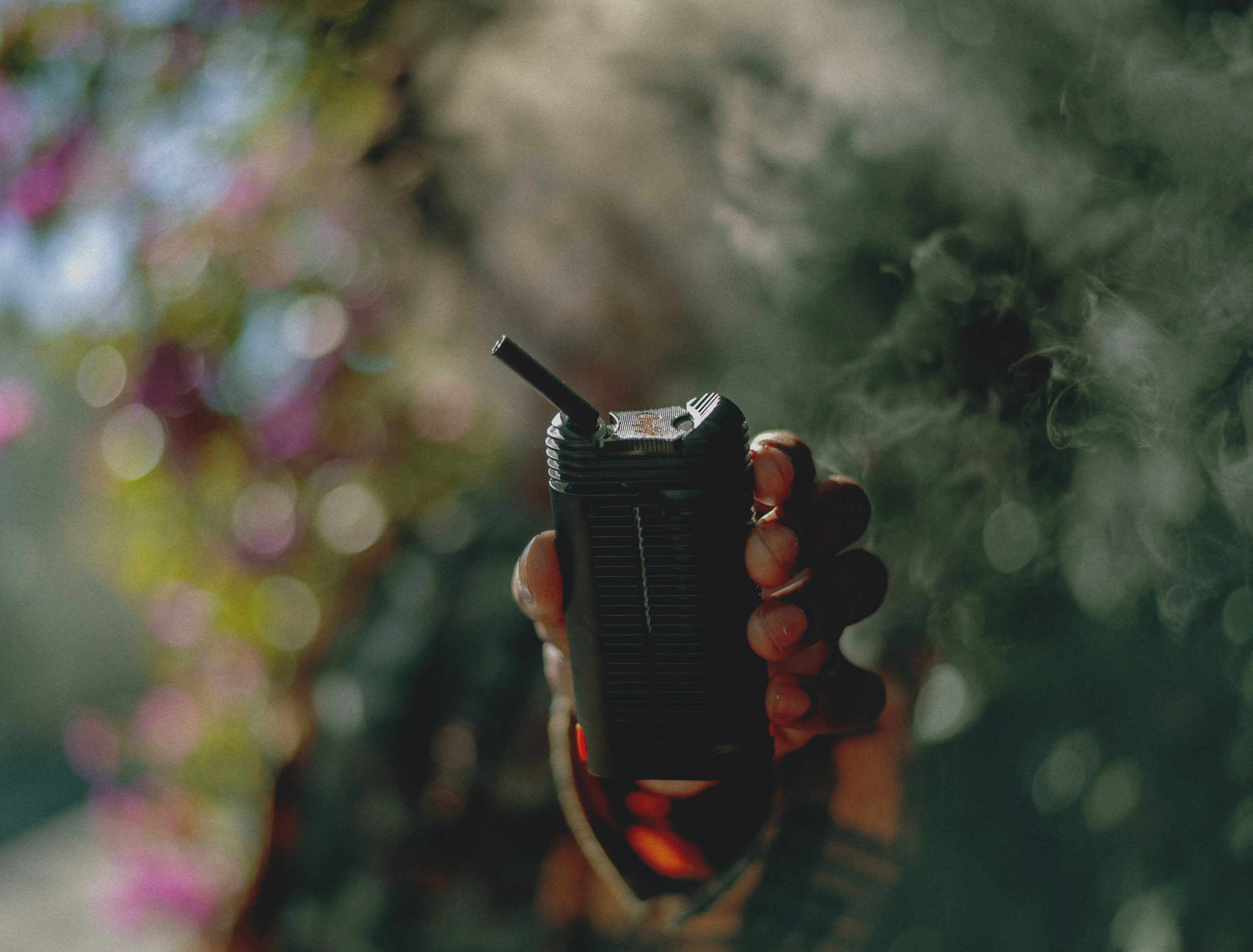 Another fine vape to take with you anywhere is the Crafty by Storz & Bickel, a dry herb/concentrates vape crafted for mobility. It's pretty much good to go as soon as you take it out of the box. Operating the Crafty can be done by a single button, or with its Bluetooth Remote Control App, which can come in handy for personalizing your vape from a distance. For example, if you leave the Crafty in the car while you grocery shop, then you turn it on and make your adjustments inside the store, and it will be all set by the time you make it back to your vehicle.
The Crafty's mouthpiece doubles as a clip for attaching the device to your belt or pocket. That makes it even more convenient and travel-friendly. As for flavor and heat, this vape features the perfect heating system that combines conduction and convection heating. Convection delivers the tasty draws, while conduction speeds up the process. Fast and full of flavor, just the BFF you need to join you on your many adventures.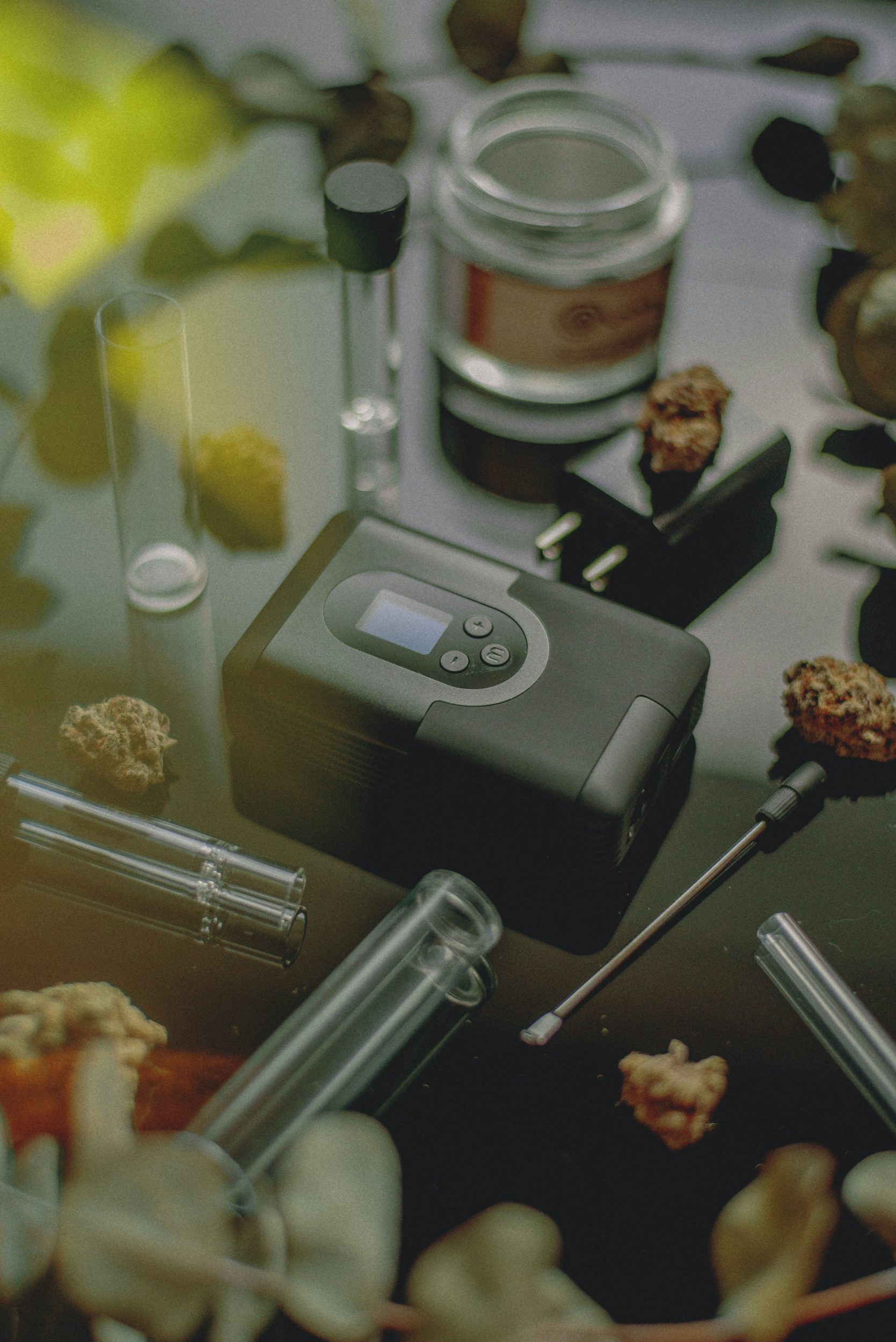 The Arizer ArGo is the type of co-worker you want to cling on to you all day. And it can, considering it comes with a belt-clip carrying case. Even if your job calls for intense labor, you always have close access to pure tasty vapor. ArGo offers ultimate portability, doesn't get in the way, and is easy to control. Moreover, it warms at a decent pace, 90 seconds tops, so you can smoothly sneak hits in between tasks.
Though the ArGo has a semi-delicate borosilicate glass mouthpiece to go with its all-glass vapor path, when not in use, you can push it in for protection. To top it off, it holds interchangeable, and rechargeable batteries and features use while charging and micro USB charging. You'll never run out of power on the go again.
Best Desktop Weed Vaporizers: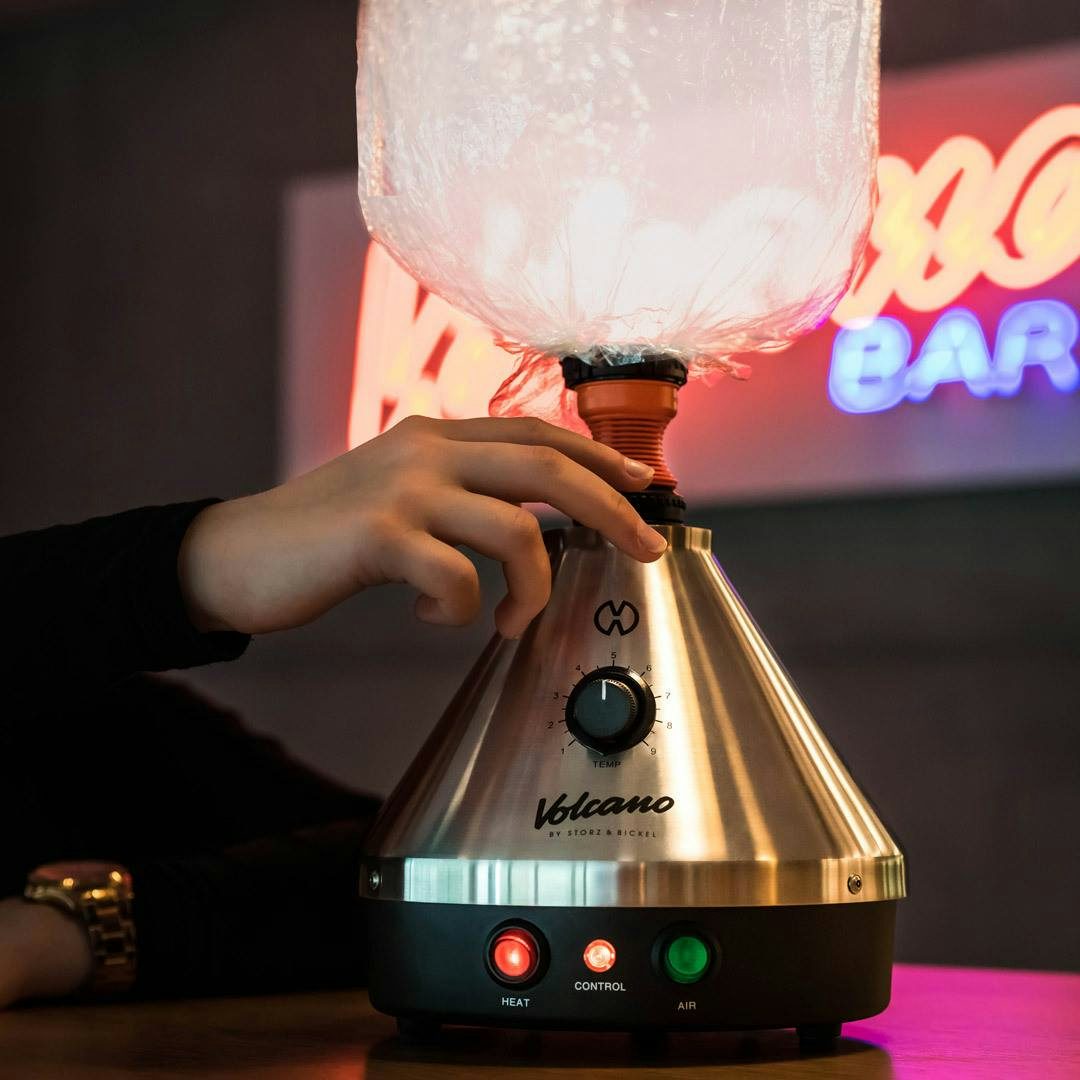 Desktop vapes like Storz & Bickel's Volcano are user obsessed. They give you multiple ways to consume your favorite herb and come with a bunch of fun and nifty features. There are two versions of the Volcano, including the Classic and the Digit, each of which is as effective as they are easy to use. The difference between the Digit and the Classic is that the Digit offers a wider temp range (104°F to 446°F), an LED display, and auto shut off. Plus, it's more expensive.
What the two Volcano vapes have in common is that they use Easy Valve detachable balloons to deliver pure delicious vapor. You get several hits from just one bag, and there is practically no draw resistance. Who knew inhaling weed out of a plastic bag could be so comfortable? Not just dry herb, but also dank liquids. The kit comes with a liquid pad, so you can have them both, though it works better with straight up bud.
Note: the balloon bags are food-safe, heat-proof, and odor-free.
The Vapexhale Cloud EVO vaporizer is for concentrates and flower enthusiasts alike. With this customizable unit, you get a bong-like experience, but with the health benefits of vaping. Each EVO features a glass mouthpiece of your choice. There's a beautiful variety to choose from, some with perks, some with whips. If you don't like any of the kits they have already prepared, then you can build your own, which lets you choose your type of warranty and pick out accessories. Either way, you'll enjoy a refined vaping experience and exceptional flavor, and plenty of bubble action along with it.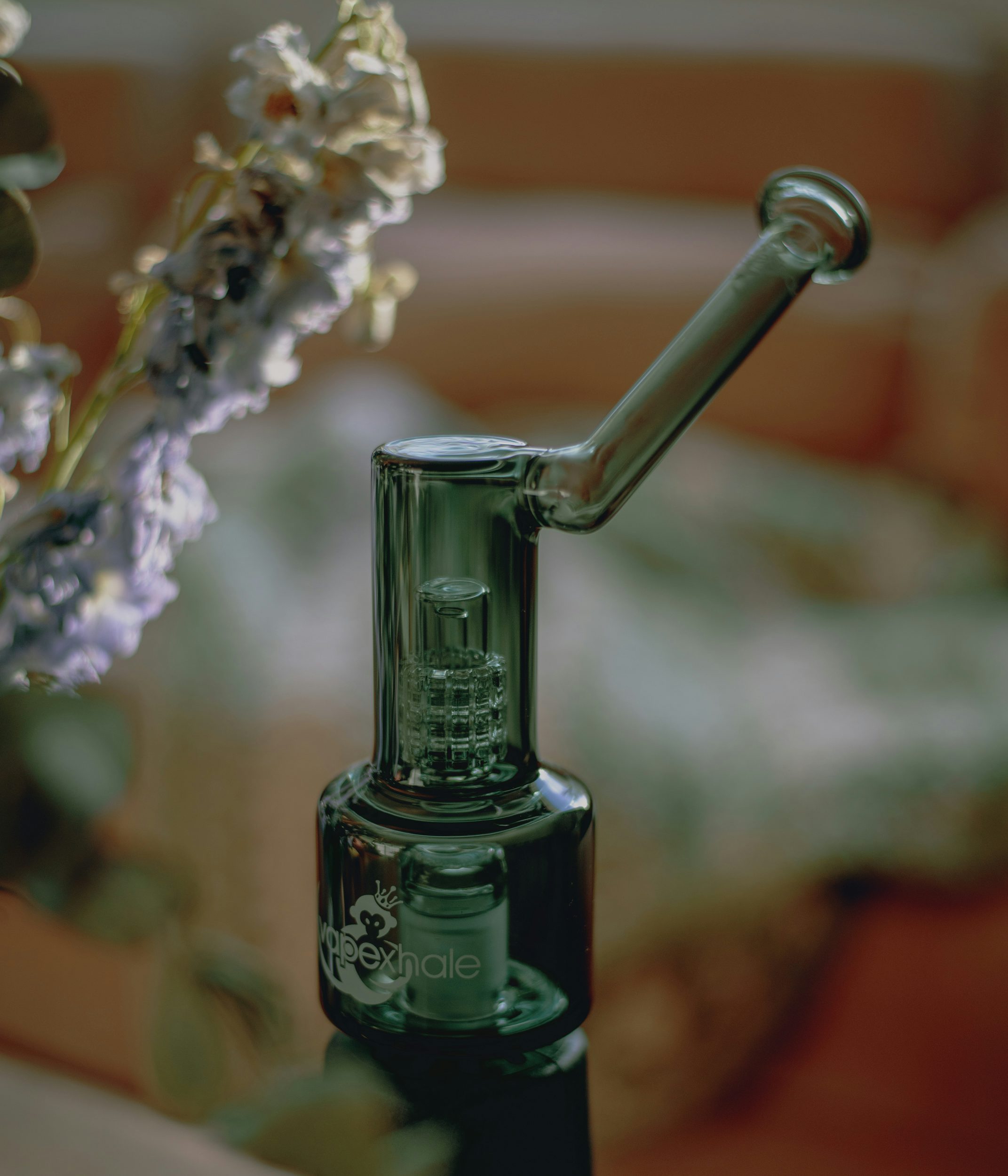 Extreme Q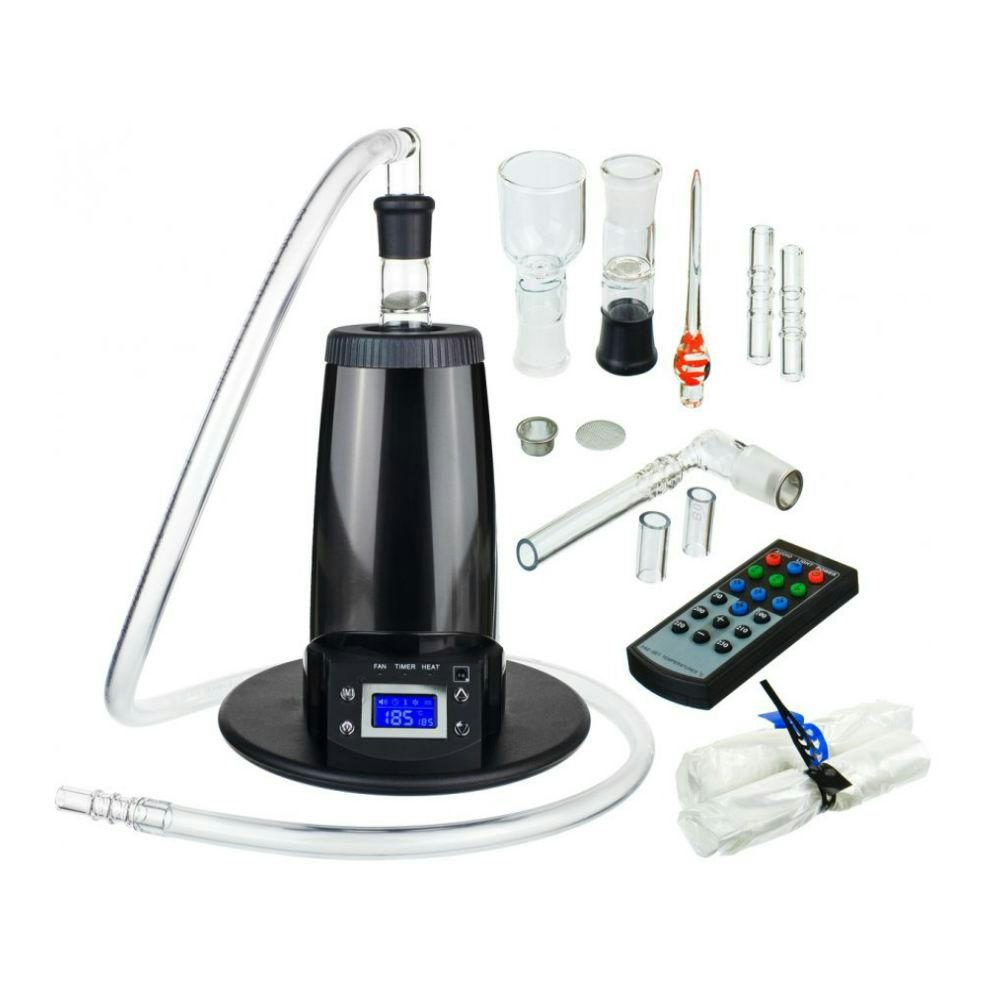 Another desktop vape with lots of options is the Arizer Extreme Q. In addition to being compatible with sticky bud, the Extreme Q comes with a glass aromatherapy dish to hold oils. Not only that, but you also get whips and balloons in addition to a three-speed fan for adjusting vapor density, so you can switch up how you inhale whenever the mood strikes. And if you need to step away from the unit, then you can tote its included remote control with you and operate it from afar.
The Extreme Q  also has more than decent temp controls that can reach as high as 500°F. That's pretty hot, but luckily, it features an auto-shutoff timer. Not to mention, a midnight chrome finish and stainless steel housing to keep it cool on the outside. That's one less device you have to stress over next to your flat iron.
As a dabber that's used to taking hard throat-punching hits off a rig, it's not easy finding a weed vaporizer that can compare. The HYER Big-E Rig is essentially a dab rig in vape form. It looks like a rig and is powerful like a rig, but completely ditches the torch and combustion. Its adjustable temperature dial and fast-acting ceramic heating element make it so much easier (and safer) to stabilize a desirable temperature. On a single charge, you get two hours of nonstop use or up to 25 sessions, more than any other portable e-nail out there.
You even get a built-in stash container for your concentrates with the Big-E. Oh, and cleaning is a breeze being that this device features self-cleaning mode. That alone makes it worth putting your favorite rig down more often. You don't have to waste time setting up your dab station either as everything you need minus the sticky icky is in one place.
Best Dry Herb Weed Vaporizers: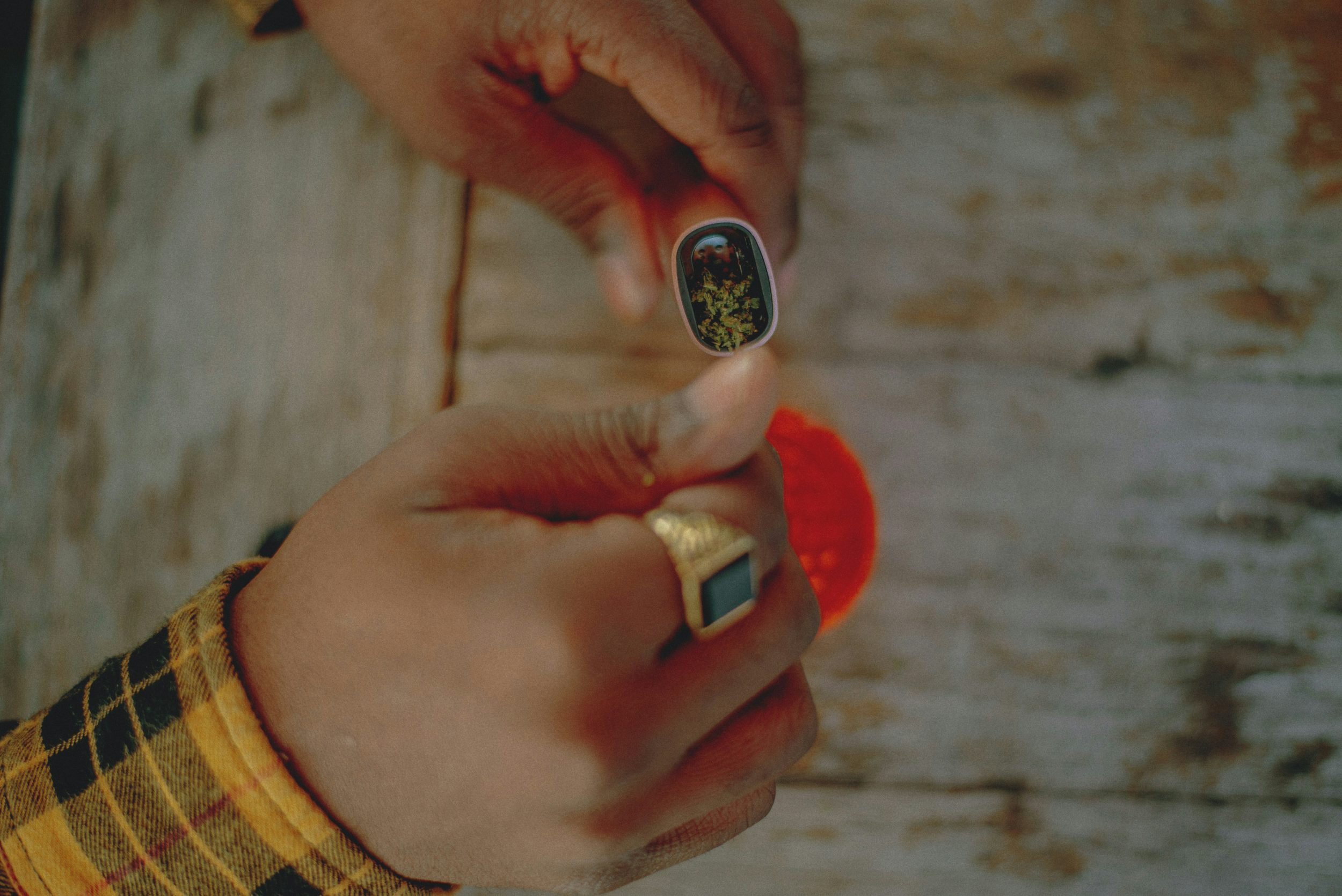 Pax 3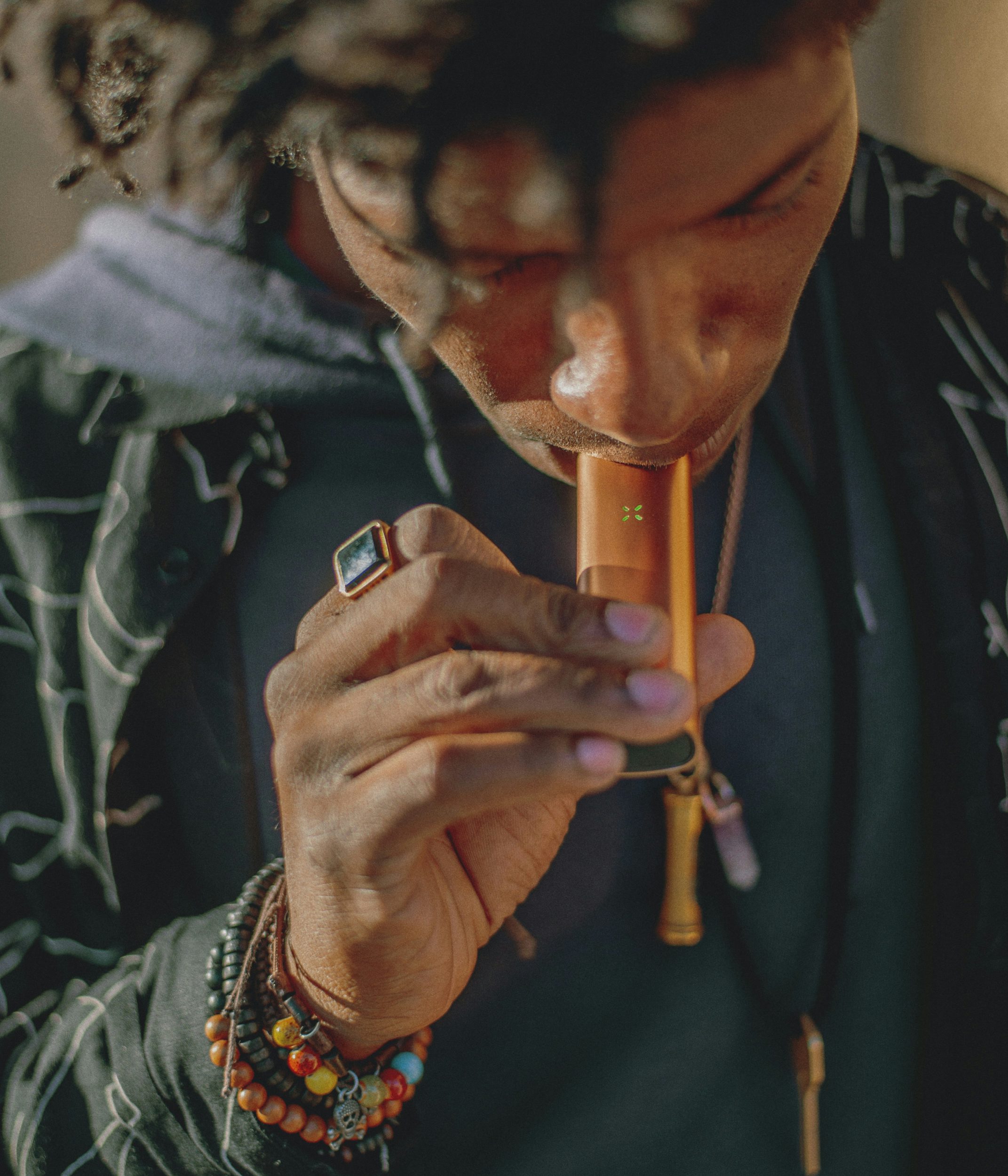 A dry herb vape should be two things: clean and tasty. The whole point of vaping is to enjoy a purer experience than what you get from sparking up. If you want one of the best dry herb vaporizers ever, then don't look past the Pax 3 vaporizer. The fact that it's stylish and delivers vapor at the palm of your hand is just a plus. Its real beauty is its 60+ temperature settings, 2x more powerful oven, and 22-second heat up time. With these three features combined, you get mouthwatering vapor quality, even if you're using half the amount of weed. The Pax 3 also comes with a half-pack oven lid, perfect for small and sweet sessions.
The IQ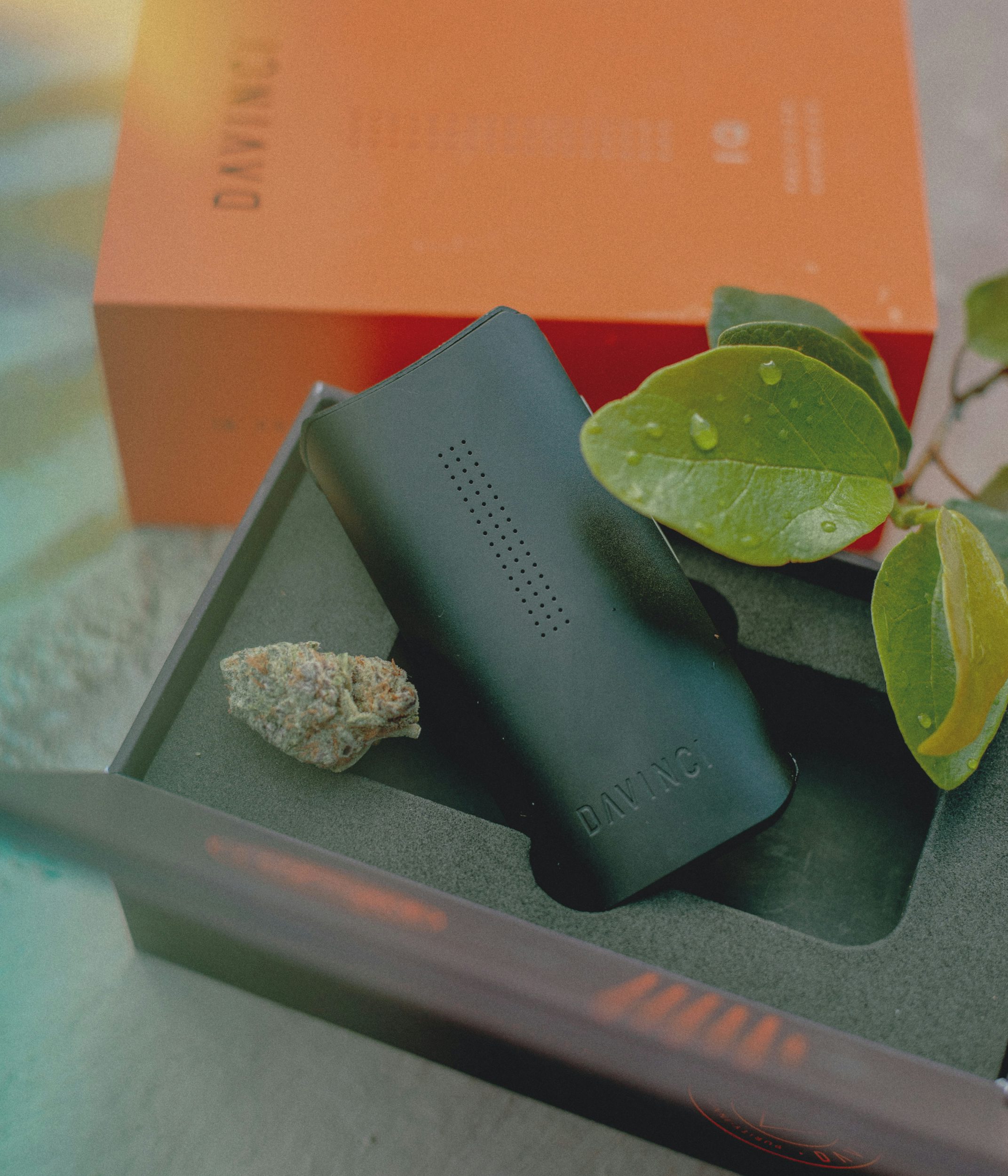 The DaVinci IQ is a 360° conduction vape and is no joke when it comes to flower power and flavor. Not only does it have a 100% zirconia vapor route, but also a ceramic heating chamber that warms up at the speed of lightning (16 seconds). A clean air path equals delicious clean draws. The IQ also boasts Smart Path Technology with four temperature options. You choose the setting, the IQ remembers and adjusts all on its own.
With the IQ's Bluetooth app, you get total control over your sessions, from selecting your temp (200-430°F) to powering the device on and off. You can customize its four Smart Paths too, or enjoy them as they are. Aside from Smart Path Mode, there's Boost Mode that quickly sets the unit to its highest temp and Precision Mode for picking a precise temp. Precision is the IQ's middle name, so if you're picky about your herb, then this is the ultimate vape you.
Firefly 2
The Firefly 2 is advertised as the best portable vape, but it's way too pretty to take just anywhere. That, and its steep price makes it much more of an at-home vape. Other than that, it's a fantastic and convenient dry herb convection vaporizer. It's fired up and ready to go in just three seconds, delivers amazing flavor, and doesn't waste a crumb. Moreover, it boasts an impressive design that's surprisingly easy to figure out. According to Business Insider, "anyone could pick it up and know how to use it."
If you like extracts, then you can use the Firefly 2 with those as well. It comes with three concentrate pads to make loading and cleaning simple. However, this vape is most famous for bringing out the flavor in flower.
Solo 2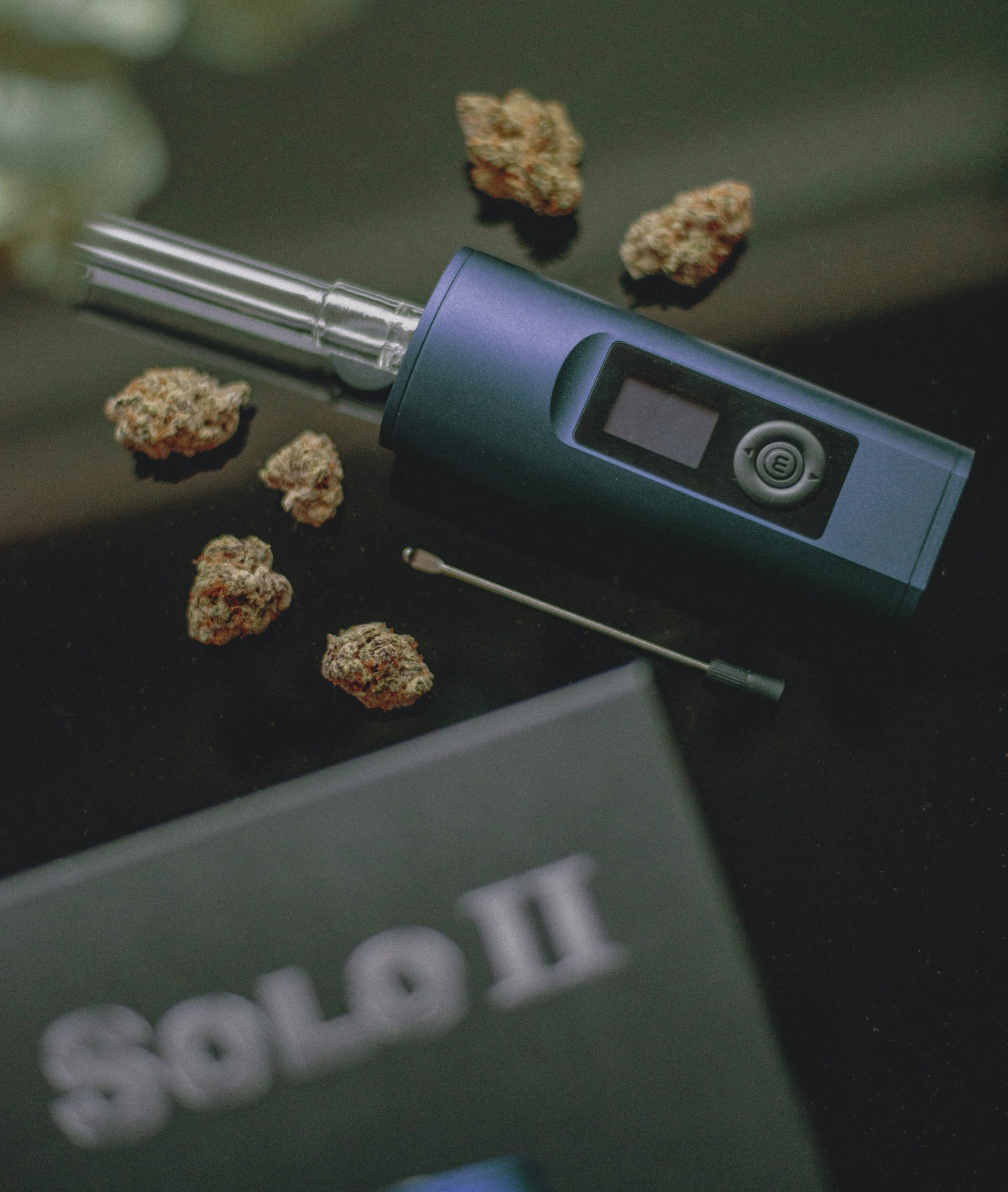 For a phenomenal dry herb vape with a long-lasting battery, you're bound to get the most uses out of the Arizer Solo II. This unit's battery lasts for three hours or over 20 sessions, plenty for heavy consumers, and days worth for newbies. More importantly, the Solo II will burst the flavor right out of your buds. It features a ceramic, glass, and stainless steel vapor trail and in-bowl recessed air jets to boost airflow for cleaner, smoother, and tastier draws. Users will also love its custom session settings that allow you to alter the temp between 122° F and 428° F in increments of one and ten degrees.
Plenty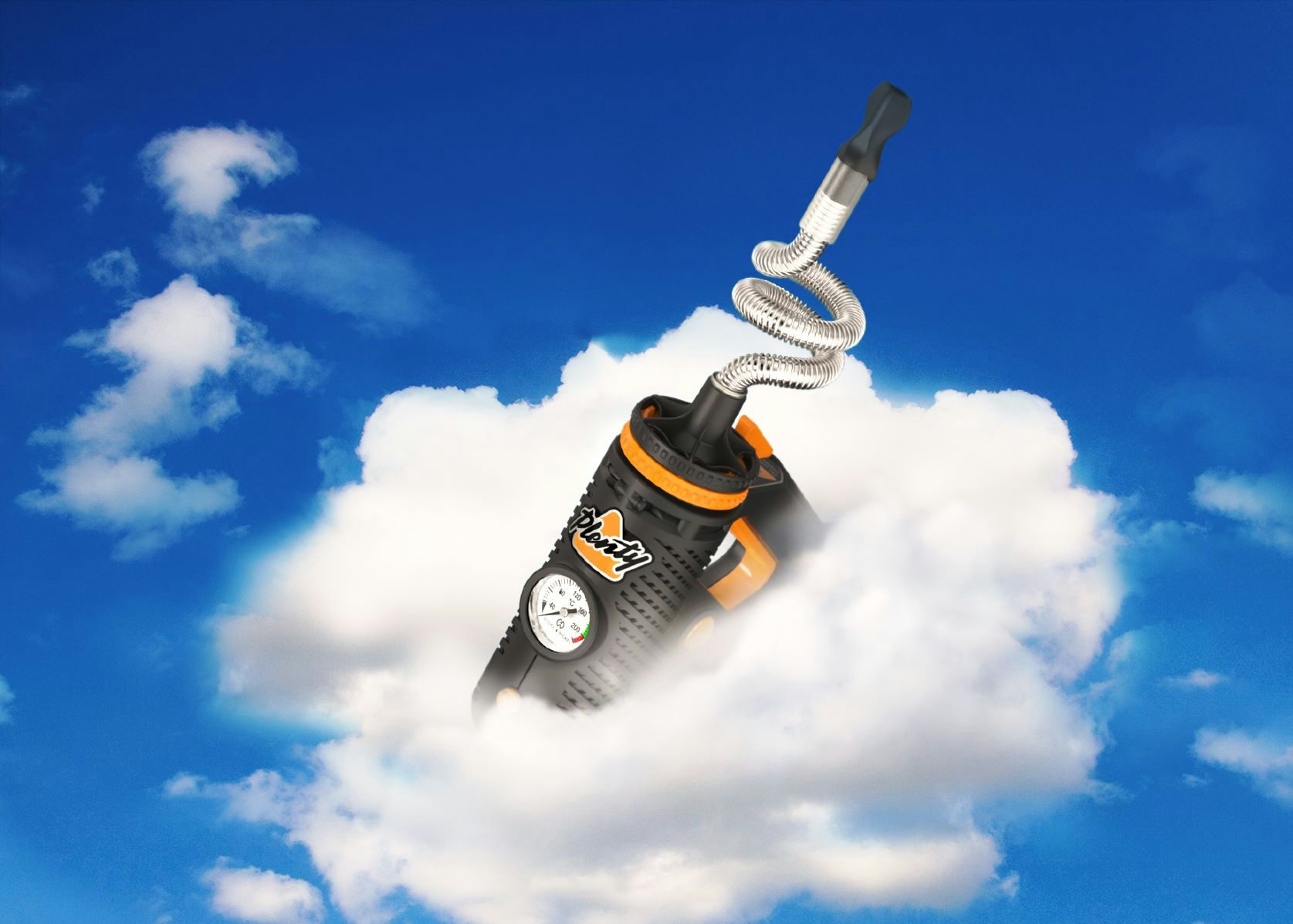 The Plenty Vaporizer by Storz & Bickel is a first-class device for dry herb connoisseurs. It features an extra wide filling chamber that provides optimal room for full flavorful draws, along with a stainless steel helix Cooling Coil for silk-smooth airflow, no resistance. Brace yourself for massive cloud production from this bad boy.
As can be seen, the Plenty is unique amongst other vapes. Not only does it lack controls except for a 1-7 scaled heating wheel on the side, but its design is also completely off the wall. To hit the Plenty, you have to squeeze its handle and draw from a twisty extended mouthpiece. When you release, the device automatically begins cooling down. It's definitely an awesome vape if you want something simple and durable with plenty of potential. Pun intended.
Best Wax Weed Vaporizer: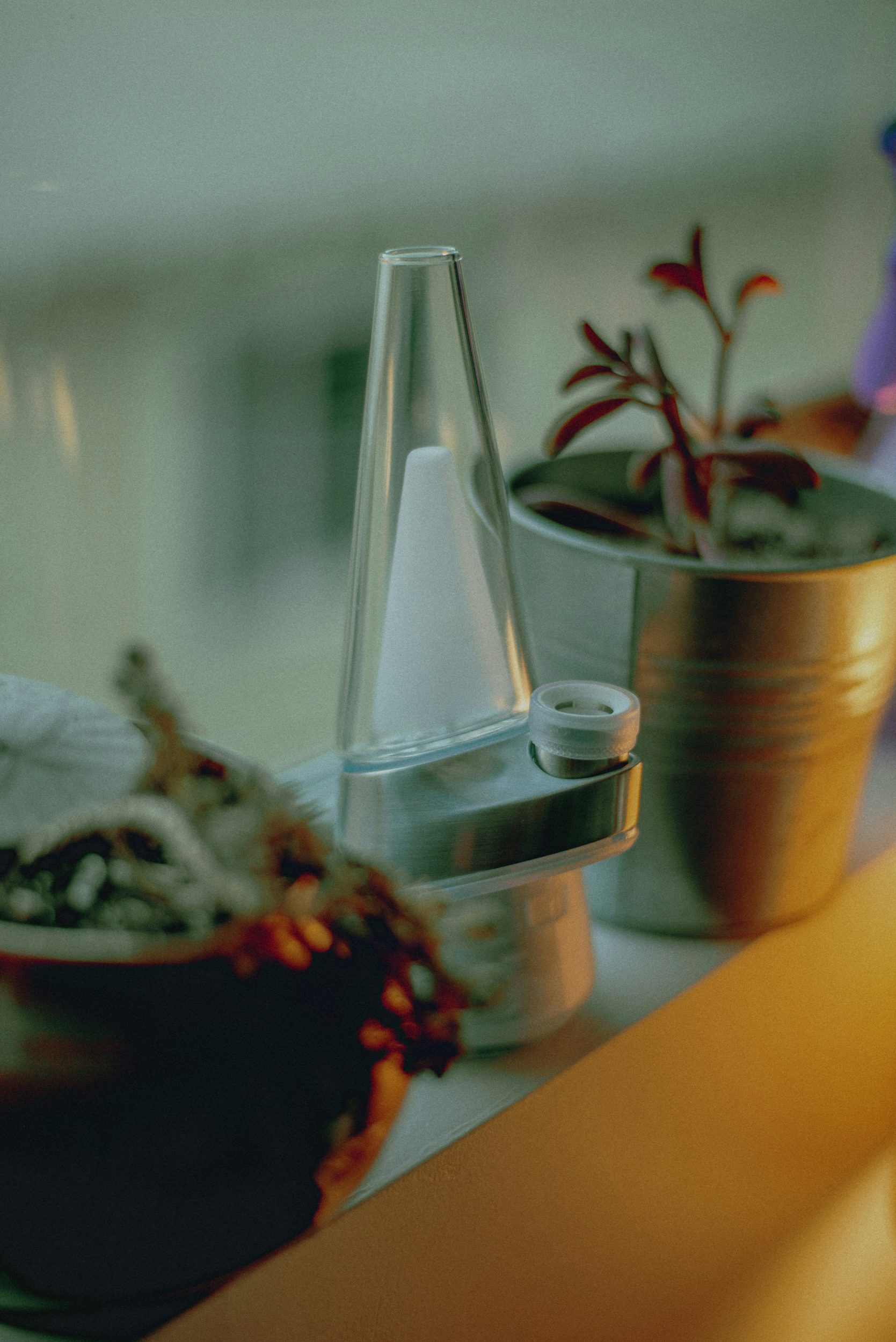 If you're into dabs, then the odds are high that you're a little extra. Anyone who enjoys insane amounts of THC and coughing fits has to be, right? Have no shame and embrace a vape for wax that's as extra as you are, the limited-edition Peak Lightning. Same as the regular Peak, also an excellent extract vape, the Peak Lightning features four unique user heat settings, haptic feedback that vibrates when it's ready to hit, and a 20-second average heat-up time. It lasts for up to an insane 30 dabs or two hours, whichever comes first.
All that really makes the Peak Lightning different from the Peak is its glowing LED light. It's a fun weapon to whip out at a party or when you're just trying to, you know, be extra. It even comes in a carrying case with all its tools to make it easy.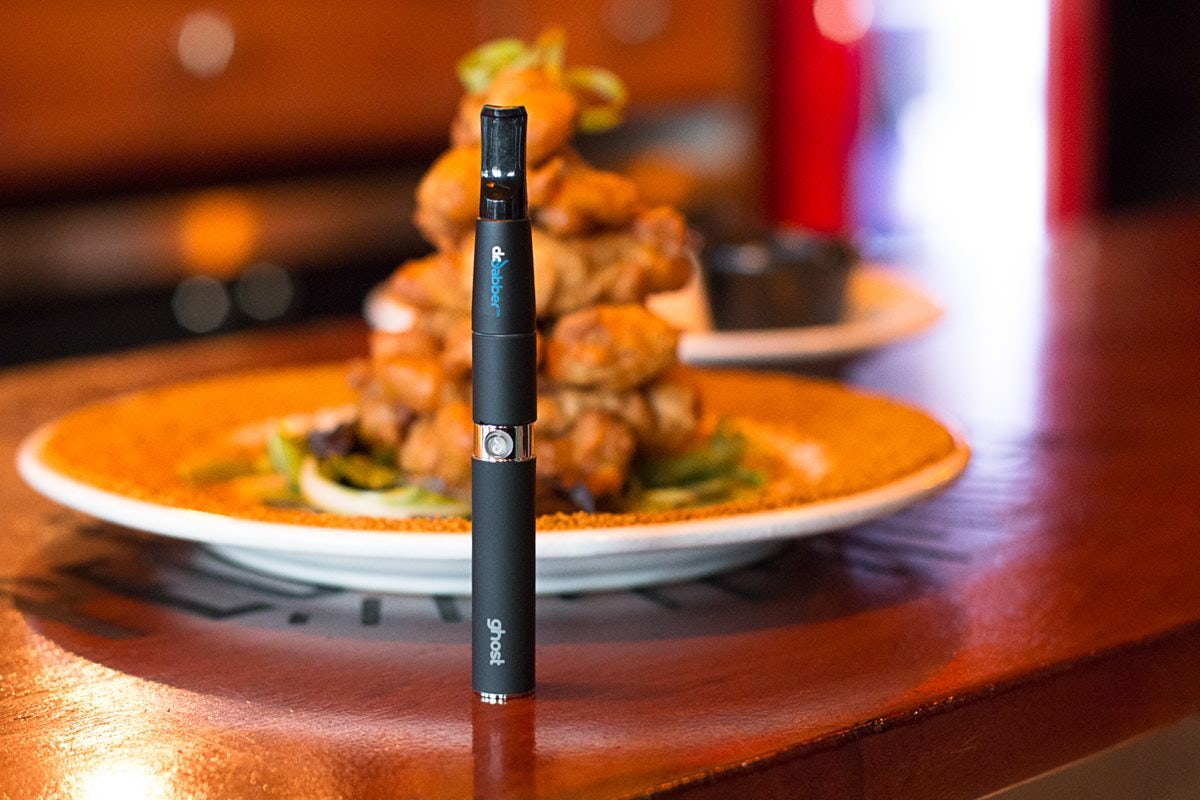 For a pen-style vape for your concentrates, the Dr. Dabber Ghost is an outstanding choice. Doing dabs via a pen may seem sketch, but this pen is low-heat and discreet, a much more relaxing way to dab than with a rig.
The Ghost features Titanium Technology, which heats to the perfect temp slowly but surely, eliminating that nasty burnt plastic taste you get from other vapes "designed for concentrates" and replacing it with the full flavor of your favorite extracts. It also comes with all the essentials, including a silicone storage ball, loading tool, replacement titanium atomizer, and a USB charger.
Dipper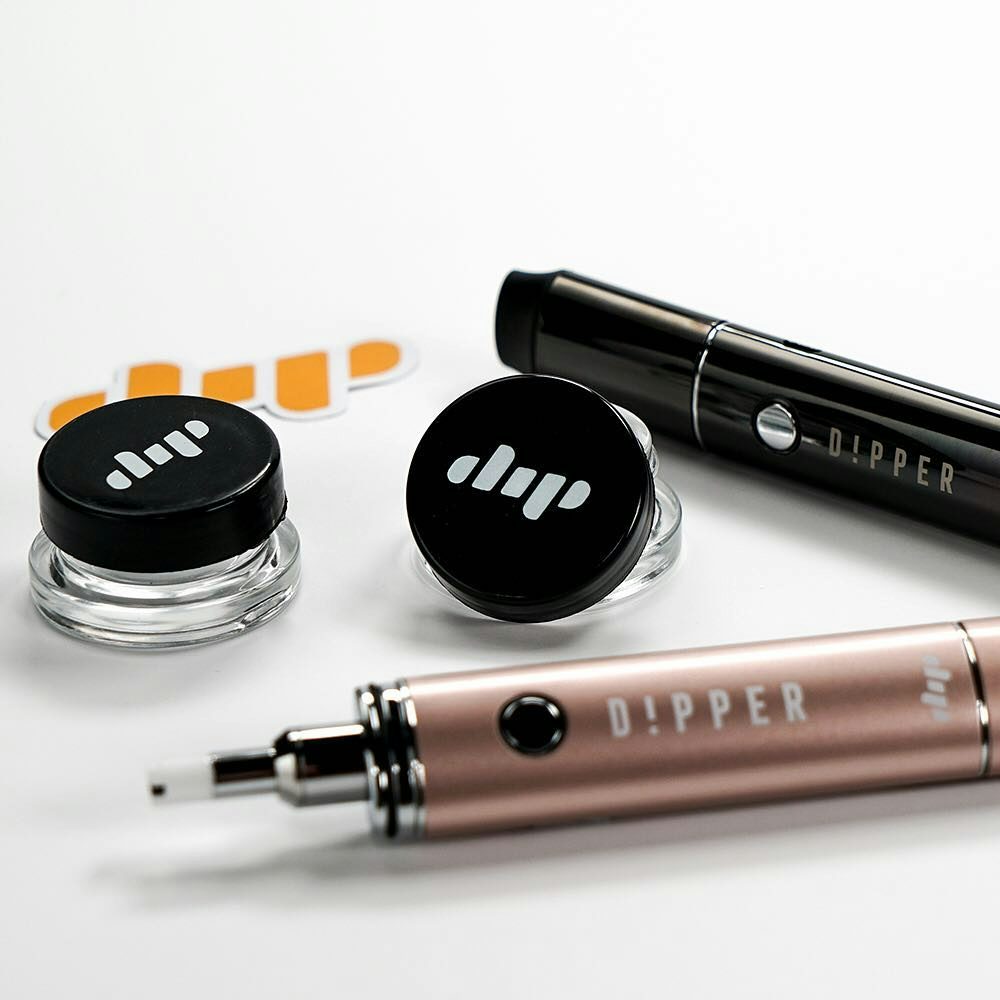 Dipper is a multi-functional type of wax vape. It comes with a Vapor Tip Atomizer that lets you dip the pen and dab your waxy substance of choice right out of the container, and a Quartz Crystal Atomizer if you're a fan of traditional load and go vapes but want a true dab hit. Best of all, the Dipper produces remarkable flavors that can be appreciated just about anywhere with ease. No tools, no torch, no rig, no mess, no dilemmas.  
Bolt Pro 2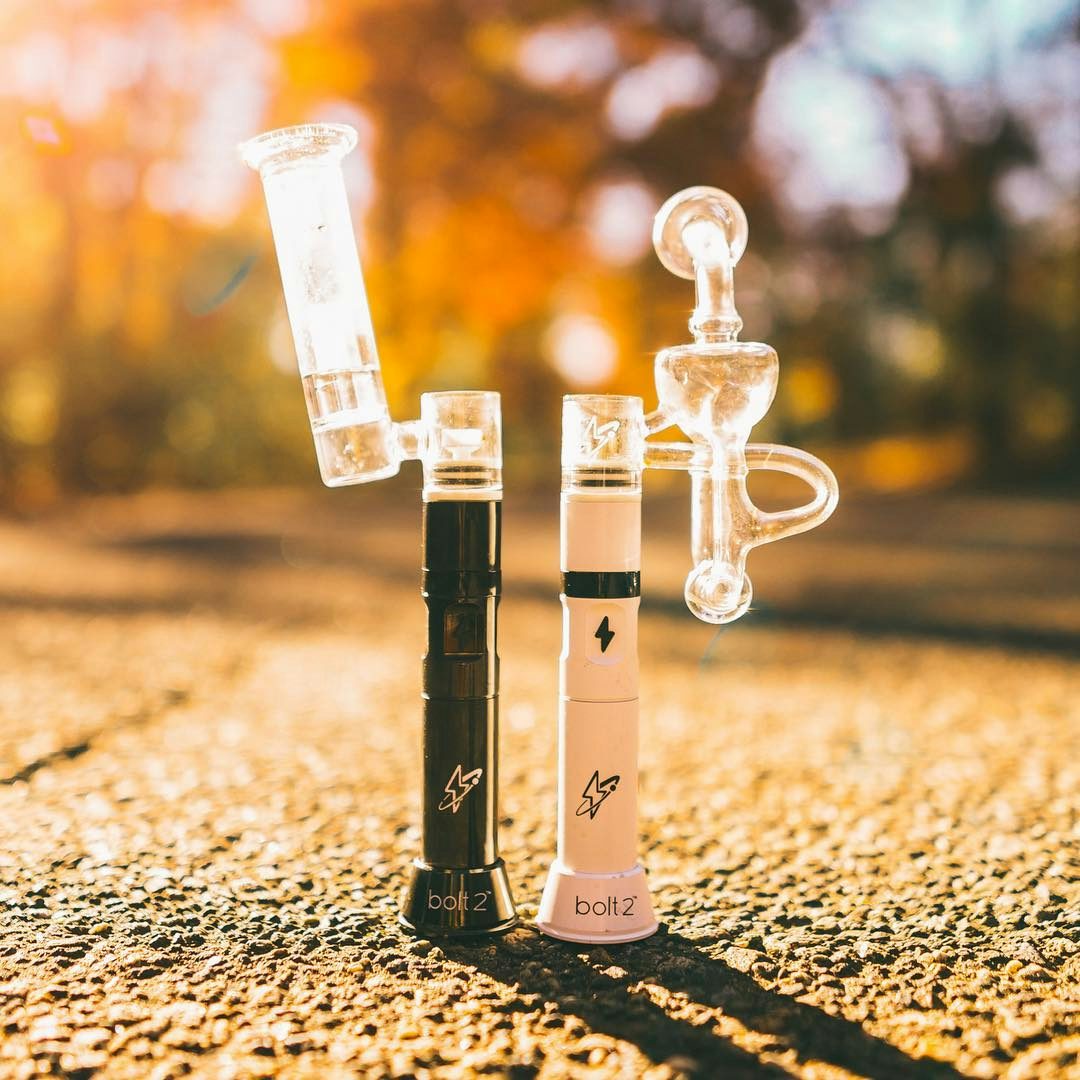 If you can't handle a little heat, then feel free to skip over this wax weapon. This monster's temperature can reach up to 900°F. No other wax vaporizer offers that much precision. With the Dabado Bolt Pro 2, you also get an XL interchangeable heating rob, all-day power thanks to its replaceable 18650 battery, and fantastic flavor. Plus, a quartz nail, titanium nail, and a ceramic nail, as well as a spill-proof glass attachment. However you want your extracts served, the Dabado Bolt Pro 2 can deliver the best dabs.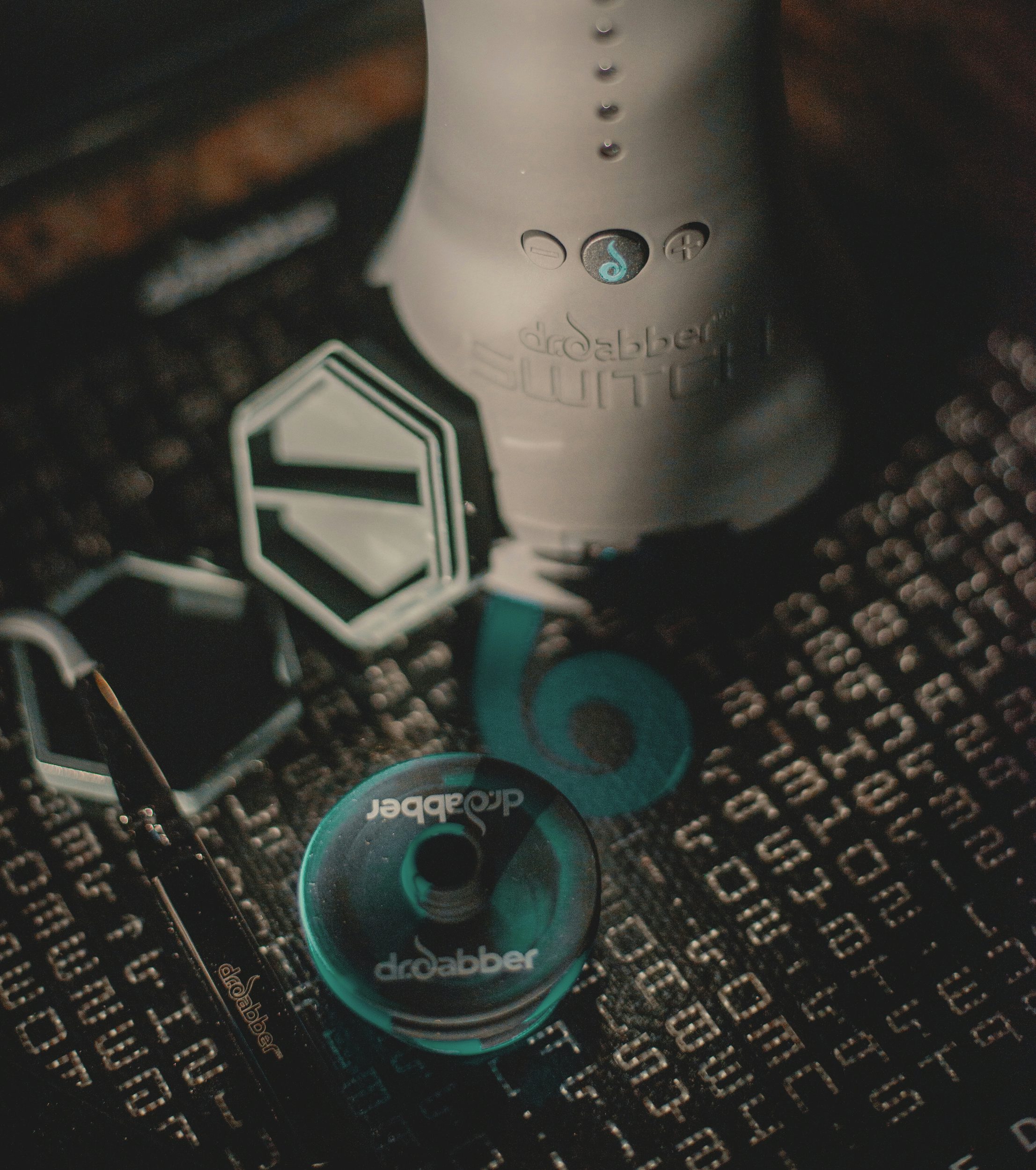 The Dr. Dabber SWITCH, my personal fave, is a fun tool for concentrate aficionados to play with all the way around. In standard mode, it offers five simple heating profiles, but there's also Pro mode, which unlocks 25 settings. Regardless of which you go with, SWITCH takes a mere 4 to 6 seconds to heat, impressive for such a large unit. On a single 60-minute long charge, you get 150 uses. Power and built to last, we approve.
The SWITCH comes with the whole kit and caboodle for vaping extracts, and even bud, including a nifty glass attachment and other essentials like a dab tool, wax container, and more. The cloud action and 25 LED light show options will surely keep you entertained while you toke. Then, there's Stealth Mode for sneaky lights off sessions.
Best Weed Vaporizer: Oil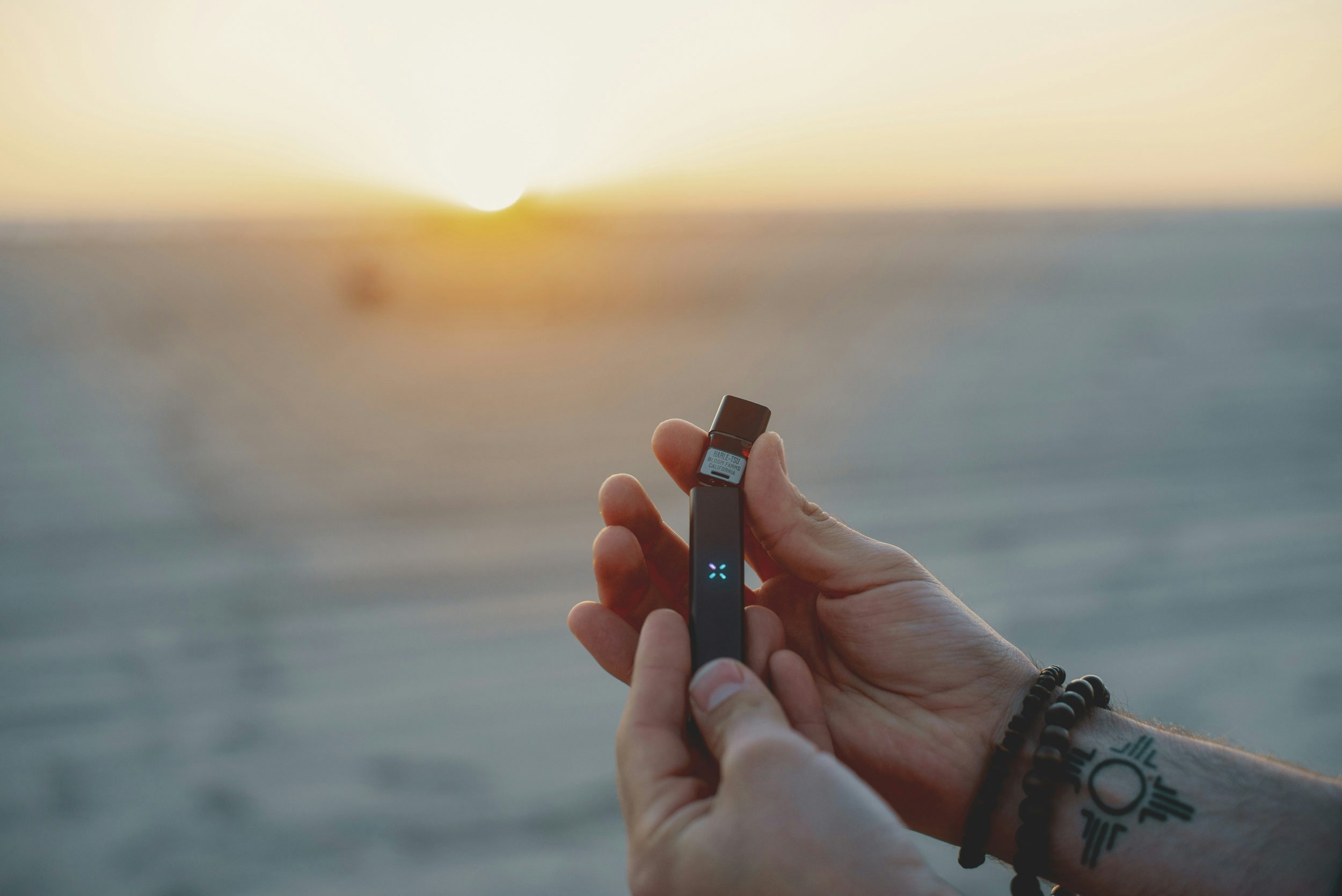 Pax Era is a pod-and-pen system for cannabis oils, a semi-new trend in the industry. That's because vapes like these remove all the hassles of vaping, like loading your materials and waiting for the device to heat up. You choose between 250+ strains and 50+ extracts and when you find the perfect pod for you, you're golden. The Pax Era comes ready to use, but also offers some customization via the Pax Mobile app. With the app, you can select a precise temperature to match your desired potency and flavor. The best vapes let you have it your way; the Pax Era is no exception.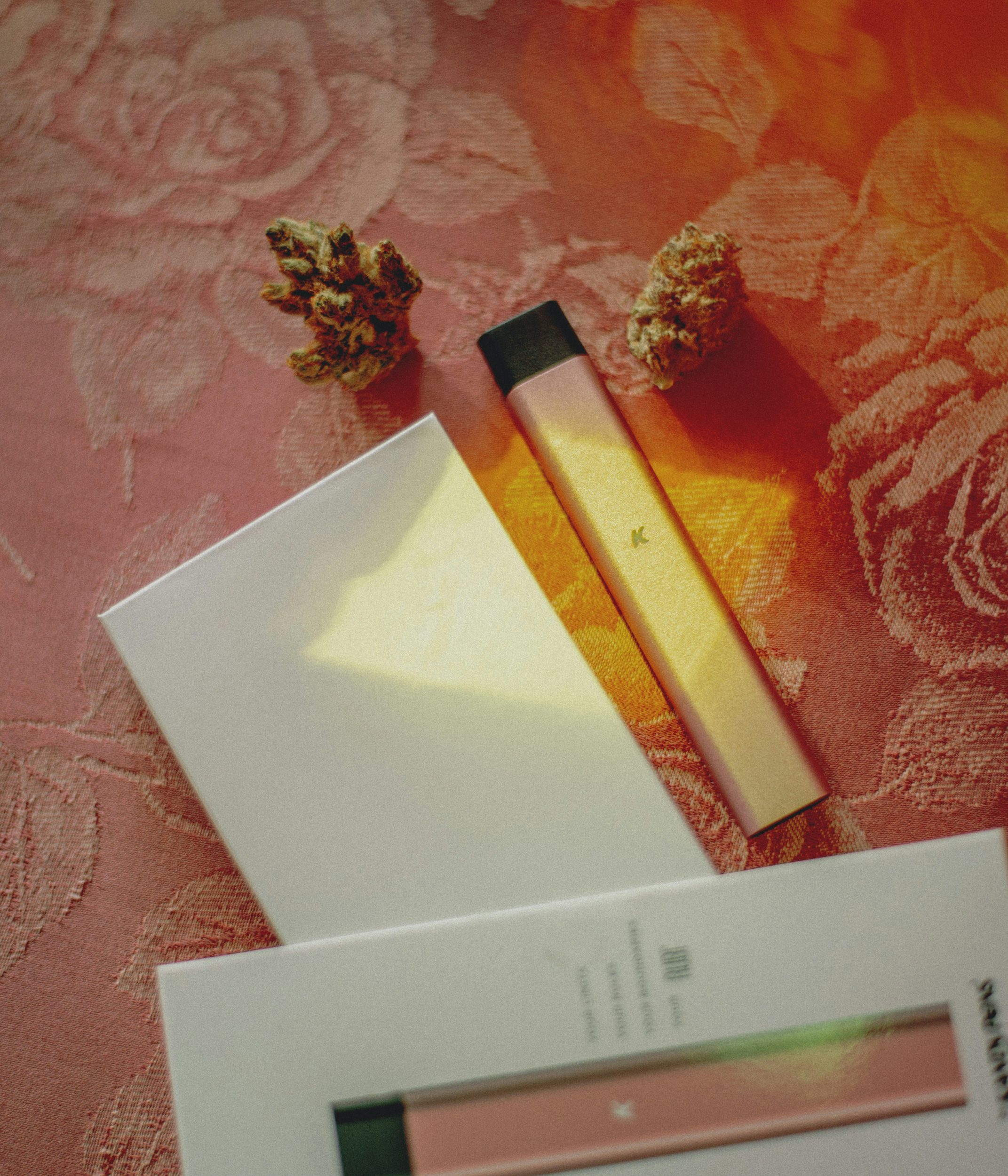 Rubi by KandyPens is another badass pod-based cannabis oil vape. It's reliable too, with no leaks or spit-back. From snowboarding to walking the dog around the park, Rubi is compact and slim enough to go anywhere and do anything. When you're craving a hit of relief, pull it out and take a puff. It's that simple and smooth. Rubi responds on demand, and if you forget about her longer than 8 seconds, she'll shut off. Your pockets and purse are safe with this portable pod pen.
PCKT ONE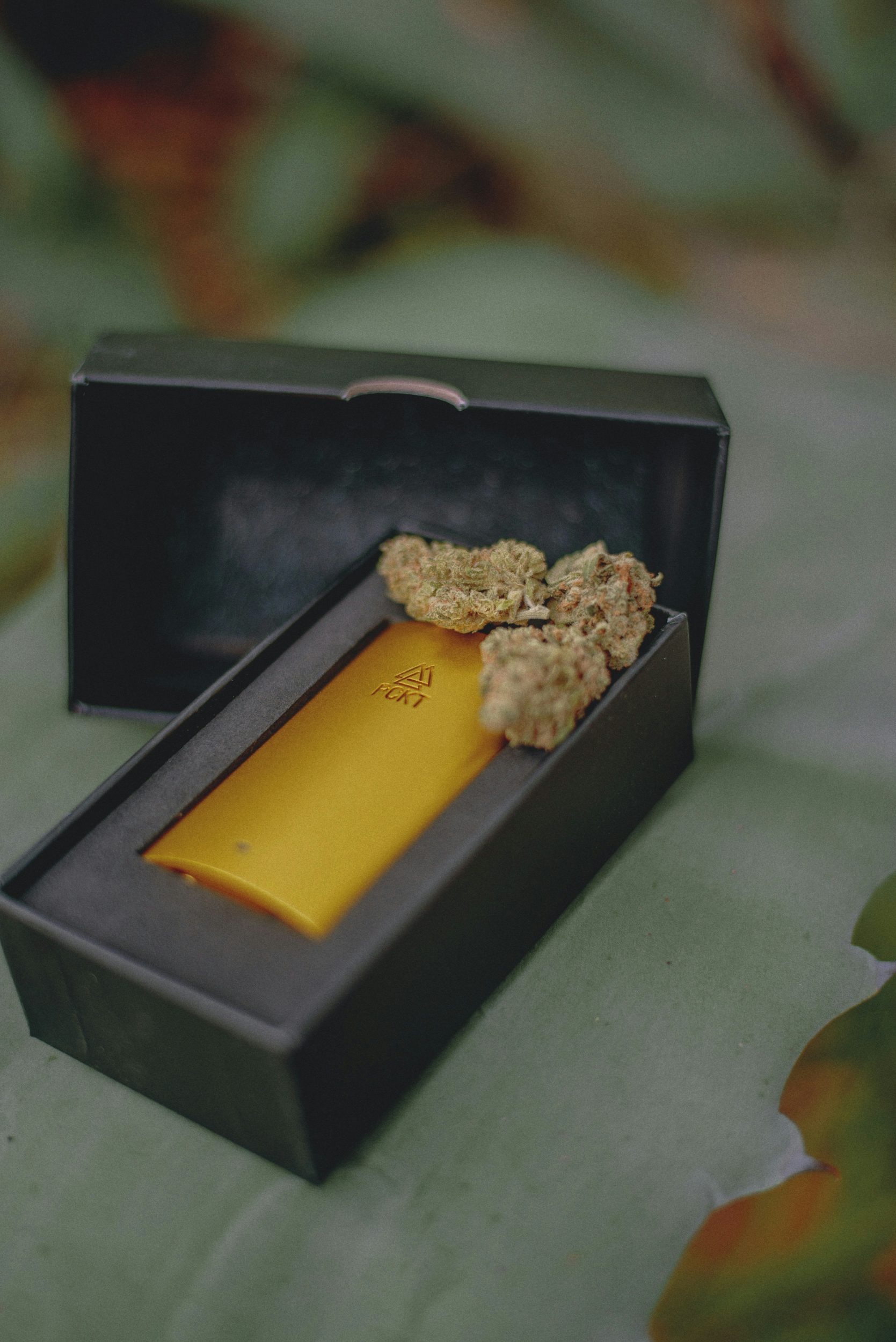 Typical cartridge pens are the furthest things from discreet. Not to mention, good quality. The oil is in your face, and everyone else's around you, and the pens never last longer than a month or so. PCKT ONE, on the other hand, conceals your favorite 510 cartridges, and the tasty oil that's inside. It's still as easy to sneak hits, if not easier. PCKT ONE features auto-inhale, meaning it works from the moment your lips press the tip.
C-Box
Like PCKT ONE, C-BOX by KandyPens keeps your oil tanks covered up. It's also short, and fun-size at just three inches tall, but can rip like a champ. For less than 50 bucks, it's hard to top its vapor quality and discretion. Or how easy it is to operate. You can hide and work the whole unit in the palm of your hand, and it's as light as a feather, just the type of vape pen for oil you need to catch a buzz on the low at a concert or anyplace that's loud and busy.
If you just want a stellar battery for your 510 thread cannabis oil cartridges, then the O.penVAPE 2.0 is a far better match than those cheap Amazon batteries. The O.penVAPE 2.0 features four variable voltage modes to give you more control. Whether you want to enjoy soft and savory draws or rich and intense rips, there's a setting to accommodate your taste. And if you extract your oils from home, there's also an O.penVAPE FIY Kit, which comes with the battery and the tools to effortlessly mix and fill cartridges with your own homemade concoction.
Want to buy one of these vaporizers today? Click here to buy now!