Portable vaporizers have exploded in popularity in recent years. Thanks to huge strides in vape technology and a better understanding of how consuming cannabis affects your lungs, people are increasingly turning to discreet, personal vaporizers when they're looking to medicate. For many vape enthusiasts, however, there's an unfortunate crunch when they're forced to choose between affordability and quality when it comes to their portable vaporizer options. The newest product from Venice-based startup Apollo eliminates that tough choice. The AirVape XS GO offers the same quality AirVape fans have come to expect, but comes in at under $100.
Some premium vaporizers can top $300 on the retail market. While many of these portable vaporizers offer top of the line vapor quality and construction, the price point can make them inaccessible to people who might depend on their vaporizer. Choosing from the remaining, budget-conscious options shouldn't feel like a race to the bottom. You deserve a quality product regardless of your price point.
Affordable Portable Vaporizer Innovation
Like it's slightly larger sibling, the AirVape XS GO uses a combination convection and conduction oven to offer a smooth and flavorful vapor despite its slim size. The combination chamber helps to prevent your dry herb from burning. This cuts down on harmful carcinogens, harsh vapor and less-than-desirable flavors from your portable vaporizer. The XS GO also features a removable battery, allowing you to keep an extra charged battery on hand, making sure you never lose power when you're out and about.
The AirVape XS GO packs all of this premium technology into a portable vaporizer body that's even smaller than the already diminutive AirVape XS. Even easier to carry and conceal, the AirVape XS GO isn't just one of the most affordable premium vaporizer, it's one of the most discreet vapes as well.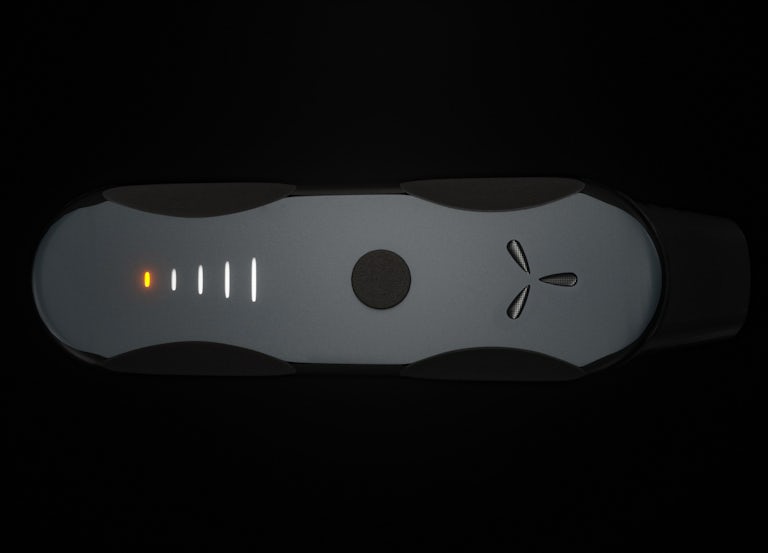 The control system is also easy to use, meaning you won't be fumbling around trying to figure out how to turn your portable vaporizer on. No matter how small it is, your vaporizer isn't very discreet if you're cursing at it in public trying to get it to temperature. A simple two-button system lets you choose your desired setting, while the devices vibration system lets you know when you've reached temperature so you can keep your portable vaporizer tucked away in your bag, pocket or purse until you're ready to use it.
AirVape Has Their Eye On More Than Just Portable Vaporizers
Depending on your experience level, once you receive your portable vaporizer, you might have a number of questions. That's why Apollo created their AirVape NiNJA Program. Just visit the AirVape website, then click "Chat Now" for a support network ready to answer any questions. Anything from maintenance and optimal settings to simply sharing your stories, an AirVape NiNJA can be thought of as the Apple Genius' of the portable vaporizer world.
Don't forget to tag your AirVape posts and tweets with #AirVaping. Being part of the online community can also set you up to get freebies, like hats, stickers, and bags to show off your NiNJA status. As always, returning AirVape customers receive a HUGE discount at a fraction of Apollo's newest models retail price.
You should never have to choose between breaking the bank and a premium vaporizer experience. Regardless of your price point, a quality portable and affordable vaporizer is now available to you, thanks to the AirVape XS GO. The community of vaporizer experts, massive returning customer discount, and cool freebies? That's all just a little bit extra.