There are over 600 million active users on Instagram, making it one of the most popular social networks worldwide. Cannabis brands from Santa Monica to Madrid are raising awareness, making connections, and engaging their fans. Here's how you can do the same.
#cannabis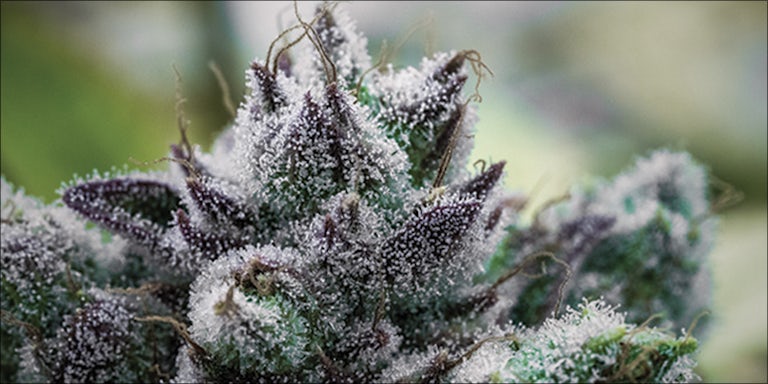 One search using the hashtag cannabis reveals there are thousands of pictures of our favorite plant on Instagram. And it is glorious.
While Instagram has been known to shut down cannabis related accounts, the community is still thriving. In comparison to Facebook, Instagram has become the go-to outlet for cannabis companies.
The question is, though, how do you stand out from the pack?
After building a cannabis brand (@WomenofCannabiz) from 0 to over 5,500 engaged followers in less than one year, here are five things I learned.
1. Begin with the basics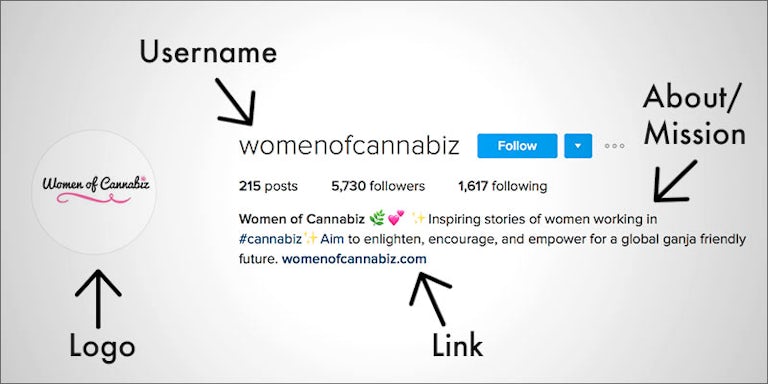 Want to build an amazing Instagram account?
Start with your profile. Your audience needs a clear sense of who you are and what you offer.
There are thousands of cannabis accounts on Instagram.
Give people a reason to follow yours. Don't forget to include a logo or headshot if you're promoting your personal brand. Never use someone else's photo. Tell your audience exactly who you are.
It's also important to take advantage of the link in your profile. Always include something here.
For example, a link to your website, email sign-up form, LinkedIn profile, or even your latest feature are all good options. Just keep it relevant. Remember that you can update the link in your profile. In fact, regular updates are a great way to promote your brand.
By optimizing your profile, you'll create a solid foundation for building your cannabis brand on Instagram.
2. Share the love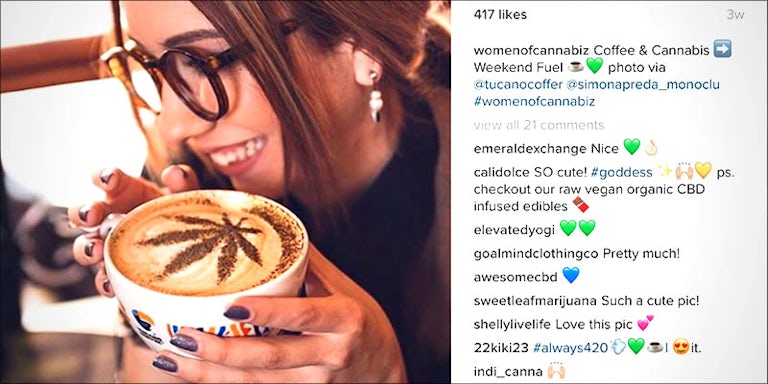 Your Instagram page should not exclusively promote your brand.
No matter how amazing you are, no one wants to be bombarded with endless self-promotion. Sure, maybe that buy one gram get one free sale at your dispensary is a must see. Or perhaps your cannabis book is the next best read.
Regardless of what you're promoting, add variety to the mix.
When you only promote yourself, it makes you come across as self-absorbed and money hungry. Not to mention Instagram is about community.
If you want to make a genuine impact in the cannabis space, share the love. Use relevant images, quotes, and reshares from other accounts. Just be sure to credit original sources.
By promoting shared and original content, you'll develop community, trust, and loyal brand promoters.
3. Interact with your audience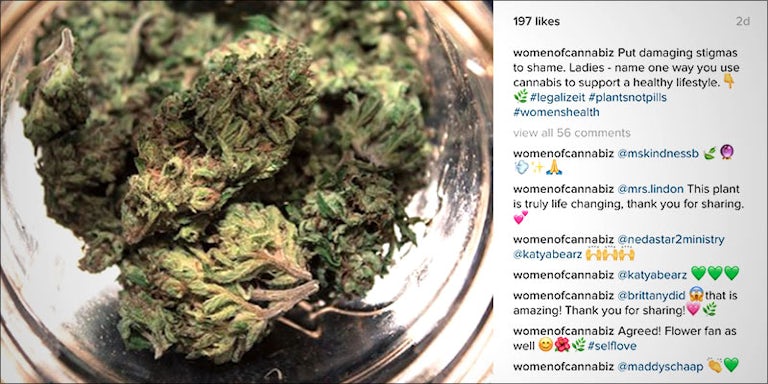 Want to know what your followers want? Ask them.
It sounds simple but too many cannabis businesses overlook this key tactic.
By asking your audience questions directly, your account becomes a hub for industry conversations. You'll also create content that your followers love and want to share.
If someone takes the time to comment on your post, respond. It only takes a few seconds to acknowledge the comment. At the very least, take advantage of Instagram's like feature on comments.
A simple engagement can lead to a promotion of your brand.
Above all, get creative. What unique question, or perspective, can your account offer? Whether it's a simple request like tag three friends or share a product review, keep your audience involved.
They will love you for it.
4. Share compelling content
Instagram is visual.
Creating content that not only resonates with your audience but also drives them to share and engage with it is crucial to building your brand.
How do you create that kind of content?
A great Instagram post can be narrowed down to two main ingredients – the image and the caption.
Images that capture an emotion or tell a story win on Instagram. What this may look like for your brand will differ drastically. However, beautiful, interesting, and funny images tend to do best.
Need some ideas?
Post a picture of your founder
Share a behind the scenes photo of your team
Showcase a gorgeous bud shot from your grow
Post a picture of your favorite bowl
Share a captivating image of your city
Repost a motivating quote
It doesn't have to be picture perfect, just relevant and real.
Next, you'll need enticing text for your post. While descriptions are not a requirement for Instagram, you're not using the platform to its full potential without them.
Keep in mind longer text doesn't necessarily equate to better. Find a way to create a meaningful and clear message.
Remember, compelling text can be a thought provoking question or a powerful quote. Use a variety of messages to see what your audience responds to.
5. Create a cohesive theme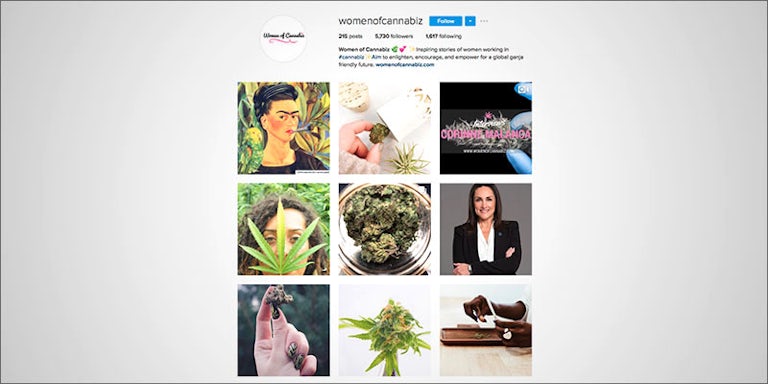 The best cannabis accounts on Instagram have a unique brand. Their accounts are memorable. If you look closely, you'll notice they also stick to a theme.
I tested this theory with Women of Cannabiz.
While there are a variety of posts on the account, all of the photos are relevant to women in the cannabis industry. Each photo corresponds to the mission and audience.
You'll also note a branded theme. The three primary colors of the brand are white, black, and pink – these colors are purposefully integrated throughout the posts.
Now, that is not to say you should stick the status quo.
Posting the same thing over and over again gets old fast. Focus on sharing the authentic voice of your brand. Think outside of the box.
When in doubt, ask yourself – would someone be able to tell this is your post?
Developing a loyal following on Instagram isn't an overnight process. It's also not purely a numbers game. While you want to gain followers, engagement is key to building a thriving community for your cannabis brand. Ten engaged fans are better than 10,000 ghosts. Post consistently and strategically to see results.