Society's door of acceptance has, of late, opened more widely than ever to cannabis users. But the life insurance industry isn't one of the places you'll find a laid-back attitude about weed.
Even if you're a medical marijuana patient with a doctor's recommendation, using cannabis can sharply raise the premiums on many life insurance policies, reports the New York Post. Certain companies are charging pot smokers the same risk assumptions as tobacco smokers, despite mountains of evidence showing cannabis is less harmful than cigarettes. Currently, eight states and D.C. have legalized cannabis for both medical and recreational use.
What can Cannabis users expect?
Cannabis users can pay as much as five times the cost for a 20-year, $1 million life insurance policy as non-smokers, according to one broker.
In the case of insurance companies, some caution is understandable given that the cannabis market is about to explode. It should also be noted that life insurance companies have different standards, with a few being more lenient, and many rejecting all "drug users" outright.
And this is part of the issue. There are, so far at least, still no consistent industry standards or best practices when it comes to marijuana. Legalization is still new enough phenomenon that many insurance companies seem quite skittish around the subject.
"We don't get into that side of things, that is something for individual company operations," said Jack Dolan of the American Council of Life Insurance, referring to marijuana rules.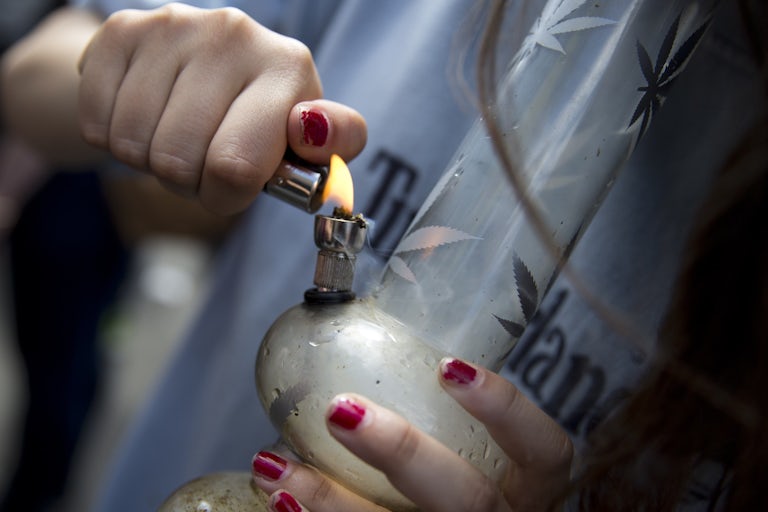 But according to Mark Maurer, an insurance broker who's president of independent agency LLIS in Tampa, Fla., he recommends insurance salespeople ask clients about smoking pot when reviewing their life insurance policies. Some companies will overlook what they see as "occasional usage," but others will boost your rates if you ever toke at all. That puts marijuana on the same footing as tobacco.
"Right now, I don't know of any life insurance companies who will out and decline an applicant because they smoke marijuana," Maurer said.
Maurer said he talked to a 36-year-old New Jersey woman who vapes cannabis once or twice a week. She got sticker shock on her 10-year, $1 million policy quote.
One company offered her an annual premium of $3,772, the same rate as for tobacco smokers. But another issuer asked only $677, the rate it would charge a non-user of tobacco.The woman's openness about her pot use paid off, according to Maurer, because she avoided trouble later if her insurer discovered her marijuana use through medical or other records.
Even if marijuana is legal in your state, according to the experts, it's still not a good idea to lie to the insurance person about usage.
"The medical impact of [cannabis] is what's of concern to underwriting, not so much whether a state makes its consumption legal or not," according to underwriter Mike Woods. "In other words: life insurance companies aren't narcs, they just want to know how much to charge you," wrote Adam Cecil at Policy Genius.
Assurances of Cannabis Users
While insurance rates may fall in the long-term, right now the life insurance industry is trying to cash in.
According to some more optimistic industry observers, life insurance rates for pot smokers could fall over the long term.
This would happen, according to this scenario, when actuarial tables, used by companies to calculate likely life expectancies given certain lifestyle factors, are updated to include years of post-legalization data on marijuana users.
Of course, for those who are being charged five times the rate of non-smokers, it's scant comfort to hear that their rates may be coming down to a reasonable level in a decade or two.