When you think about it, wine and weed have an awful lot in common. Maybe I'm just high, but a glass of Merlot, similar to a perfectly rolled joint, gives me a warm buzz, relaxing your body and eases my tired mind. Wine and weed, with their unique flavors, aromas, and effects, are also an acquired taste. The first hit isn't always the sweetest, but the more you try it and get to know it, the more you enjoy it. Being that wine and weed have an endless variety of bottles and buds to explore, most everyone can find something that hits just right.
And when the wine and weed hit right you're in for an amazingly cozy experience. You get the euphoria from the THC along with the body buzz from your favorite wine. But of course, whenever alcohol is involved, so is the potential of having a god-awful time. Sparking a J on top of too many glasses of wine will either have you spinning or cuddling the commode or both. Fortunately for lovers of wine and weed alike, there may be a more fun/less tragic way to combine the two, and it's weed wine.
Weed-Infused Wine: The Next Big Thing Brewing In Legal States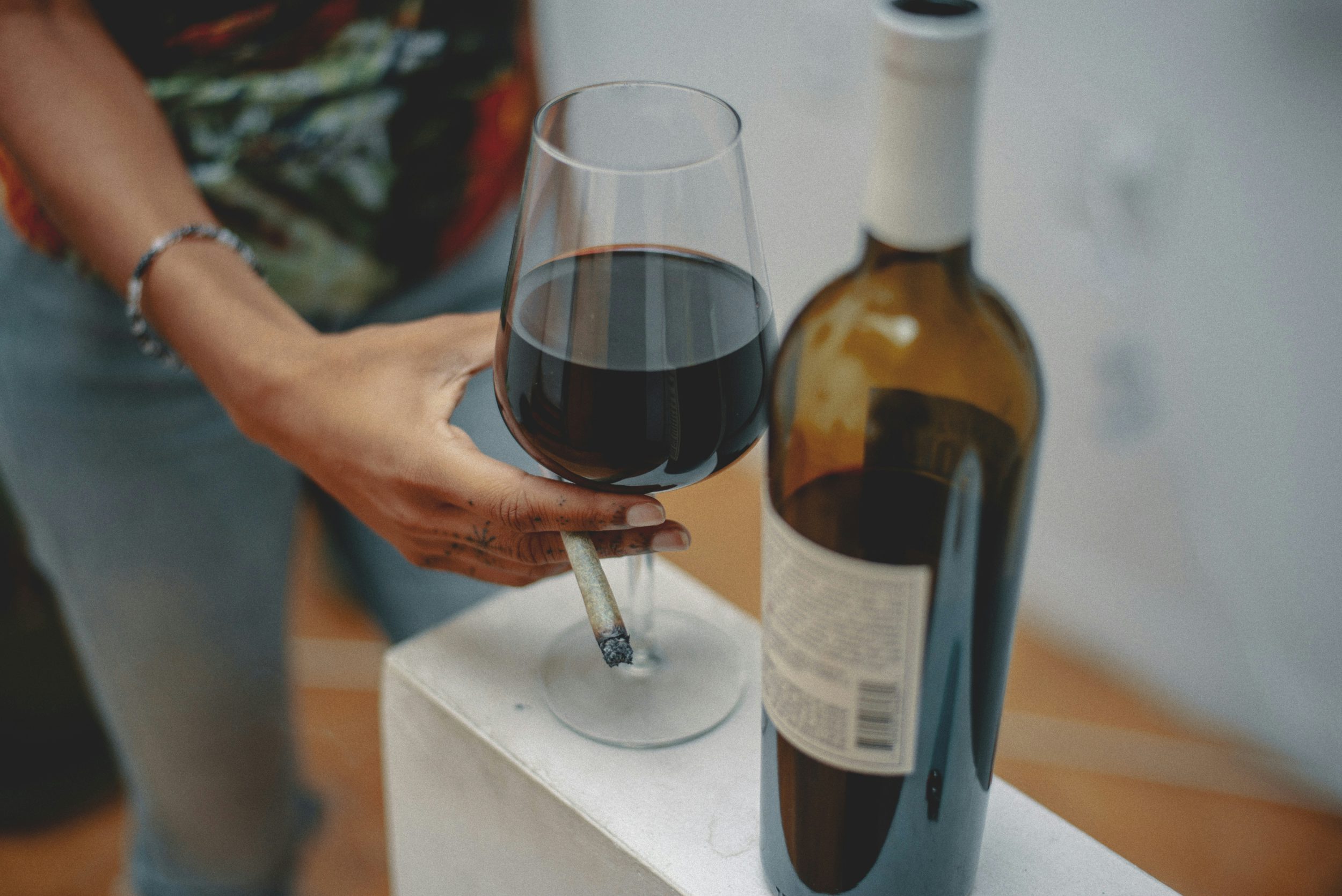 Weed and wine seem like the furthest thing from a match made in heaven. But in weed-and-wine friendly states like California, mixing the two has sparked a growing trend. Not only are there multiple companies infusing wine with THC and CBD, but they're also turning the concept into a tourist attraction. In the San Francisco Bay Area, you can pay $129 to smoke weed, drink CBD-infused wine, and explore the city in a deluxe weed-wine tour.
Fun fact: most weed wine doesn't actually contain alcohol. When it's made, the alcohol is removed and replaced with THC, eliminating hangovers and the other regretful consequences of booze. There are a few exceptions that contain both alcohol and weed, but these are infused with CBD instead of THC. They don't get you high, but they do give you that relaxing buzz you love about a glass of wine, plus the health benefits of cannabis.
The reason you won't see alcohol and weed in the same beverage, for now, is that the law prevents mixing the psychoactive component of marijuana with alcohol, even in states where cannabis is legal. Even so, weed wine as it stands delivers a one-of-a-kind experience that's deserving of a sample, especially if you're looking to cut back on the Pinot. It's equally refreshing, and better for you too.
The Best Weed Wine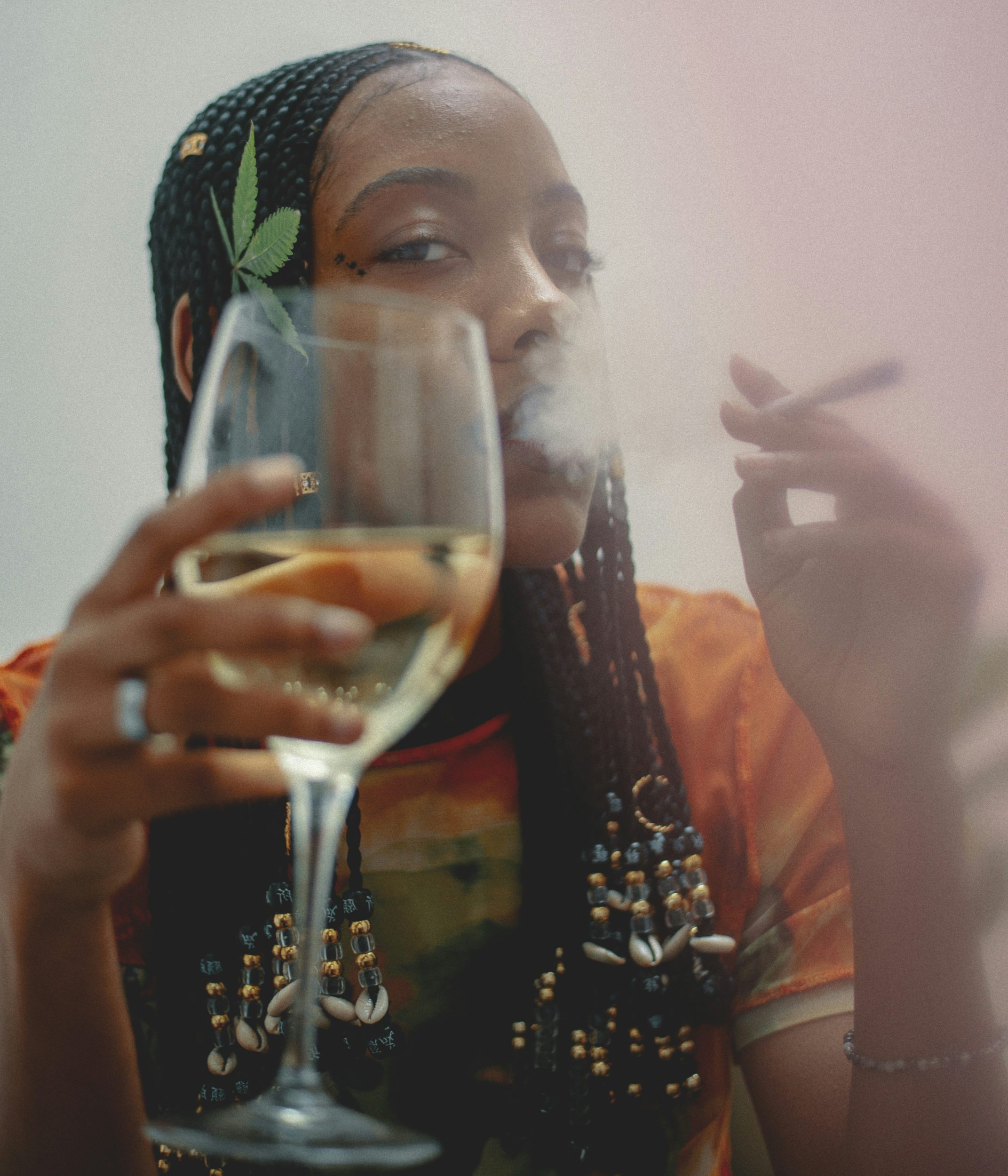 Unfortunately, you can't pour up a glass of weed wine just anywhere. For one, it's still a relatively new idea, and because of that, there aren't many options. Secondly, what options you do have are only available in states where weed is legal. But that doesn't mean you shouldn't propose a toast. Remember, it wasn't long ago that marijuana was illegal everywhere, so your time to "wine down" with weed is bound to come eventually. To get you stoked, here a couple of the best weed wines out now. Cheers!
The first and most famous weed wine to roll out was the cannabis-infused Sauvignon Blanc by Rebel Coast. Before this beautiful bottle of Sauvignon Blanc was released, alcohol-free weed wine was merely a promising idea. Now that it's available across California, wine and cannabis consumers alike have something low-calorie (35), low-THC (20 mg), non-alcoholic to sip. Not to mention, refreshing, with bright citrus flavors and a crisp, clean finish, no cannabis taste or aroma whatsoever. Finally, a fine wine that doesn't hurt the next day.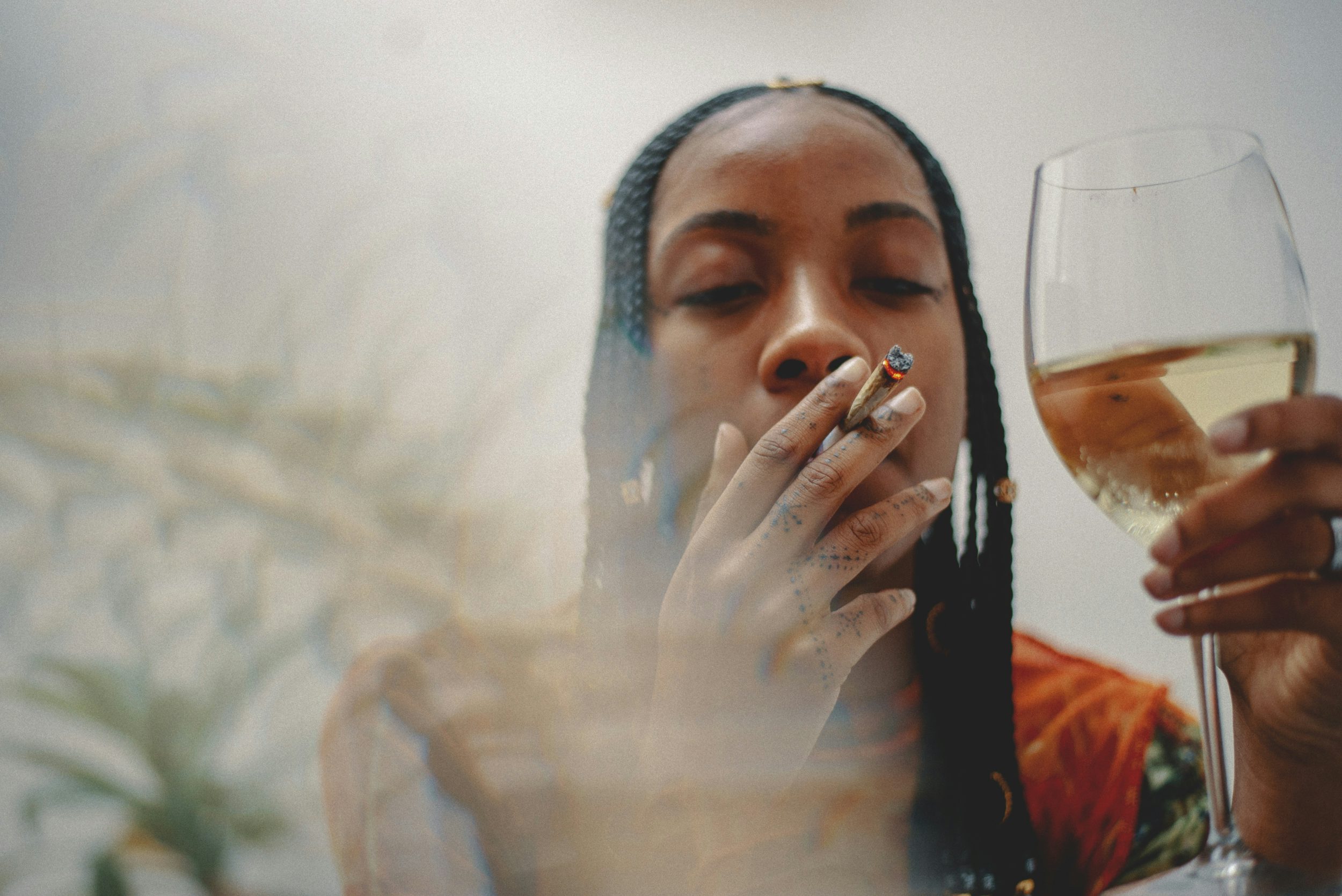 Saka Wines
House of Saka is another leading weed wine company. Their luxury line, Saka Wines, available in 600 stores across California and Nevada, includes a sparkling cannabis-infused, alcohol-free Brut Rosé, along with a still Rosé. Each tastefully decorative bottle has an even balance of odorless and flavorless water-soluble THC and CBD and contain a delicious mix of Pinot Noir, a red wine grape, Pinot Meunier, a dark-berried grape, and Chardonnay, a white grape variety, all of which are derived from the most famous wine region in the world, Napa Valley. For an elevated experience that won't leave you feeling wine wasted, which, for my money,  is the worst kind of drunk there is, Saka Wines are the perfect blend of uplifting and chill. The still Rosé even comes in cans that are far more convenient for sipping and socializing than popping a cork and pulling out your expensive glasses.  
Know Label
If you desire an authentic weed wine, meaning you want the best of both worlds in one bevy, then Know Label, owned by singer and cannabis advocate Melissa Etheridge, is one exception to the rule. Know Label is a wine tincture disguised in a label-less bottle, hence "Know Label." Since it's sold as a wine tincture, not as weed wine, and is for medical patients in California only, it's the only wine product that's been able to bypass current laws and regulations. Each bottle of Know Label is stamped with Etheridge's personal signature and comes with a tag that notes the strain information, the year, and the type of wine. From Marsanne to Syrah, there are many different kinds to choose from to satisfy white wine and red wine lovers alike.  
The Best Hemp Wine And CBD Wine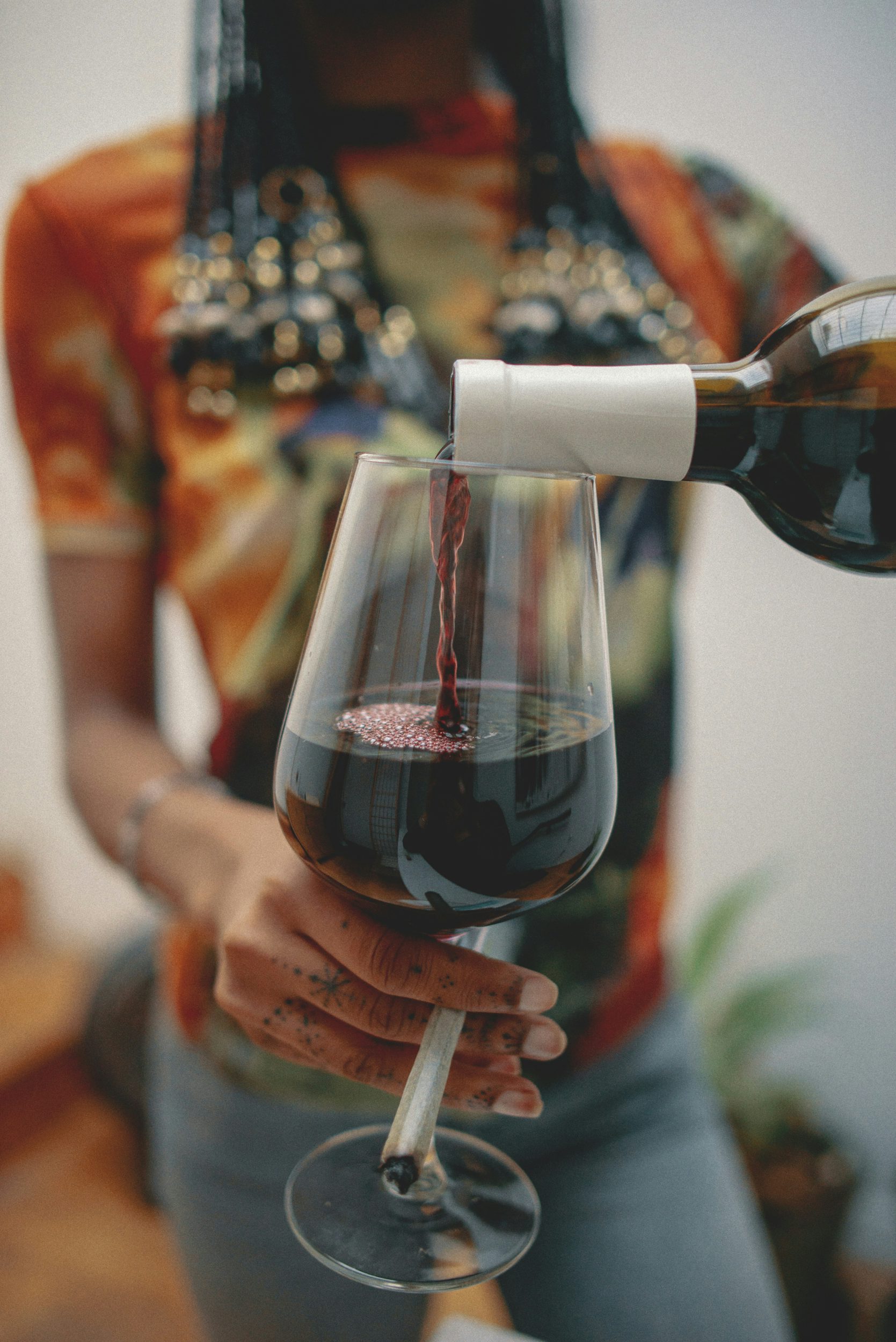 CannaVines has not one, but three weed unique wine varieties that combine the benefits of wine (yes, wine can be good for you) and weed, with online sales coming soon. In the meantime, sadly, you can only savor their cannabis Sativa-derived CBD-infused wines with strain-specific terpenes through California Cannabis Tours like the Bay Area Weed and Wine Tour. Their line includes a Red Blend infused with Headband terpenes, which are said to relieve pain and stress. Also, there's a Chardonnay with Sour D terpenes, great for sparking creative energy and feeling great in general. Finally, there's the bottle of Rosé, fresh, flavorful, and packed with Grand Daddy Purple terps, known for relieving pain and anxiety.
Calling all upstate New Yorkers, Sovereign Vines hemp-infused wine is available at bars, restaurants, and other stores near you. The next time you go out for lunch or dinner, be sure to look up one of their six hemp wines to compliment your meal. Surprisingly, hemp adds a smooth finish to the typical acidic bite you get from a glass of wine, making it a much better adult beverage to have with a bowl of pasta or a slice Brooklyn-style pizza. In addition to Cayuga White, a semi-sweet white wine, Sovereign Vines has Harvest Red Blend, a smooth and fruity mix of  Cabernet Sauvignon, Merlot, and Old Vine Zinfandel, along with Sweet Rosé, a sweet, but not too sweet strawberry-flavored wine, a Dry Rosé, and two limited-edition wines.