With new vaporizers coming to market, there are lots of options for your vaping needs. Each company has its own take on what makes a great user experience, so it boils down to knowing what you are looking for to make the best decision. This review pits the Davinci IQ against the Arizer Solo 2. Which dry herb vape will reign supreme? Here's the breakdown.
Davinci IQ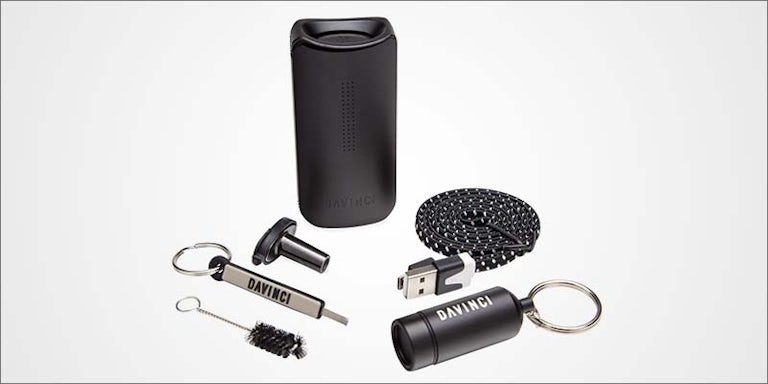 One of the smartest vaporizers to come to market to date, the Davinci IQ is made with convenience in mind. Herb loads into the chamber from the bottom, which features a funnel design to prevent spilling during the process.
The chamber lid features a unique "black pearl" made of high-quality ceramic zirconium, for even heating and pure flavor. The pearl, when the lid closes, packs the chamber for increased flavor and a secure seal.
The Davinci IQ features a 51 LED dot display and a temperature range from 250-430ºF. Precision heat control is a must for a quality vaping experience, and Davinci doesn't disappoint, boasting three different integrated functions.
Smart Path mode allows the user to pre-select four temperatures, and the unit chooses the perfect temperature for an ideal vape. A smartphone app connects via Bluetooth to give total control. It even sports a Boost setting, for an extra burst of vapor when desired.
Flipping the unit upright, users can open the top to find a truly special bonus. Inside the air path resides a removable black zirconium chamber for infusing herbs. If desired, simply pack lightly with herb and as the Davinci IQ gets used, it will imbue the contents with vapor from herb in the oven over time. Great for that special smoke session surprise.
360º Conduction heating
All Ceramic air path
Smartphone app for customization
10-year warranty
3-hour battery life/easily interchangeable 18650 battery
16-second heat up time (to lowest setting)
Haptic vibration notification
Four color options: Stealth (black), Copper, Gunmetal (Grey), and Blue
Arizer Solo II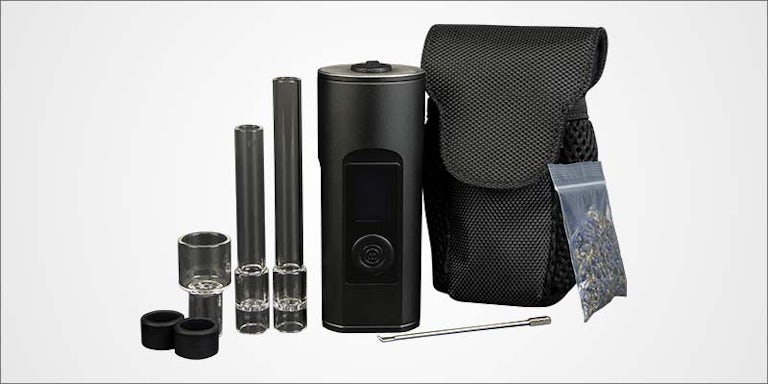 This vaporizer is a beast! The Arizer Solo II features a unique loading setup combined with two sizes of all glass air paths. Users load the base of the durable borosilicate glass tube and then insert it into the inverted vaporizer.
No mess on the unit and reloading and cleaning take seconds. Because the herb goes into the glass, it never touches the oven walls, ensuring fantastic flavor. The air jet inflow and wide glass tube ensure effortless hits and massive vapor.
The Arizer Solo II upgraded to a full LCD screen for full info display, including temp settings, activation, battery level, and current temp. Fully adjustable in either 10º or 1º increments without the need for an app, it offers total control. Users can even adjust screen brightness, temp units (ºF or ºC), and max heating time.
The Arizer Solo II battery gives power for up to 20 full vaping sessions (or about 3 hours) before recharging. An important note: the unit only charges with its own included charger, not a standard USB. However, it allows use through charging, even with a flat battery level.
Ceramic heating element/Borosilicate glass air path
Temp range 122-428ºF/50-220ºC fully adjustable
20 user sessions on full charge (dual battery)
30 second heat time (to lowest setting)
Hybrid convection/conduction heating
Beep alert (adjustable volume)
Customizable shutoff and startup timer
2-year warranty
Black or Blue color options
Who wins?
Although the Arizer Solo II beats its predecessor hands down and offers incredible display and custom settings, the Davinci IQ wins this battle. Smaller, but just as powerful battery life from a single cell and the ability to easily swap out an extra battery give it better portability. It heats faster, has a far longer warranty, and offers a unique infusion chamber for herb storage or infusion.
In addition, the Davinci IQ also has an optional DLX 14mm Water Tool Bundle for increased cooling and filtration, though its size would suggest it is a stay-home attachment. For mostly home use, the Arizer Solo II would tie for easier cleaning and a slightly lower price.
Both can be found at Namaste Vapes, the Arizer Solo II for $325 and the Davinci IQ for $358.