Humboldt Clothing Company has influenced the style of the Emerald Triangle for over a decade. Colorful and comfortable, Humboldt's bright designs and bold prints capture the oddly beautiful and laidback vibe of Northern California. Now, Humboldt Clothing may be offering one of the most useful cannabis accessories around. Here's how the company is going to help you keep track of your lighter, the Humboldt Lighter Buddy.
The Humboldt Lighter Buddy: The end of lighter thievery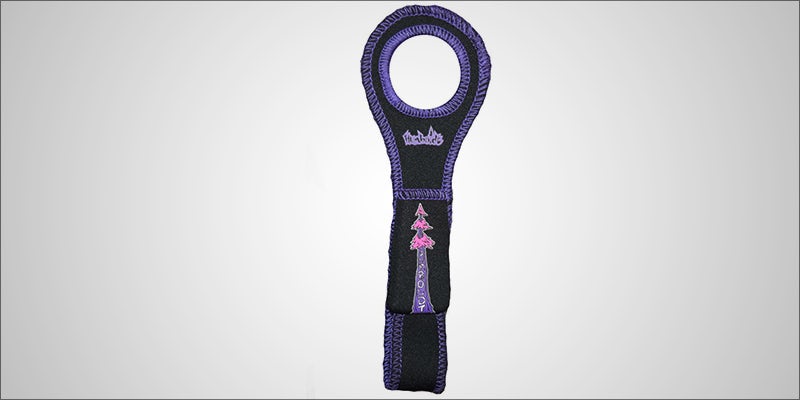 Humboldt Clothing Company has the ultimate solution to one of the most perplexing problems for herb lovers. The dilemma? A lost lighter. The company is selling a simple accessory that will prevent you from losing track of that vital flame.
Losing a lighter is the absolute worst, especially after you've just packed some lovely green herb. Humboldt Clothing's perfect fix is a nifty trinket called the Humboldt Lighter Buddy, which sells for $11.95.
The Humboldt Lighter Buddy is made of neoprene, like a wetsuit, so it's slightly stretchy and fits comfortably around the neck of a water pipe, and uses a magnet to hold the lighter to the piece once you are finished using it.
This keeps your lighter safe from thieves and forgetfulness. Instead, it's exactly where it's supposed to be: right with your favorite piece.
Customers can choose between pink, green, yellow, and purple. You can order the Lighter Buddy online, or from their stores, if you're either lucky enough to live in NorCal, or just passing through. After all, no visit to Humboldt County is complete without visiting the original Humboldt Clothing Company stores.
Humboldt Clothing invites you to their store
The Lighter Buddy is not the only way to represent Humboldt. Humboldt Clothing offers a wide range of clothing, accessories, and souvenirs. All designed with that signature Humboldt style.
Humboldt Clothing captures the essence of the area with beautiful screen printing, yet comfortable and versatile pieces transform a tee shirt design into a work of functional, cannabis-friendly art. Their signature graphic prints feature a towering Redwood tree, a familiar image in the NorCal region.
Humboldt Clothing has been styling up the Emerald Triangle since 2002. Now, they'd like to invite everyone to check out their online store or visit their shop in person. Those lucky enough to live in Humboldt can check out merchandise in person at the Bayshore Mall in Eureka, or on Eureka and 987 H st in Arcata.
For everyone else, Humboldt Clothing's products are on their website. They offer Free Shipping on US orders over $50, and $3.00 flat rate shipping on all other orders.