Pot and pizza are two of life's greatest treasures. In fact, they are practically a match made in heaven. After toking on your favorite strain, nothing beats devouring a slice of cheesy, delicious pizza. But did you know that you can combine your love for both with one single product? Indeed, It's true. There are several pot products out there that are both weed and pizza-friendly. If you love pizza just as much as you love the herb, then feast your eyes on these ten products that offer the best of both worlds.
1. Illuminati pizza stash jar $10.99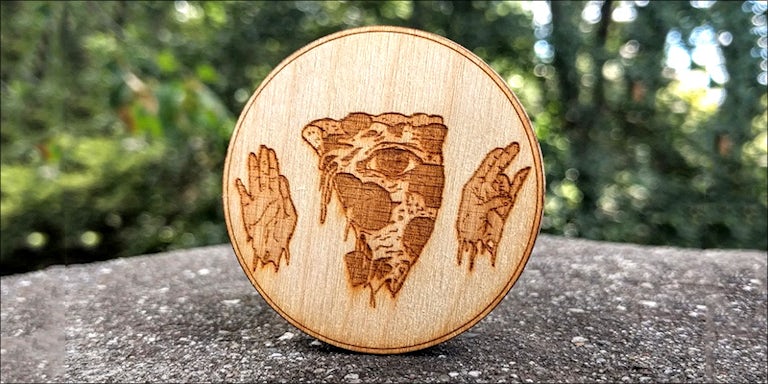 Why store your buds in anything other than a stash jar with a slice of pizza on it? In fact, this rustic little pot is homemade.
Get yours here.
2. Pizza grinder $45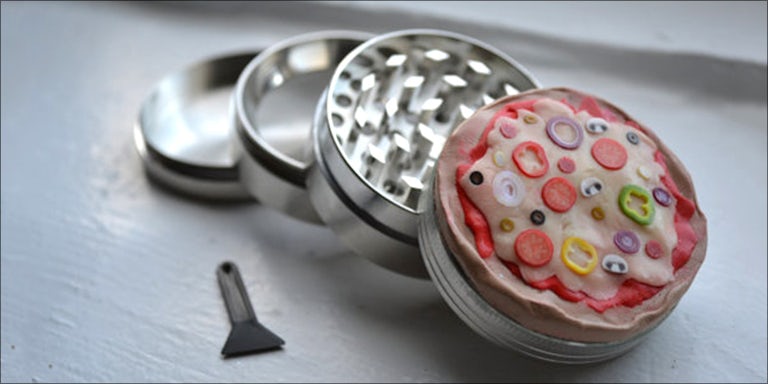 Not only does this grinder feature your beloved pizza, but it's also glow-in-the-dark. Also, each one is custom made. In other words, your pizza grinder won't look like anyone else's. It's a bit on the pricey side, but worth every penny spent.
Check it out here.
3. Pizza pipe $45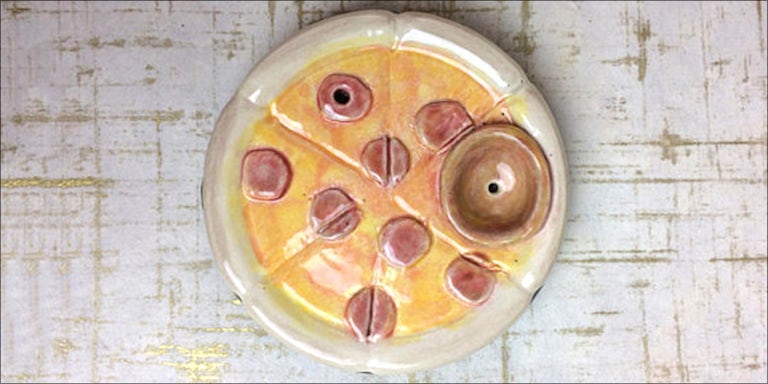 According to Etsy, this pipe is for tobacco use only. But let's be real, you know what you'll really be putting in there, and it's certainly not tobacco.
Get yours here.
4. Pizza rig $99.99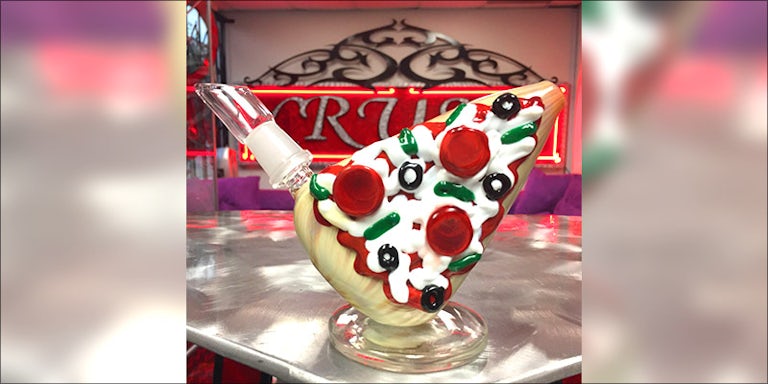 Bet you would love to take a dab out of this, literally. This rig is made strong and is also heat resistant. If you must have one, then head on over to The Crush's website.
Check it out here.
5. Pizza Party $10.00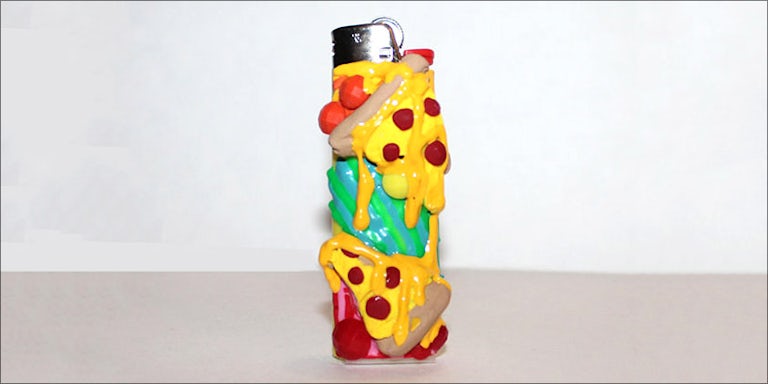 Of course, you need something to light your weed. So, why not spark your pot with this awesome pizza lighter? In fact, if you head on over to Etsy and purchase one, then you'll get a free gift along with it. Cha-ching!
Check it out here.
6. Weed and pizza shirt $16.99
After all, all you need is weed and pizza. You also need this shirt, though.
Get yours here.
7. Weed, pizza, and Netflix hoodie $49.97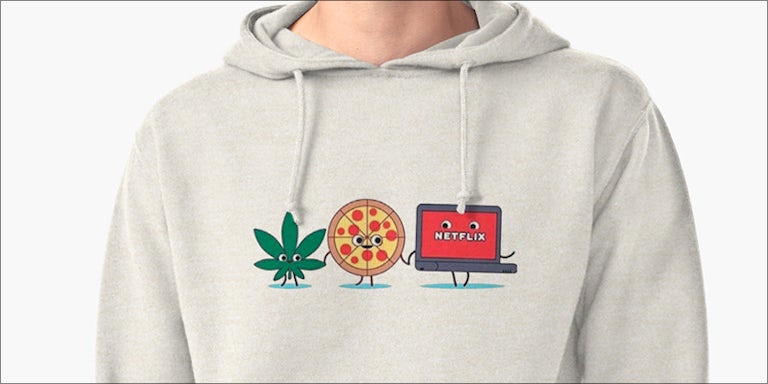 This hoodie doesn't just feature pizza and weed but also Netflix. And everyone knows that those three things together equals pure bliss.
Get you one here. You know you want it.
8. Best Bitches keychain $32.64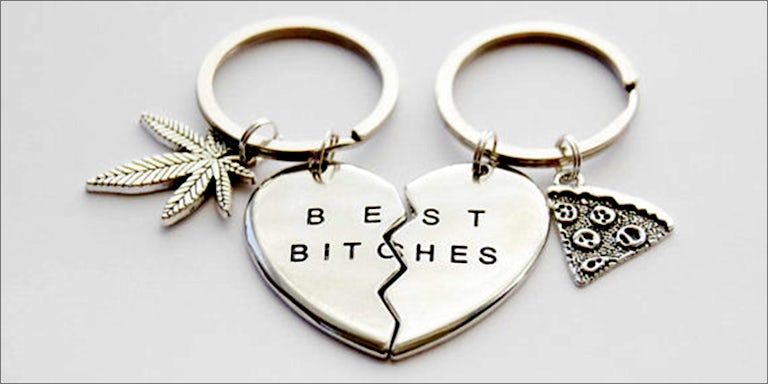 That's right; best friends keychains are still a thing. If you want to show your best pal some love, then gift them with this keychain that features both weed and pizza. Goodluck deciding which part to give them, though.
Check it out here.
9. Pizza, weed, and Netflix swimwear $131.32
Again, Netflix is included in this one. But how can you resist this handmade bikini? Summer is right around the corner, so now is the perfect time to snag one.
Get yours here.
10. Munchies pack- pizza and pot plushies $51.91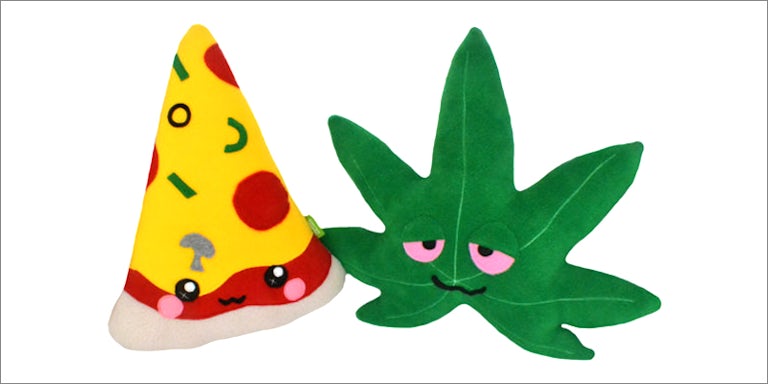 Do you have a collection of stuffed animals? Or, do you have a furbaby at home that loves them? If so, then you must purchase these adorable pizza and pot plusheez.
Get them here.