When I first step into Hemp Garden on Orchard Street in Manhattan, I can't believe what I'm staring at isn't weed. Designed like an approachable, boutique dispensary with dark wood furnishings and giant glass jars full of well-trimmed buds, this shop sells all things hemp-derived CBD, virtually free of THC. From CBD oil and gummies to prerolls and concentrates like vape pen cartridges and shatter for dabbing, these products don't fall under New York's medical cannabis program, and so are available to anyone who stumbles by.
Hemp CBD flower is a new trend in the legal cannabis industry, especially for folks who live outside of states with accessible marijuana laws. That's because, according to the 2014 Farm Bill, hemp with less than 0.3 percent THC is not considered cannabis and thus is legal to grow under state-sponsored programs.
This legislation, coupled with the recent findings on CBD's health benefits, have led to an explosive growth in the CBD market and a massive new interest in CBD products, including smokeable hemp flower. Plus, CBD products aren't supposed to have the same intoxicating effects as THC, making them desirable for a whole new audience, from pets to the elderly.
Mixing Hemp CBD with Cannabis Flower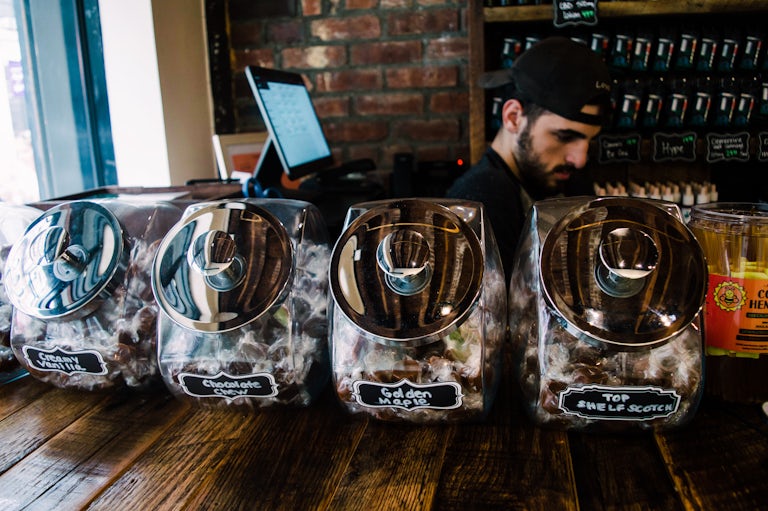 The buds at Hemp Garden smell just like "the real thing," sour and dank, some more fruity or woody than others. They have four different varieties with different percentages of CBD and names like AC Diesel and Berry Exotic. But with basically no THC, I can't imagine how smoking this bud will make me feel.
I ask Tia Tagliaferro, Hemp Garden COO who also happens to be behind the counter, and she tells me that she really likes to mix hemp CBD and THC together in the same joint. She says that sometimes smoking high THC flower makes her paranoid and anxious, and so she doesn't relax like she intended. But rolling a joint with equal parts CBD hemp flower to high-THC cannabis flower makes for a much chiller and more mellow experience to wind down with at the end of the day.
A light bulb went off inside my head that I'm pretty sure Tagliaferro could see. That or she noticed my jaw slightly drop. Considering CBD counteracts some of the psychoactive effects of THC, I felt this was an avenue worth exploring. Tagliaferro sent me home with some of their strongest hemp flower, with around 20 percent CBD, to try for myself.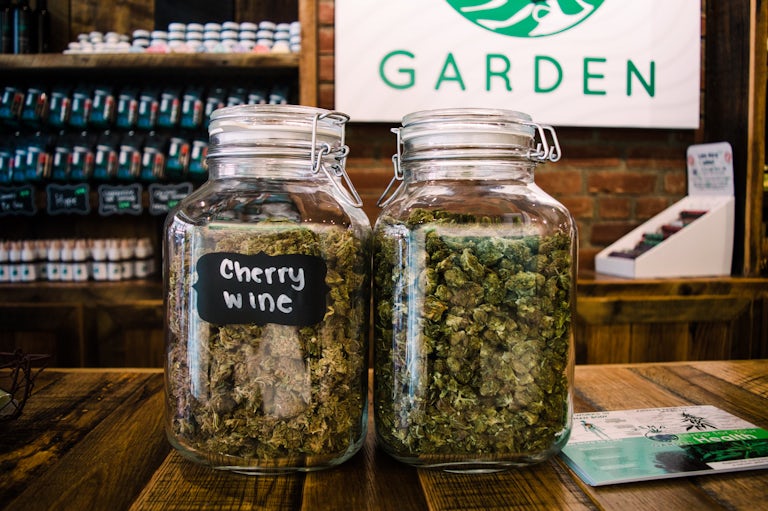 My subway ride home from the East Village was long and stressful. Immediately after getting in the door I rolled a joint, mixing the CBD flower with a high THC hybrid, Blueberry Headband, that I already had.
The result was just as Tagliaferro described it. The joint smoked well and tasted like outdoor grown weed. Slightly earthy, reminding me of why it was once called grass. I was still clearly high, but not uncomfortably so like a joint of straight Blueberry Headband could have made me feel. Sometimes high THC flower can increase my anxiety and make me replay the events of the day in my head. But this joint was much more calming. I felt good about my day. And hungry.
The combination of cutting down on the amount of high THC flower and supplementing the rest with nice tasting, body-relaxing high CBD hemp flower created a relaxing, not overwhelming, experience that helped me unwind.
Yet, compared to just having a CBD joint or edible, I still felt slightly euphoric and had that signature pressure over my eyes from—essentially microdosing—the THC.