Cannabis is now legal in some form or another in the majority of American states. Even better, Canada completely legalized the plant in 2018. Here's the bad news: drug testing policies are still behind the times.
Even though cannabis is more mainstream than ever, drug testing is a relic from the War on Drugs that continues to stick around. As such, numerous products designed to help people pass their drug tests have hit the market.
One of the top sellers? Synthetic urine.
Best Brands of Synthetic Urine for a Surprise Test
Synthetic urine is exactly what it sounds like, fake pee. Thanks to the prevalence of pre-employment and other forms of drug testing, synthetic urine is now more popular than ever before.
As a word of precaution, tampering with a drug test is illegal in many states. While many argue that the cost of failing a drug test is so high that it's worth the risk, it's useful to look up the laws in your region to get a sense of what you're up against.
If you decide to take the plunge, these best brands of synthetic urine are available via online order.
Clear Choice Sub-Solution Powdered Urine Kit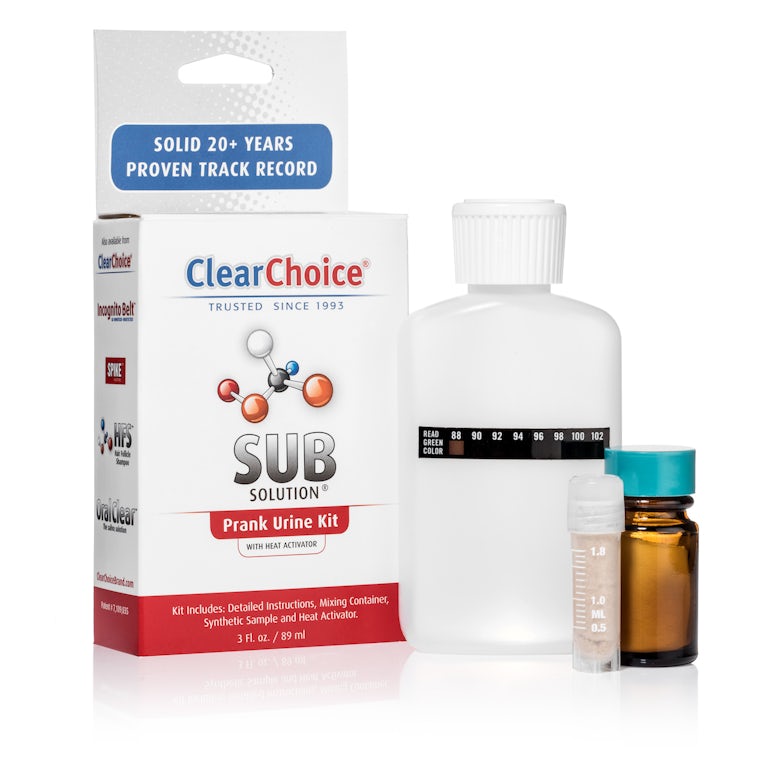 Clear Choice Sub-Solution is a powdered urine substitute that consumers mix up themselves. This trusted kit, however, has a trick up its sleeve. It contains a chemical warming powder that heats up the sample in a matter of seconds.
This product also both looks and smells like real urine. When shaken, it creates a foam. As an added perk, the Clear Choice solution secret formula is made from 11 different chemical compounds, including uric acid and urea, and is designed to mimic real human urine with a balanced pH, specific gravity and creatinine content.
Clear Choice prides itself on having the best synthetic urine formula on the market. Backed by the first in the industry 200% double-your-money-back guarantee!
Sweet Pee Budget Kit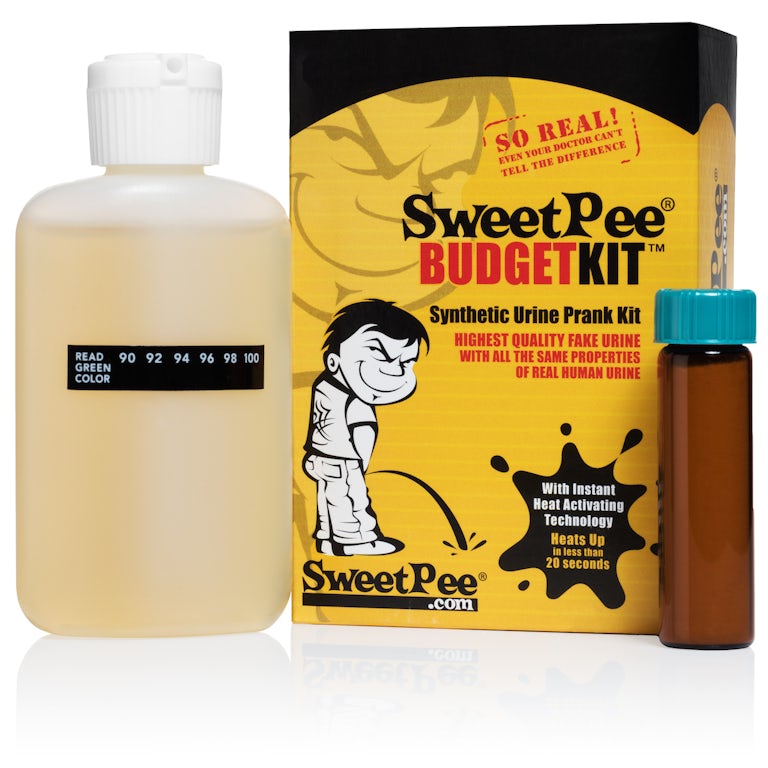 Tight on cash? The Sweet Pee Budget Kit is a popular product available through online ordering. Unlike Clear Choice, this product comes pre-mixed, which makes it slightly easier to use. What's included: two ounces of the highest quality synthetic urine, heat activator powder and easy to read temperature strip, and user instructions.
Quick Solution 3oz pre-mixed urine kit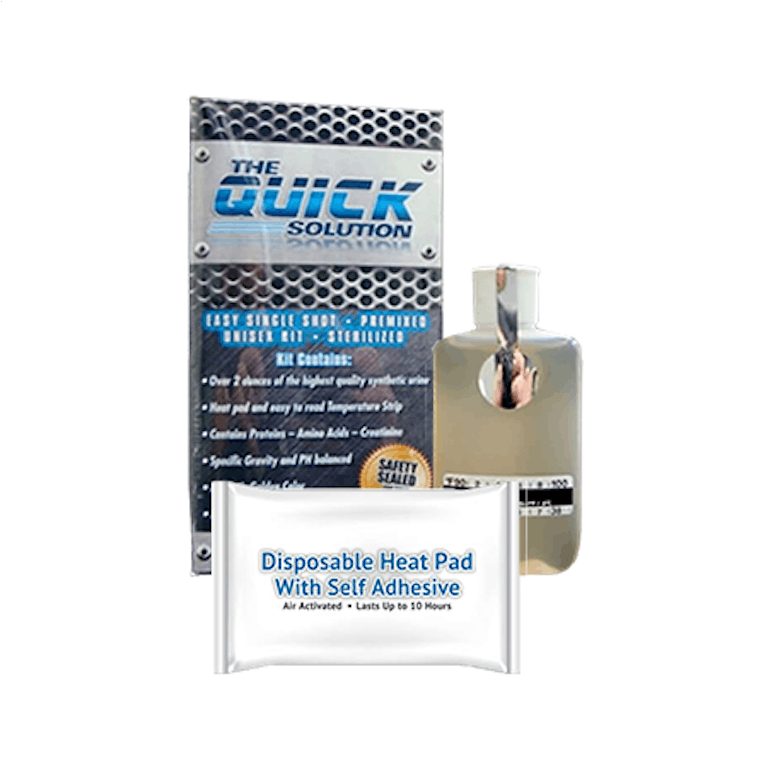 The Quick Solution 3oz pre-mixed urine kit comes with a tamper-proof flip top bottle with three ounces of pre-mixed urine, adhesive organic heat pad, temperature strip, complete instructions for proper use, professional shrink-wrapped package. The larger volume of this product offers a little extra in case you make a mistake.
Sweet Bee Body Belt Deluxe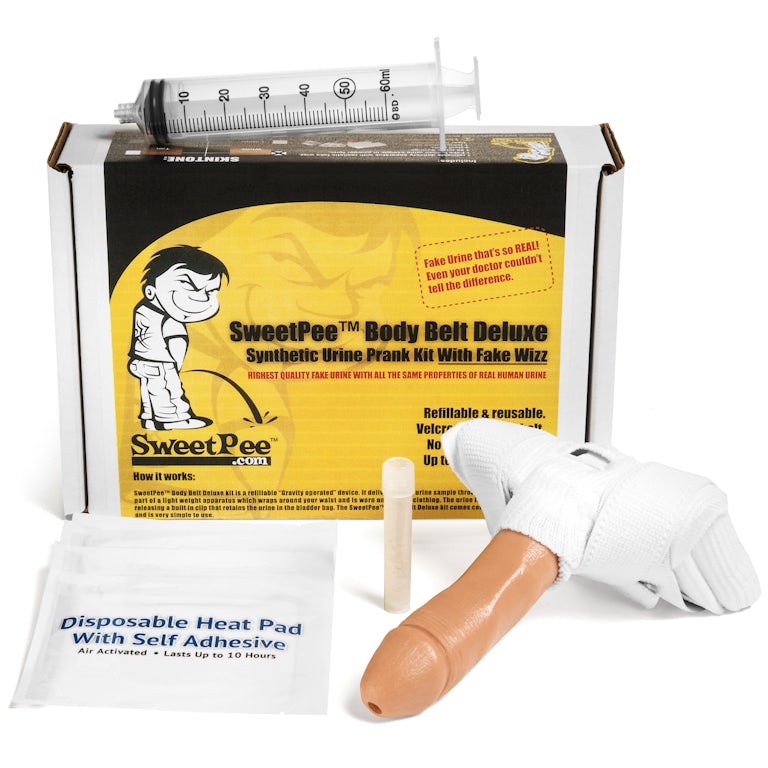 When you find yourself in a tight spot, you may need to get creative with your delivery methods. The SweetPee Body Belt Deluxe is available in five colors and includes:
1 refillable delivery apparatus
1 fake human urine sample (powder form)
1 60 ml/cc syringe
4 heat pads
1 temperature strip
User instructions
Choice of 5 colors
Clear Choice Incognito Belt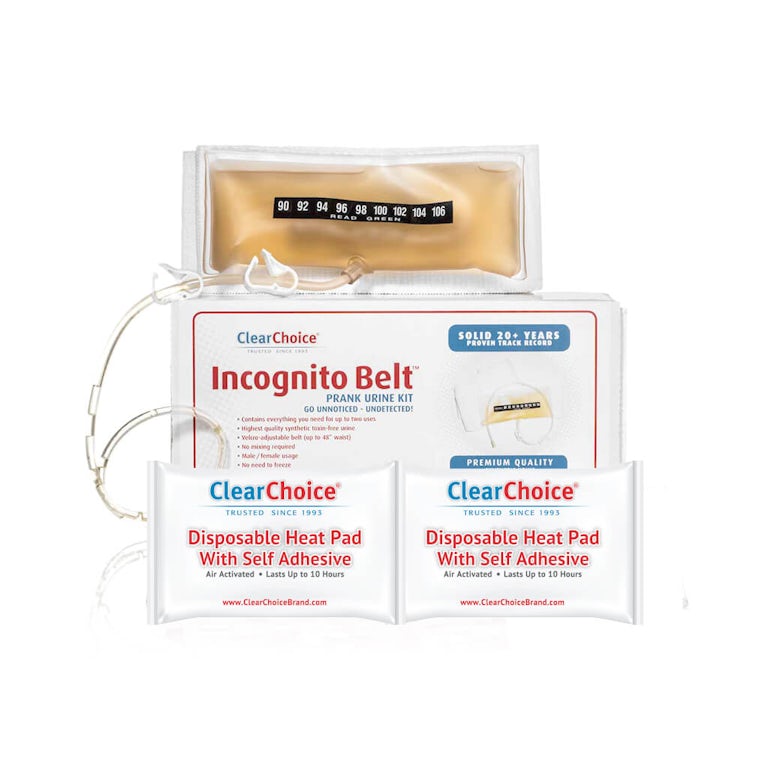 The Clear Choice® Incognito Belt takes discretion to the next level. It's a "gravity-operated" device that delivers a 100% effective and undetectable synthetic urine sample that is toxin-free. It comes with a supplied heat pad to ensure that the sample matches that of the body's natural temperature.
The urine sample passes through a rubber tube that is part of a lightweight apparatus, which wraps around your waist and is worn under your clothing. It's completely assembled and simple to use. It delivers the sample when you release a clip that retains the urine in the bladder bag, which is filled with pre-mixed Clear Choice solution.
The incognito belt includes:
1 Bladder Bag with 3 ounces (100 ml) of pre-mixed clean toxin-free synthetic urine (good for up to two uses)
Velcro adjustable belt (up to 48″ waist)
2 heat pads
1 temperature strip
Complete instructions
Totally undetectable
Up to 1-year shelf life from date of manufacture
Unisex for male or female use
200% DOUBLE your money back guarantee
In a Pinch? Here are Some Last-Minute Options
If a drug test really takes you by surprise, it can be tricky to make it to a smoke shop or quickly find the products that you need. For moments of panic, there are still a couple of last-minute tricks that may help you pass your drug test. Although, finding a way to reschedule until you get your hands on the right tools is probably a good call.
Flasks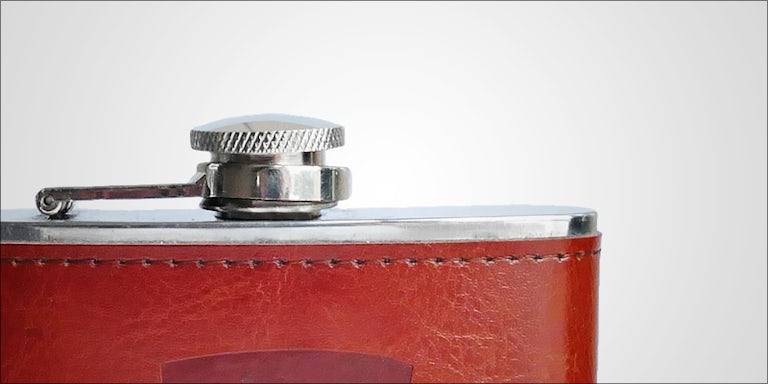 Can't find the right delivery apparatus? The simple flask and leg strap are two classic favorites. While not the most discrete, flasks can be tucked away in a leg band and accessed when consumers are in the privacy of a closed bathroom. This is also an option that many people already have at home, reducing the equipment costs for the whole ordeal.
Dilution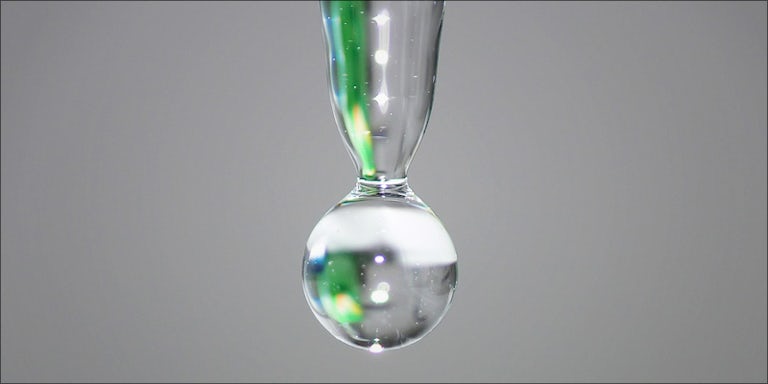 Many people resort to dilution as a last-ditch effort to clean up their urine. Proceed with caution.
While a little dilution is always a good idea, dilution is one of the most dangerous ways to prepare for a drug test. People often guzzle far too much water in the process. To avoid potentially fatal water intoxication, don't drink more than two to three of liters of water over the space of a few hours. Always rehydrate with an electrolyte drink or electrolyte powder while drinking large quantities of water.
Diluting urine can also lead to an inconclusive sample. This means that you may have to take your urine test again or risk not passing the first time around. Further, modern technology is much more precise and able to detect traces of drugs in very small concentrations—many urine analysis today have cut-off points of 20 or 50 nanograms of THC metabolite per milliliter of liquid.
Abstaining and detoxifying before a test is the safest option all around. However, many drug test veterans swear by the fake stuff. Although, this is still a risk and, when done incorrectly, the results can be quite disheartening. Urine tests are becoming increasingly more difficult to fool, making it necessary to stay up to date on current testing standards.
For more information on how to flush cannabis out of your system, check out the article here.