For wax-lovers on the go, squeezing in a quick dab sesh here and there can be a bit of a hassle. Thankfully, wax pens have become more and more popular in the cannabis market, making a discreet dab sesh easy and convenient.
Wax pens, or dab pens, are vaporizer pens specifically designed to vaporize cannabis concentrates. In their most basic form, wax pens are made up of atomizers, heating coils and a mouthpiece. Wax pens feature tanks or chambers which are filled with concentrates, heated and then inhaled as vapor. Along with being convenient, wax pens are a healthier alternative to smoking a joint, bong or pipe.
Dab pens come in a variety of shapes and sizes that suit different users. Here we'll take a look at the 3 best wax pens under $50 for dabbing on the go.
1. Yocan Evolve Plus
Photo courtesy of
Yocan
The Yocan Evolve Plus is one of the most reliable and affordable wax pens for the dab lover on the move. Packed into a sleek metal body, this little pen can be tucked into a ski jacket pocket or thrown in a picnic basket without having to worry about spillage. Yocan has opted to use dual quartz coils over the traditional fiber wick in this device. That means the taste and aroma of the concentrate won't be altered when heated. Featuring an 1100 mAh battery, this device heats up quickly, supplies a full 15 seconds of continuous heat, and lasts for multiple seshes before it needs to be recharged. As a bonus for busy dabbers, the Yocan Evolve Plus boasts a built-in silicone container to store extra concentrate. This means you'll never be without a dab while you're on the go. $35.00.
2. Atmos Thermo D/W
Photo courtesy of Atmos via
This masterpiece from Atmos Nation is a great fit for herb lovers looking for a well-priced, reliable and versatile device. Compatible with dry herb and waxes, it offers on-the-go variety by simply switching out the interchangeable heating chambers. Whether you're vaping dry herbs or concentrates, the Atmos Thermo D/W ensures optimal flavor and smooth draws. To top it off, this wax pen boasts a five-second heat up time. Bring this device to the beach or on a hike for a discreet and convenient dab sesh while you're on the go. $32.46.
3. Grenco Science G Slim Concentrate Quartz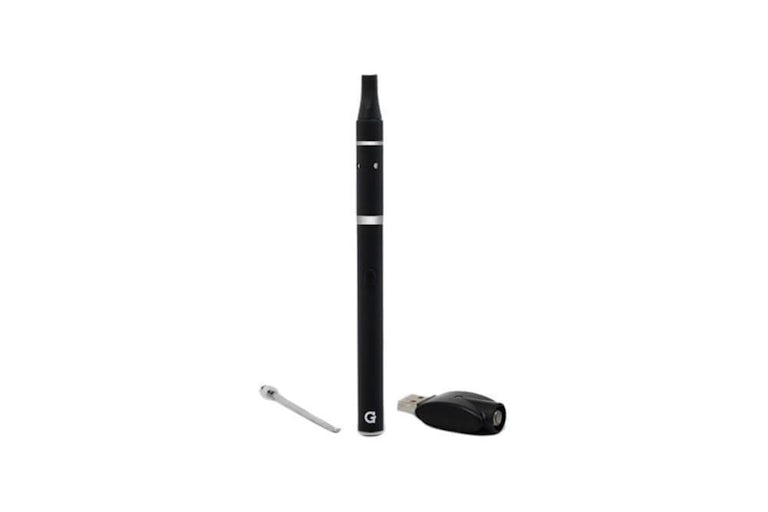 The G Slim Concentrate Quartz wax pen from Grenco Science is great for vaping on a budget. It's not called the slim for nothing; it is inconspicuous and durable so you can use it in public easily. The tiny body of this vaporizer holds a borosilicate glass chamber big enough to supply you with a healthy hit of concentrate. The quartz rod heats concentrate evenly and efficiently without ruining the flavor and aroma of the material. It's also super easy to use—just load the concentrate into the chamber and press the power button five times. This safety feature prevents you from killing the battery and wasting material when you toss it in your gym bag or purse when you're on the go. Small but powerful, this wax pen is a cost-effective fit for the busy dab pro. $24.99.