The best part of waking up is having a steamy cup of coffee, especially on a chilly morning. Then, on hot summer days, you have cold brew or iced coffee to help you beat the heat and get your caffeine fix. For many people, coffee isn't just a seasonal cozy pick-me-up, it's a daily must have. When coffee lovers say "don't talk to me until I've had my coffee," they're not kidding. Without their regular dose of caffeine, they are practically zombies running on fumes.
Many Herbivores feel the same way about weed as coffee-fanatics do about their cup of joe. If they don't get at least one session in with their favorite herb on any given day, they're no good. For those that thrive on both, there are few better pairings than weed and coffee. Now the heavens have parted and these worlds have collided to give us weed-infused coffee. You get a pick-me-up and a buzz. How brew-tiful is that?
Benefits Of Weed Coffee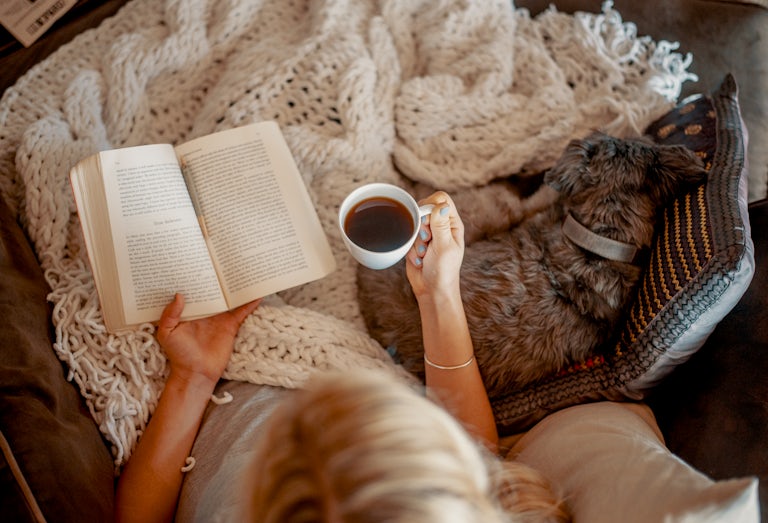 The buzz is just one benefit that comes with weed coffee. If you're a wake and baker, then you know how exhilarating it is to start your day with a bowl pack of dank. Even on dreadful days, a few puffs of weed first thing in the AM will have you feeling like you're living your best life. Weed coffee delivers the same vibes smoke-free.
Weed coffee is also a stealthy way to consume cannabis. You can pour it into a tumbler and sip on it throughout the day as if it was your usual from Dunkin Donuts. The THC to caffeine ratios vary too, so you can use weed coffee however you want to, whether you're basing it on the time of day or your mental/physical state. If you're sensitive to both caffeine and THC, for instance, then there's weed coffee that comes lightly caffeinated, CBD heavy. You still get that get-up-and-go in the morning but don't get all jittery and weak. Or, you can enjoy weed coffee at night. There is weed coffee made for nighttime use, which can help you unwind and de-stress after a tough day just as well, sort of like a joint after before bed.
Best Weed Coffee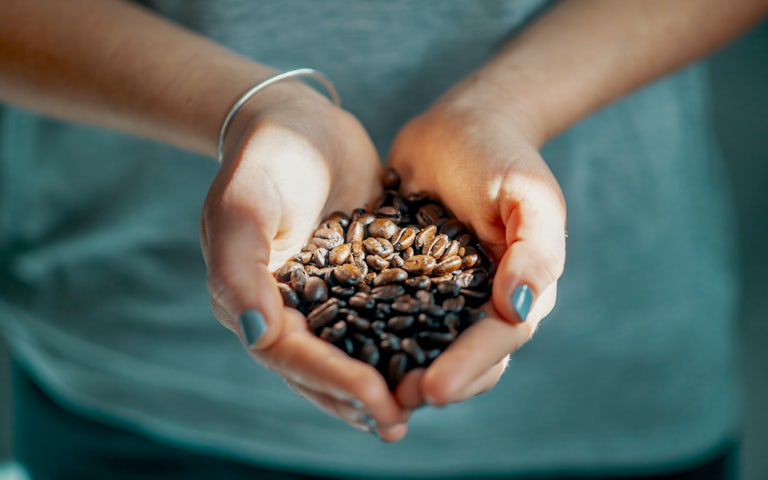 If you are in a state where weed is legal and have access to products, then consider yourself fortunate—there are dozens of weed coffees to choose out there. From espresso mochas to vanilla caramel cold brews, however you like your coffee, you can find a weed-infused version no problem. Some come pre-prepared, but even if they don't, making them is a breeze. These coffees cater to all sorts of ailments, from pain to insomnia. Even if you're just looking to enjoy them recreationally, they have plenty to offer. For all the best weed coffee on the market, check out the selection below: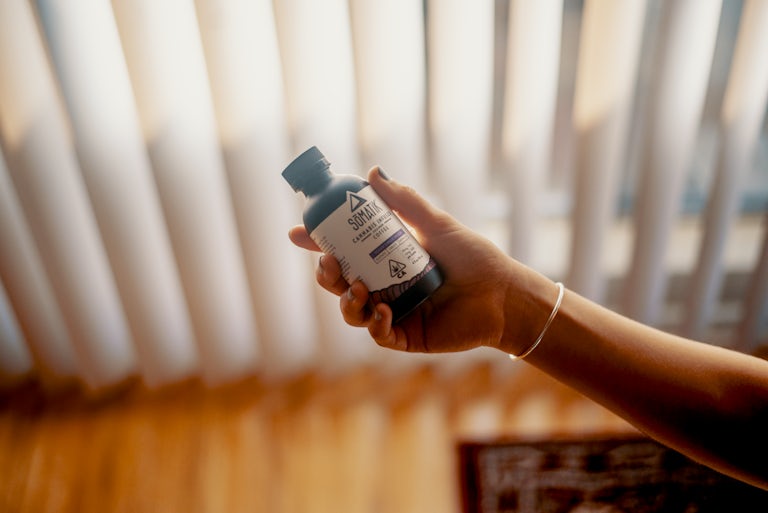 If you're craving a cold brew with the perfect balance of THC and CBD, then try Somatik 1:1 CBD Infused Cold Brew Coffee. Infused with 5 mg of THC and CBD, this chill, lightly caffeinated, low-calorie beverage is the best cure for a bad mood. In addition to delivering a pleasant body buzz, Somatik 1:1 CBD coffee is a euphoric cup of Joe that will lift your spirits even on the earliest mornings. Just twist the top off, pour it into a glass, and sip away. Or, stash it in your purse for later when you need a pick-me-up.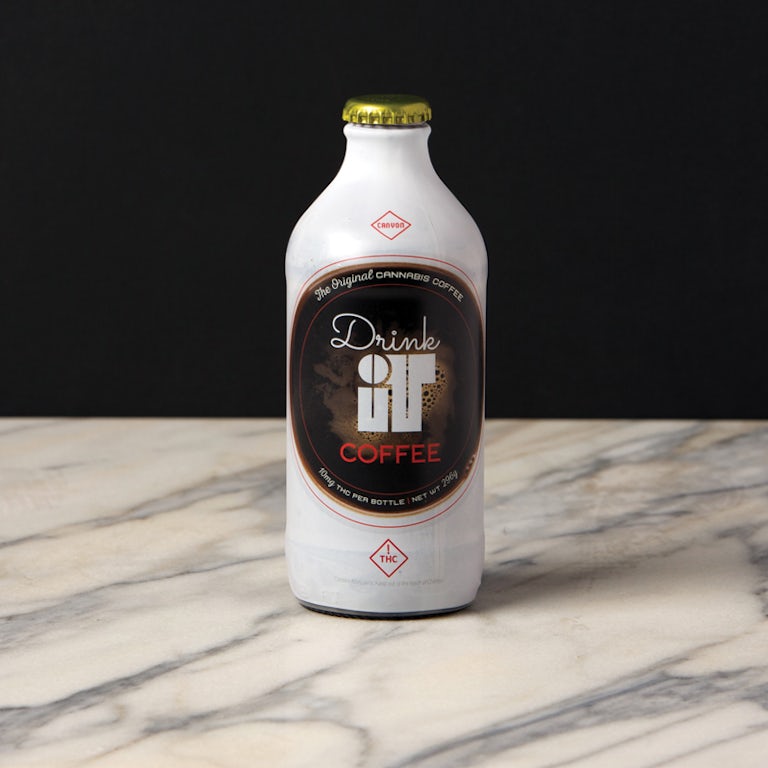 Drink IT by Canyon THC, aka the OG of weed coffees, was the first cannabis-infused coffee to hit the drinkables market and is still a favorite to this day. It's another cold brew option that comes in a nifty glass bottle ready to serve. Featuring 10 mg of THC, Drink IT is made using CO2 oil and high-quality Guatemalan coffee beans. It provides a gentle pick-up and makes for a fabulous refresher to enjoy in between work tasks when you're feeling sluggish.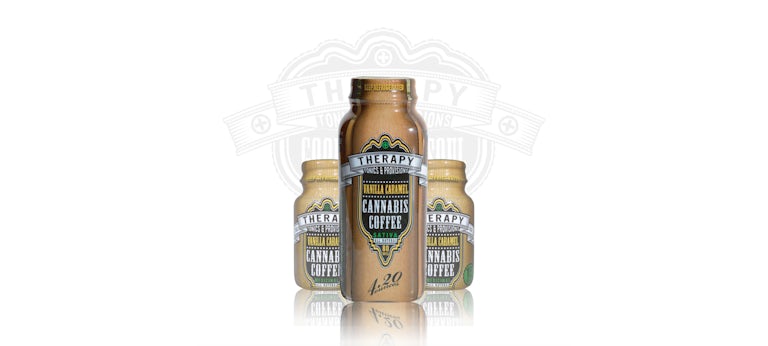 If you're a fan of those delicious caramel frappes from McDonald's, then you'll love the Vanilla Caramel Cannabis Coffee by Therapy Tonics. It packs more of a punch than the other cold brews on the list, with 80 mg of THC, but the mix of calming effects from the vanilla and the energizing effects Sativa gives consumers a great vibe from this weed coffee. It sounds pretty decadent, but each bottle only packs 100 calories—way less than your typical frappe.
Catapult Cannabis Coffee Pods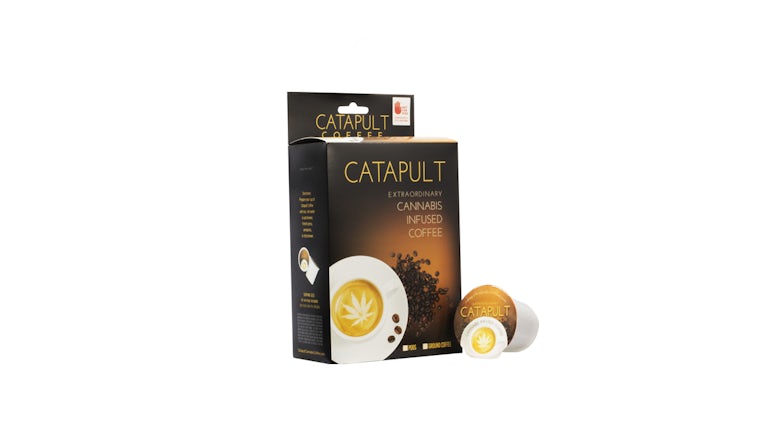 Keurig lovers: If you happen to still have a Keurig machine without an electronic pod ID like the 2.0, then you can enjoy weed coffee the best way you know how, with a pod. Catapult Coffee Pods contain 10 mg of THC per serving and are as simple as it gets to brew. Sadly, these pods aren't compatible with the fancier devices, but never fear; Catapult has an instant 10 mg THC-infused Hot Mocha Coffee too that comes in a resealable pouch perfect for pouring on the go.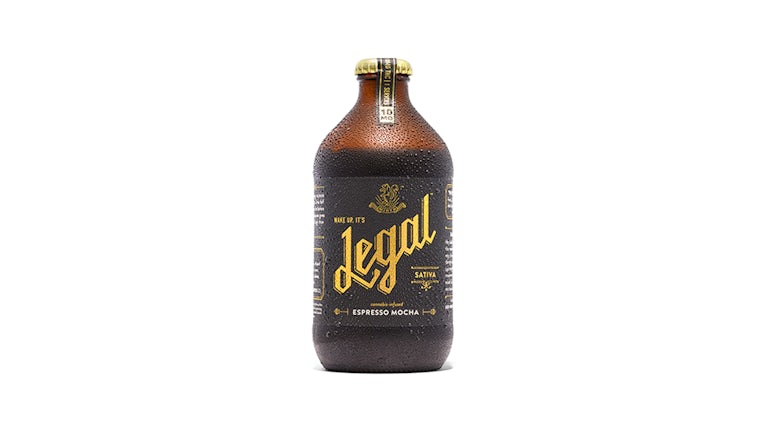 For mocha fans, the Espresso Mocha Legal Beverage from Mirth Provisions is a chocolaty coffee delight. Infused with 100 mg THC per bottle, or 10 mg per serving, the Sativa-crafted Espresso Mocha comes with a handy measuring cap to help you get your correct dose. Technically, it's a cannabis soda, but served over ice, you wouldn't know it. It tastes just like iced coffee and is a great way to wake and bake on a humid day.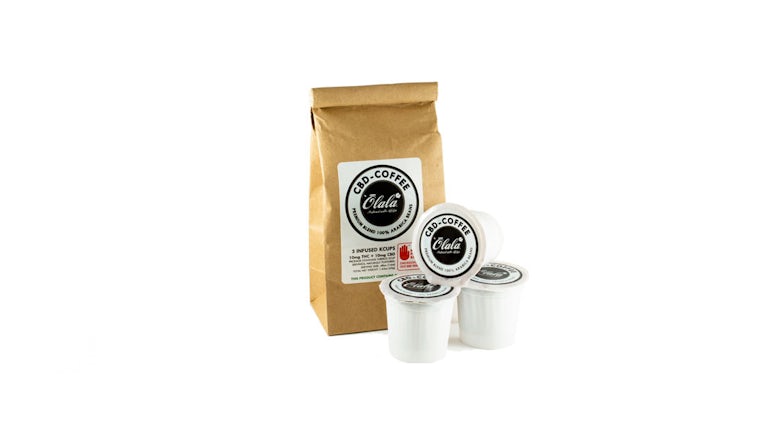 Oh-la-la indeed. Here's another weed coffee option for Keurig owners. Canna Coffee French Roast CBD by Olala is made of 100% Arabica Beans and makes for one tasty, balanced brew. Every cup comes with 10mg of THC and CBD, and it makes a great option for slow sippers as it retains it's potency long after being brewed. The K-Cups are recyclable too, which is a plus if you're into preserving the planet.
To Avoid The High, Try CBD Coffee Instead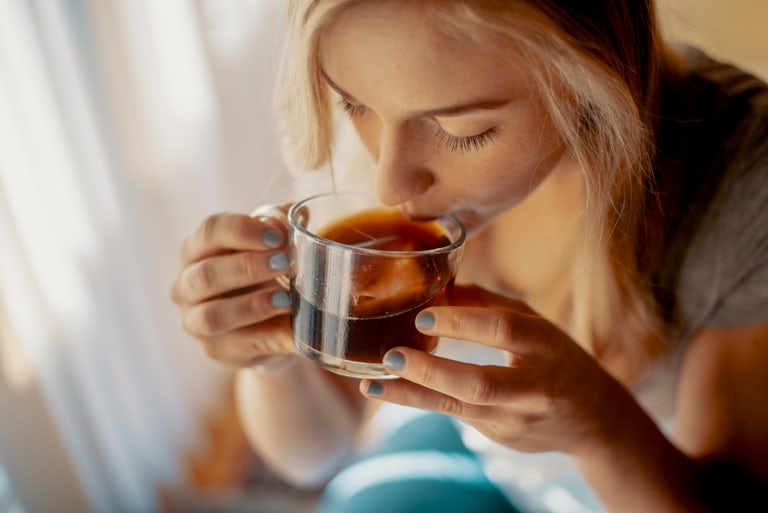 Love the sound of weed coffee, but a little sensitive to THC? Or maybe you're just not looking to get high in the middle of the day but your java needs a little soothing boost? Why not try CBD coffee? Here are the best CBD coffees for when you're looking to wake without the bake.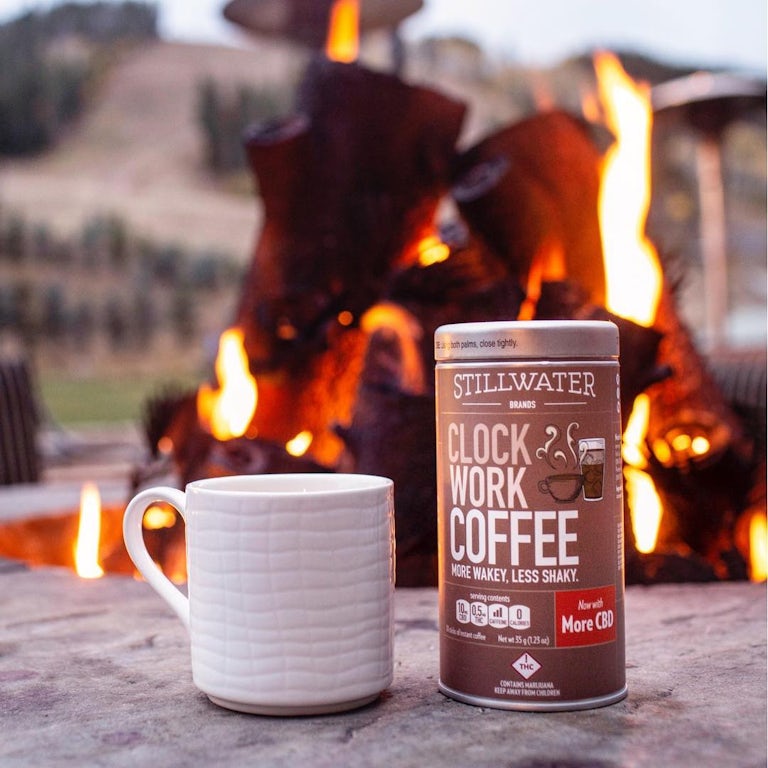 Colombian-style coffee is low in acidity and caffeine, so if you want only a slight lift in the morning, Stillwater Clockwork Coffee is the best choice. It features 10mg of CBD and only 0.25mg of THC per 100mg of caffeine. According to the brand, this cup gives you more wakey, less shaky mornings, noons, and nights. It comes in small convenient packs that you simply rip open, pour into a cup, and stir into hot water, for instant CBD coffee.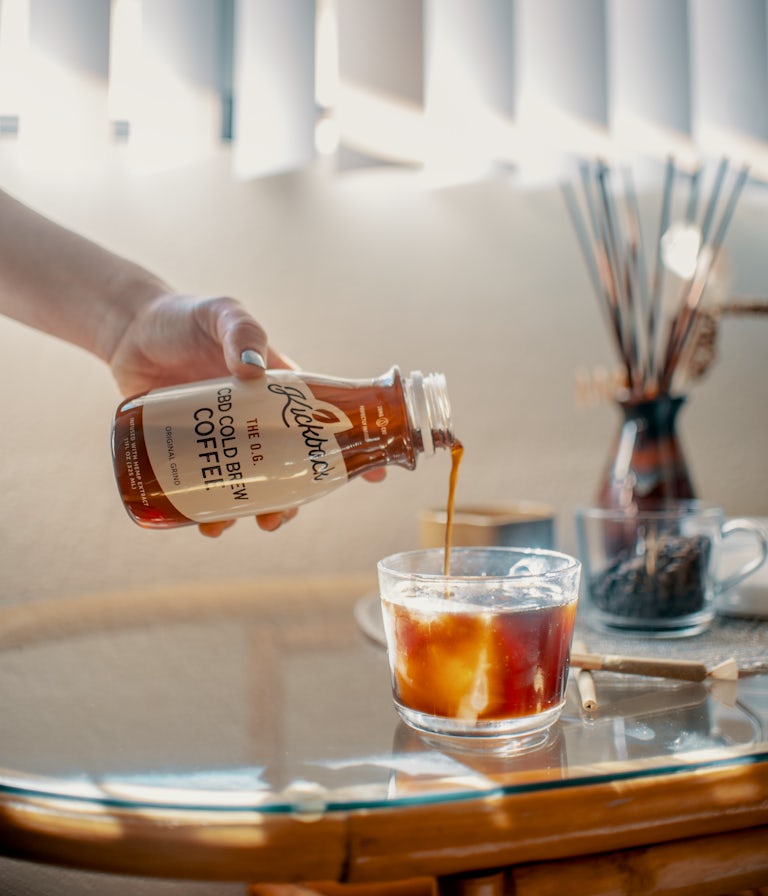 Though they're famous for their cold brews, Kickback has a CBD-infused ground coffee called Cali Rise that is to die for if you love a good medium roast coffee. Infused with 90 mg of hemp-derived CBD, Cali Rise is smooth, mild, slightly acidic, and has a buttery and floral aroma and taste. If regular coffee makes you anxious, you might find that Cali Rise is the one brew you can handle—people who often get the jitters swear by its ability to energize you and make you feel great all day.
Flower Power Coffee's New York House Blend Signature brew is "the perfect way to wake up every morning." It consists of South American beans roasted in NY City and 30 mg of 99.9% CBD Isolate, or 5 mg per 6 oz cup. In addition to its smoothness, this brew delivers sweetness and only a medium amount of acidity. If you're prone to stomach problems, then the New York House Blend Signature coffee is especially ideal for you. It's easy on the gut and won't send you running to the bathroom out of nowhere.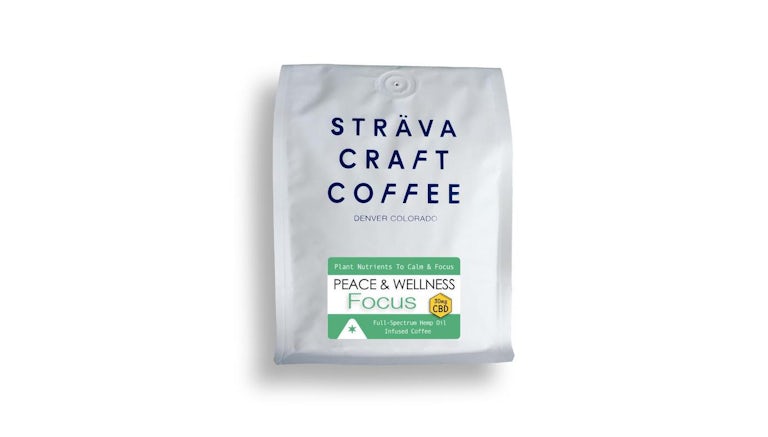 We could all use more focus in the morning. Heck, we could use it at night too. For that, you need Strava Focus hemp-oil infused coffee. Each bag contains 30 mg of CBD to enhance your alertness and concentration and keep you calm all the while. It's quite tasty too, with its brown sugar, ripe cherry, and natural cocoa flavor notes. Focus coffee is useful for relieving pain and inflammation to boot. Just about the only thing this coffee can't do is get you high.
Don't Forget A Weed Coffee Mug To Go With Your Weed Coffee!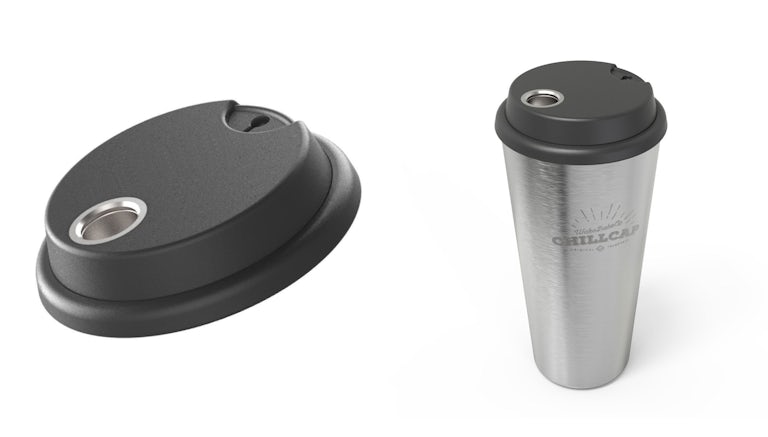 Once you have your weed and or CBD coffee picked out, why not treat yourself to a brand new mug. WAKEBAKE Co has a ridiculously sweet CHiLLCAP Bundle that includes a tumbler AND a lid that doubles as a sipper and a bowl. You can literally sip coffee and smoke weed with the same mug without cross-contaminating thanks to its taste isolation design. And when you're finished toking, all you have to do is twist the top, and the bowl disappears. That's one way to have a discreet wake and bake session.
If you've already found that one tumbler that you can't get enough of, then WAKEBAKE Co sells just the CHiLLCAP too for only under 30 bucks. Weed coffee and a mug you can smoke out of, it doesn't get much danker than that.
How To Make Weed Coffee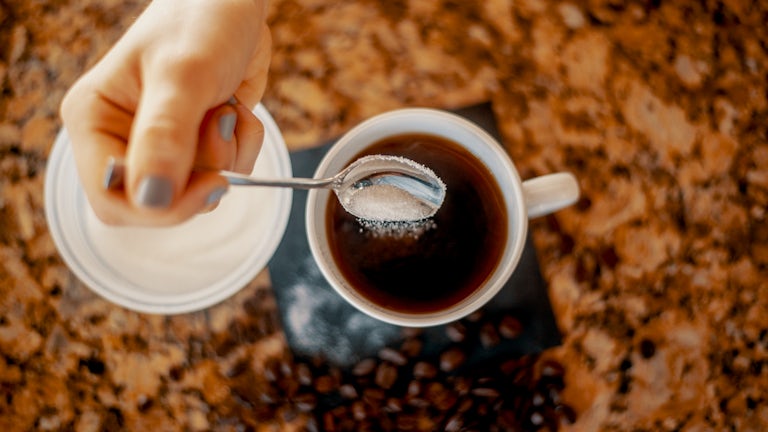 If you don't live in a legal state, or just have that culinary urge, there are many ways you can add weed to your coffee right from home. For one, you can infuse your favorite brew with a scoop of cannabutter or cannabis-infused coconut oil. Or, if you have a glycerin tincture, you can add that in with your creamer as well. You can even drop weed chocolate in your mug if you want to give it a sweet, tasty flavor. These are a few of the easiest ways to prepare weed coffee when you don't have access to an actual product.
Weed Coffee Recipe
If you don't know how to make regular coffee, let alone weed coffee, then don't stress it. Get yourself some cannabutter or infused coconut oil, and the rest is a cinch. Check out our cannabutter recipe to make your own if you don't know anyone who has it. Or, if you're going with coconut oil, here is our cannabis coconut oil recipe.
Once you've made either cannabutter or cannabis coconut oil, you're all set to make your weed coffee. Here is a simple recipe for weed coffee beginners that comes from cannadish.net:
Ingredients:
1 tablespoon of cannabutter or cannabis coconut oil

2 cups of hot water

⅓ cup of your choice of ground coffee
Steps:
Boil hot water in a pan.

Once water is boiling, add in your ground coffee and cannabutter or coconut oil and gently stir.

Let the blend sit for roughly 4 minutes.

Remove weed coffee from heat, pour it into your favorite mug, and enjoy! Be sure to give it the occasional stir to keep everything well blended.